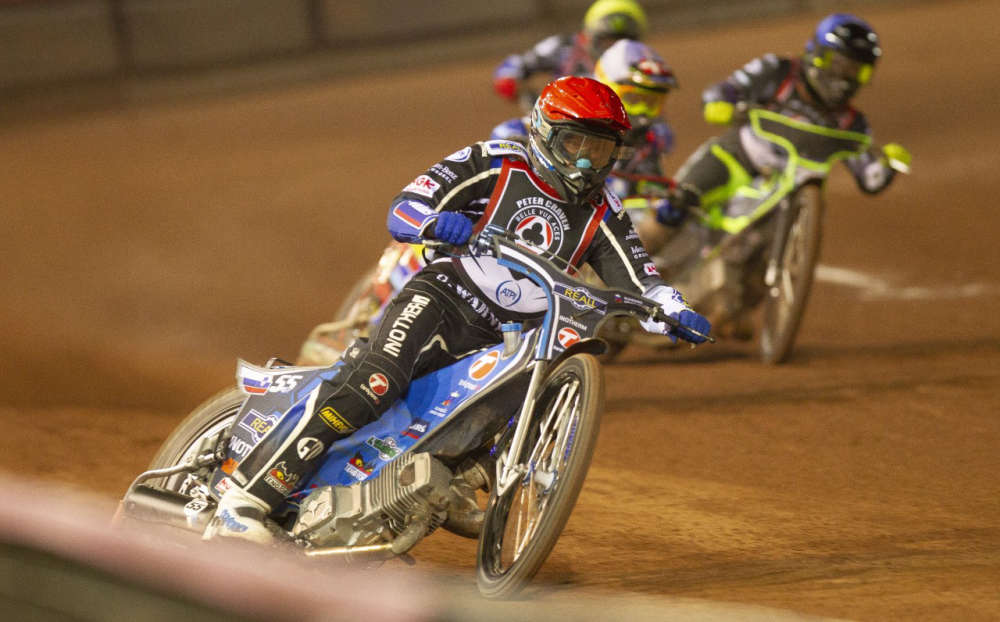 Matej Zagar revealed he is returning to Belle Vue because it has a "special place" in his heart.
The sizzling Slovenian was snapped up by the ATPI Aces to strengthen the side in time for Bank Holiday Monday's crunch home clash with defending league champs Peterborough (12pm).
Zagar, 39, admitted that he was taken aback by the incredible reception he got from fans at the Peter Craven Memorial in March and that persuaded him to reignite his UK career.
He said: "It feels like I'm coming back for a reason this year. Belle Vue has always held a special place in my heart, and I really enjoyed all those years I was with the club.
"We didn't manage to win the league at the old stadium, we didn't quite manage it in 2016 at the new stadium so hopefully I can fill the gaps where we've been lacking.
"I've been wanting to come back and race in England for a while now but because I was always racing in the Ekstraliga it made it impossible.
"But now that I'm with Bydgoszcz in the first Division, it opened up the opportunity and when Lemmo (Mark Lemon) asked if I would be interested it was an easy decision.
"I was really surprised by the reaction of the crowd at the Peter Craven meeting. They gave me a warm welcome and I thought that was a very nice touch."
Subject to BSPL approval (at the time of writing), Zagar will replace Jake Allen who struggled with race sharpness after his last minute temporary signing for the ATPI Aces.
The vastly-experienced star will take his place in the Croatian Grand Prix as a wild card on Saturday night before his return to Manchester.
Zagar was previously at Belle Vue from 2013-2016, during which time he was also a regular in the GP series.
He made a brief appearance in Manchester for Belle Vue's flagship event, the 2022 ATPI Peter Craven Memorial, on March 21 where he topped the qualifying scores and finished second overall.
In the post-meeting press conference he declared his affection for the club which could well have prompted the move by Lemon to bring him back.
At the time Zagar stated: "I'm in love with this place. I rode here for four years, great memories. It's not bull****, the fans are amazing.
"Honestly I would love to return. It was always down to a lack of time but now there's no GPs for me so you never know.
"Actually I'm not sad I'm not in the GPs anymore. Because the way it was frustrating. Going from meeting to back home pretty p***ed off. I want to be happy guy. That's what life is about. I ride speedway because I love the sport.
"Sometimes speedway gets too professional and it gets boring."
It's a massive move for the Mancunians after four straight defeats following on from their bid to keep Dan Bewley in the team failing due to red tape.
Allen was drafted in to plug the gap left but now classy Zagar should give the side an extra boost of top-end strength alongside Max Fricke and Brazy Kurtz.
Aces boss Lemon is convinced he has got the balance right in time for their Premiership opener against the Panthers, who beat them in the final last October.
He said: "We'd like to place on record our thanks to Jake Allen. It has been a tough few weeks for him but the club is very grateful of his willingness to step in on a temporary basis.
"Our thanks also to all the supporters for their patience while all of the final preparations necessary to sign our final rider were put into place.
"While it has been a frustrating start to our year, as I have previously commented we wanted to make sure that we left no stone unturned to find the best rider possible to complete this team.
"A lot of work has gone in behind the scenes to get us to this point and we are delighted to have Matej back with Belle Vue for our 2022 Premiership league campaign.
"The welcome he received from the crowd at the Peter Craven meeting proves what a popular rider he still is in Manchester, and that same night he showed the quality he's capable of producing.
"His enthusiasm to return to Belle Vue is very evident and I'm sure supporters will be equally enthusiastic to welcome him back into the team come Monday afternoon."
Picture by Taylor Lanning