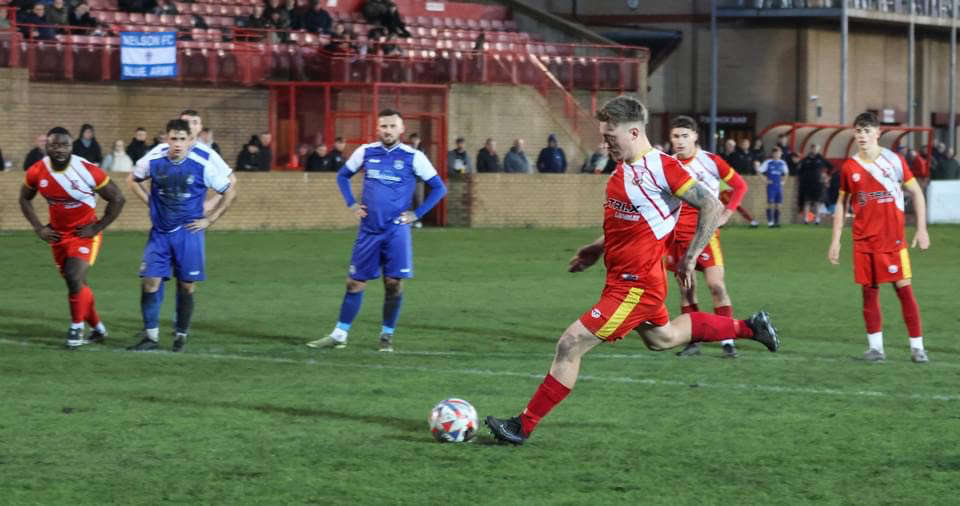 Droylsden advanced into the next round of the Edward Case Cup following their empathic victory over Nelson at the Butchers Arms Ground.
Despite an early red card, the visitors took the lead after ten minutes through Jacob Holgate. Droylsden was punished after some slack play whilst playing from out the back.
However, it didn't take long for the Bloods to respond. After 17 minutes a vicious cross from Nelson Van resulted in an own goal from Nelson. The home side thought they'd taken the lead shortly after, but Faud Kasali was adjudged offside.
Dave Pace's side did go into the break with a 2-1 lead. Harry Shipton found himself with too much time at the back post and put the hosts ahead just shy of halftime.
George West ended his goalscoring drought with a second-half brace, the first coming ten minutes following the restart, the second being a penalty, and Droylsden's fifth of the day. It was his first goal since October 10th against Ilkley Town.
Shaquille Lewys also got on the scoresheet in the second half, making an instant impact with a goal only minutes after being brought on from the bench. It was his first goal of the season for Droylsden.
Droylsden then followed this up with another 5-1 win over Abbey Hey in the Macros Cup and will play Darwen FC on Saturday in the next round.