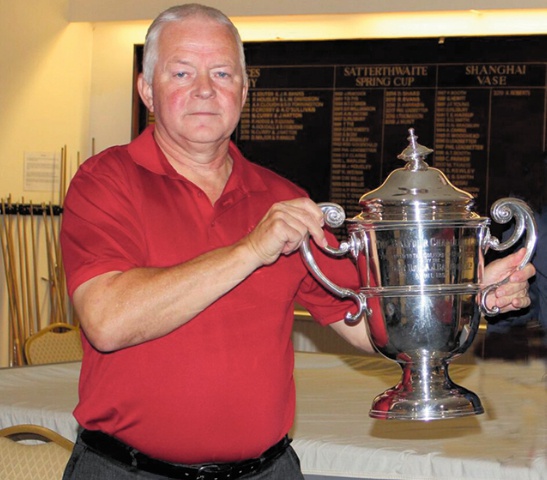 The Balfour Cup competition, organised by the Balfour and Houldsworth Committee, saw Disley Golf Club provide a terrific venue both on and off the course as a full field produced some great golf on a day of superb weather.
he trophy, which has few equals in sport, is a superb example of Victorian craftsmanship and was first presented by Rt Hon AJ Balfour, who was the Prime Minister from 1902-05. It has been played for since in the B and H competitions for golfers within a 25 mile radius of Manchester Town Hall and began in 1897 involving our local clubs.
Mr Balfour enjoyed playing his golf at Lyme Park in Disley when back in the area from his political duties.
The latest competition was re-arranged after Covid prevented the original date in early summer and because of less daylight it limited the field to 117 players who represented 34 different clubs with 34 from Disley.
The standard of golf was set by Disley and Cheshire star James McCormick with the plus-2 handicapper posting an early eagle three on the first hole played on the day.
His round consisted of eight pars, seven birdies and an eagle with two bogeys for a round of 64+2=66 and one of his playing partners Mike Ward (Disley) also had a very useful 69.
But the eventual winner was Worsley GC 13-handicapper Dave Wright with a nett 64 recovering well from dropping six shots early in his round.
Dave finished ahead of Paul Holtom (Disley) who won a cpo on 67 from Paul Caine (Brookdale) and Michael Holtom (Hazel Grove) to win a prize of £250 in pro shop vouchers and the fantastic Balfour Cup.
He was the first winner of the trophy from Worsley GC in 49 years and returned for an ad hoc presentation of the cup.
James McCormick won the best gross prize of £150 worth of pro shop vouchers
B and H chairman John Farmer thanked Disley Golf Club for their magnificent staging of a fantastic competition.
Next year's competition will be staged at Davyhulme Park GC on May 13 and the tee sheet will soon be open for bookings for preferred times.
l A BB Stableford at Saddleworth needed a cpo on 47 points to see Stephen Harrington and M Heap in top spot from David Arnold and Howard Johnston, one more than Giacomi Cavallino and Ben Pullen.
Mike Ralph was a proud winner of the FV Rhodes Trophy at Saddleworth posting 41 points to lead in from Antony Schofield 39 and Jeff Howarth 38.
In the FV Rhodes Subsidiary, Greg Burgess was first past the post with 41 points from Gary Torr 40 and Stephen Harrington 39.
A Ladies Open Turkey Shoot at Saddleworth was won by Jo Jacombs, Liz Pugh and Bacup's Jane Evans with 66 after a cpo from Maxine Parfitt, Julie Jackson and Bev Mercer, one more than Denise Brown, Sue Booth and Fiona Heston.
l Wednesday Stableford action at Denton saw Jonathan Beswick on top with 41 points from Anthony Rimmer 39 and Ian Lakin 38.
The Johnstone Trophy at Denton had Jamie Chadwick in hot form, posting 64 to win from Gareth Johnstone 66 and Matt Heap 69.
A Denton Sunday Two from Four team Stableford was won by N Brookes, J Page Matt Heap and Martin Sayers with 92 points.
Next in on 88 were Darren Beckford, Matt Hart, Z and A Gregory who won a cpo from K and V McEvoy, T Horton and K Lloyd.
A nine-hole Stableford for Denton ladies was won by Sue Thompson with 15 points from Pam Wiseley and Sheila McDonald, both 11.
l Oldham Gems played for the Sharpe Cup and it was won by Steve Mills with 40 points from Mike McCafferty 38 and Dave Taylor 37.
The team winners were Keith Jackson, Dave Taylor and John Waterhouse after a cpo on 93 with Kevin Haynes, Chris Jones and Ken Lunn.
l A Tuesday Stableford at Ashton had division one won by John Rice with 39 points from Paul Eddlestone and Michael Longworth.
Andrew Dawson was a formidable winner of division two with 43 points from Simon Turner 40 and the Yellow Tee winner was Dave Turner with 40.
A Singles Stableford at Ashton had the three divisions topped by Callum O'Neill 42 points, David Pye 41 and Ian Hughes after a cpo on 40 with Steve Hanmer and the Yellow tee star was Rory Penning with 40.
l Brookdale's men have begun their Race to the Start Stablefords and Jerry Harris was the first winner with 42 points from Anthony Allt 41 and Steven Armstrong 40.
A nine-hole Stableford for Brookdale ladies was won by Stella Cain with 16 points, one more than Kath Storey and Lynn Kershaw.
l Dukinfield ladies were also in Stableford action with Helen Slattery in a league of her own with 31 points from Annita Kenworthy 22 and Pat Burrows 20.
l The Junior All Finals Day at Crompton and Royton had a fine winner in Niall Weldon with 69 from Tom Pickering 73 and Jack Pickering 74.
l A Texas Scramble at Stamford had the fab four of N Angus, K Walker, S Troy and T McClusky happy as they posted 55.3 to finish ahead of J Stent, R Henshaw and C and P Easter 55.4.
Stamford ladies played a singles Stableford supporting Macmillan Nurses and it was won in style by Nikki Pimlott with 36 points from Lesley Green 33 and Heater McNeill 31.
l The Annual Manchester Alliance mixed pairs contest for the historic Hancock Trophy enjoyed a great day at the traditional venue of Sale Golf Club with the players enjoying excellent weather and a course in fine condition.
The early leaders with 42 points were Knutsford professional Tim Maxwell and his wife Suzy and they looked to be cruising to victory before there came the strong sting in the tail of the field from Ringway's Frank and Kate McKenna who tore to the top of the leader board with a scorching haul of 45 points.
It was more than enough to take the trophy, which goes to the top score by a club duo, back to their club for what is believed to be the first-ever time that Ringway have provided the winners.
It also saw them top the Am Am section ahead of Anthony Phillips (Ashton-on-Mersey) and Lesley Moore (Sale) who won a cpo on 41 points from last year's Sale Captains Terry Crewe and Jenny Page.