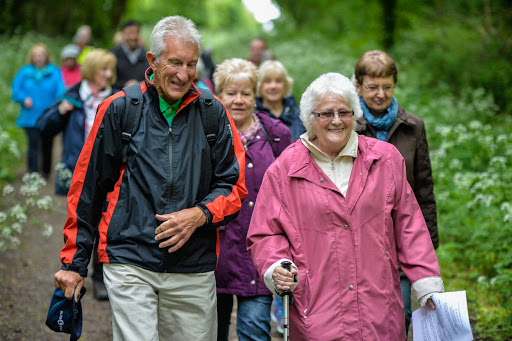 Residents in Tameside are being given the opportunity to boost their well-being with a simple and achievable exercise challenge.
It involves completing as many walks as possible in a month, including one or more of the Super Six exercises (a programme of standing and sitting strength and balance exercises) on the way.
The Personal 'Super Six Walks Tracker' is aimed at anyone over the age of 50 or those who have been shielding over lockdown. It encourages users to add the exercises to the start and end of their walks, or at any rest points, using benches, trees or walls for support.
There is no specific route or time period to these walks and people can start by walking to the end of their garden or street, at a pace they are comfortable with and can build up on each time.
Then they just add in the strength and balance exercises and mark it off on their tracker each time. There is also space to write the total number of walks completed to keep track of the total number over the month.
Getting out and being more active helps to improve people's general health and well-being, helping to improve sleep, better maintenance of a healthy weight, reduced stress and a sense of real achievement. Any movement is good, particularly if it makes us feel warm and makes us breathe a little faster.
People should contact their GP before introducing increased activity in to their life, particularly if they are taking prescribed medication. Similarly, anyone who feels discomfort or pain whilst exercising should seek advice from their GP.
People are strongly encouraged to adhere to all Government social distancing measures in place throughout the scheme.
Executive Member for Adult Social Care and Population Health, Cllr Eleanor Wills, said: "Autumn is a great time of year to get out and walk. Noticing all the beautiful changes in nature whilst out walking can be a great boost for our mental health, and a time to forget the isolation and solitude of lockdown life.
"This colourful tracker acts as a great motivating visual tool, reminding us to step outside and get a daily fix of sunshine and fresh air in whatever way is manageable. Adding in some of the super six exercises as you go can really help to keep you steady on your feet whilst out and about, and it can also be fun to experiment and test yourself with the exercises too! Don't forget to challenge your friends and family to use the tracker!
"Please observe social distancing guidelines to keep everyone safe."
The Tracker is available to download in colour and greyscale (for black and white printing) [search Tameside Council older people] or visit https://www.tameside.gov.uk/publichealth/olderpeople which is supported by Irwell Valley Homes, Active Tameside, Age UK Tameside, Jigsaw Homes, Dementia Friends, Hope Community Church, St George's Church, Big Local Hub and Action Together.