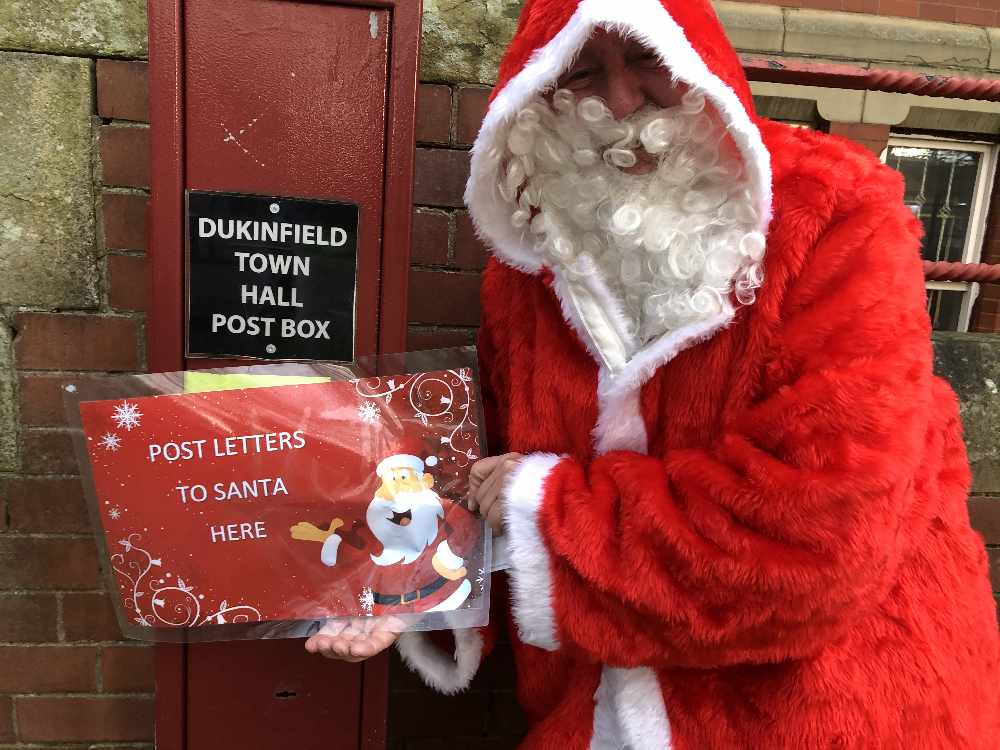 Christmas arrived early at Dukinfield Town Hall this week with a surprise appearance of Santa and his elves - much to the shock and delight of children passing by.
Santa had time to give them a wave, but Father Christmas' early arrival actually heralded the early promotion of local councillors' pensioners' party and festive postbox plans this year.
Dukinfield councillors Jackie Lane, John Taylor and Brian Wild traditionally organise their famous festive pensioners' parties annually.
Cllr Jackie Lane explained they will usually host up to 50 older people, enjoying a full Christmas dinner and live performances, plus a game of bingo and of course a raffle.
Sadly this Christmas means the party and all the trimmings can not go ahead - but not to be outdone they're planning on doing things a little differently instead and aim to keep Christmas well and truly on the menu for older folk.
For if pensioners can't come to the Christmas party this year - then the hard-working trio are planning to take Christmas to them.
They are busy creating and making up hampers which will be delivered direct to pensioners' doors, packed full of goodies - plus a raffle ticket.
To promote the event the councillors dressed up as Father Christmas and his industrious elves as they aim ahead to spread some festive cheer throughout Dukinfield.
For those who would like to receive a hamper or who would like to find out more they can contact Cllr Jackie Lane direct on 07875 170187.
Numbers are limited so it will be first come, first served.
Meanwhile, just how children will contact the big man in red this year has left many fearing the worst for the festive season.
But Father Christmas - his elves and local councillors - have come to the rescue to ensure the traditional Santa postbox will be set up outside Dukinfield's Town Hall.
Dukinfield youngsters can send their Christmas wishes through the post to Santa at any time between November 14 to 28.
He'll be accepting all your letters and guarantees a reply - but asks that you always include your name and address so he can find you in these extra difficult times!
Cllr Wild said: "We're in hard times, but we're still able to carry on the Christmas postbox for Dukinfield children, to give them a bit of Christmas to look forward to."