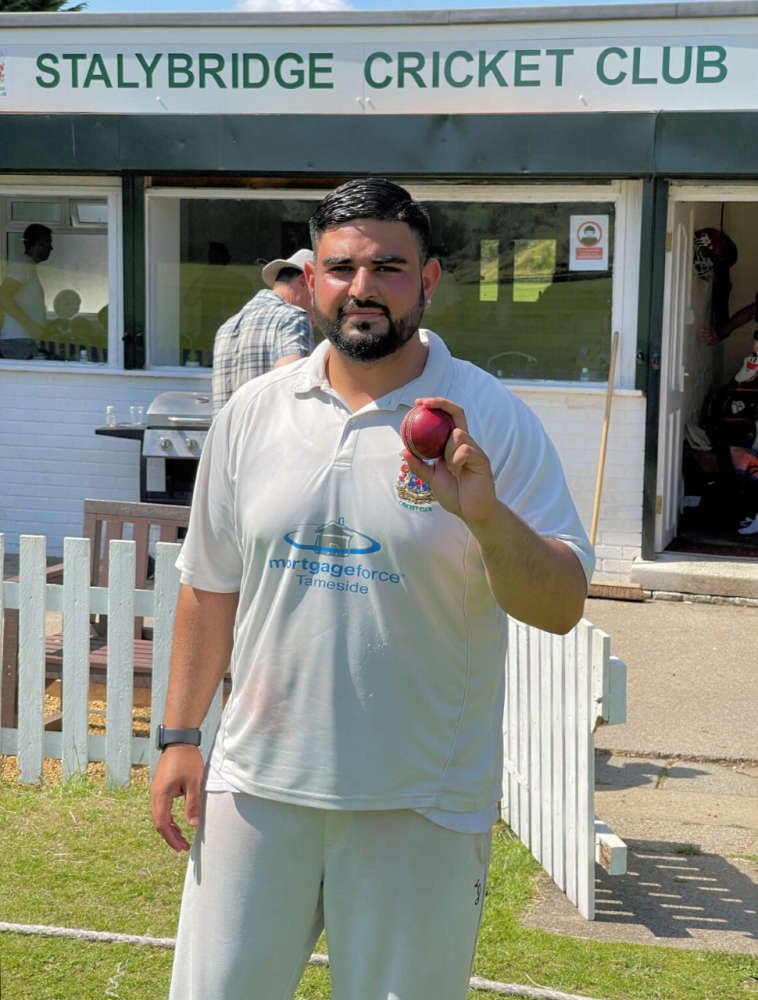 Stalybridge Cricket Club's Madussar Bashir was expecting a long day in the field when his side were forced to bowl first against Hollingworth on a sizzling day at Gorse Hall Road.
However, Madussar - or Muddy as he's known to his team mates - rifled through the Hollingworth batting lineup and claimed all ten wickets for just eight runs, creating a club and league record in the process.
Madussar's impressive showing wasn't too unfamiliar to team mates, as his direct, precision bowling also saw him rewarded with seven wickets, including a hat-trick, in the second XI's previous game.
And just to rub salt into the visitors' wounds, Madussar celebrated his exploits by going for a walk around Hollingworth Lake with his family.
One player who had the best view of the action was Keith Bowers, Stalybridge's wicket keeper, who claimed that the busiest part of his afternoon was resurrecting the stumps on a regular basis.
Keith spoke to Reporter Sport and said he was delighted for Madussar and the club as a whole, after what has been a testing period off the pitch following a burglary. "In the early house of last Monday morning (12th) we had a break in and a substantial amount of cash was stolen and the club was pretty low about it, as we've worked wonders up here recently.
"Most of the money, £2,800, was raffle money and bar takings. The raffle was to raise money for junior cricket equipment for those who are coming to the club. We basically had no juniors coming prior to this year, but thanks to a new committee and volunteers that have waded in, we've got around 50 kids that come to training on a Friday night.
"It's absolutely fantastic to see, especially now we're coming out of lockdown."
Thankfully, arrests have now been made in relation to the crime and the club can look forward with optimism.
Keith shares this optimism and feels the club is sitting on solid foundations to progress in the future - especially with a strong core of juniors making up an under 11s and under 13s side.
Off the pitch, renovations to the bar have also made the club attractive and, as a result of this, more people are using Gorse Hall Road as a social setting. Keith said: "It was quite a depressing place before the renovations, and the number of parents that have got involved, who bring their juniors to training on Friday, has been great to see.
"People are also coming down on a Saturday, even for a second team fixture, whereas we previously had barely anyone coming down. It's a nice place to be in the centre of Dukinfield; it's a little oasis really."
Keith says the club are more than happy for new players to come down and have a go - regardless of age or ability.
For more information or to register your interest, contact the club on Twitter: @stalybridgecc