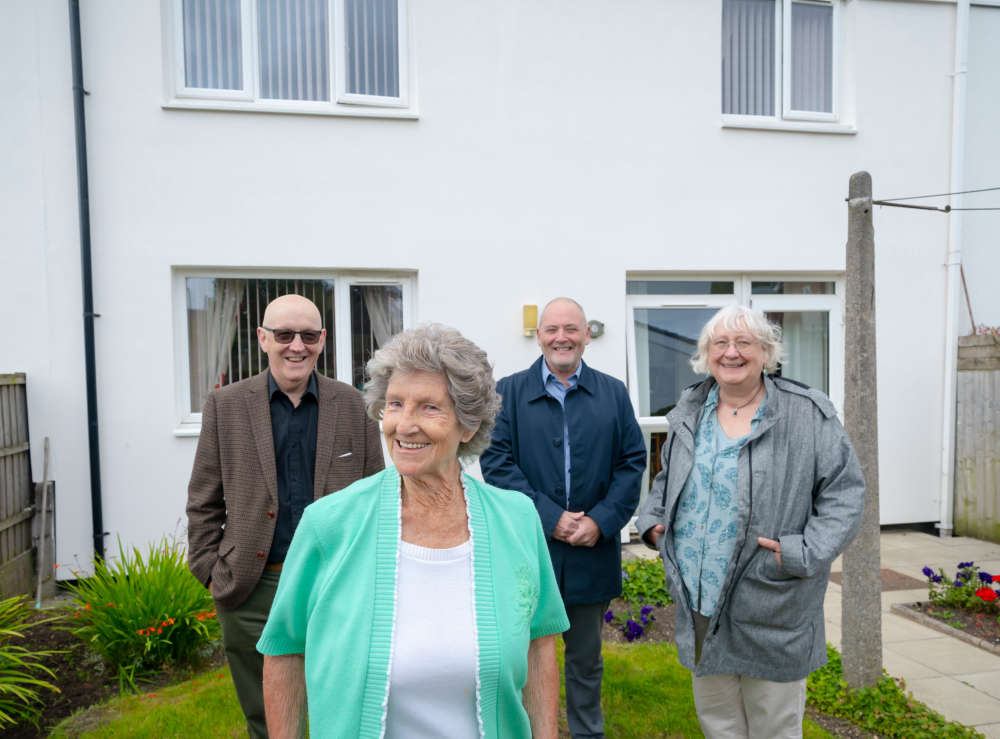 (left to right) Cllr Eddie Moores, Rose Ogden, Tony Grundy (Project Manager for Wates) and Cllr Hannah Roberts.
A Chadderton estate has been given an eco boost with the help of a scheme to improve the energy efficiency of homes.
Oldham Council has installed external wall insulation to 64 council-owned homes on the Crossley Estate to match the neighbouring privately owned homes that had already been insulated under a previous scheme.
The homes are known as Wimpey No Fines. Built in the 1960s during the post-war housing era, they were mass-produced and have a solid concrete outer wall which makes them difficult to heat and insulate.
The council say the works are now complete and will 'make a big difference to improving their energy efficiency and prevent issues relating to condensation and damp'.
Councillor Hannah Roberts, Cabinet Member for Housing, said: "We're really pleased to have been able to make these improvements for residents. It will make their homes much warmer and will help to reduce their fuel bills and help the environment."
The Green Homes Grant Local Authority Delivery Scheme provided £5,000 per property towards the cost of the works, with the council funding the balance from its Housing Revenue Account.
A spokesperson said the authority has previously improved these homes 'in line with the funding we had at the time' and the latest improvements build on the previous energy efficiency schemes - boosting the level of insulation to a gold standard.
Each of the properties now has an external wall insulation system installed which provides energy saving benefits whilst providing the home with a white render finish.
Rose Ogden, who has lived on the estate since it was first built, said: "I'm very grateful to have had the work done to my home. There's been problems with damp in the past so I'm hoping it will improve this and I will also see the benefits of the insulation over the winter months.
"If it makes our homes warmer and can save us a little bit of money then that's great."
Cllr Eddie Moores, Chadderton Central Ward Councillor, said: "We're so pleased to see the positive difference the works are having on residents.
"This is really important as we approach winter and will help to reduce fuel poverty and improve the health and comfort of residents. These homes were built 60 years ago as Britain recovered from the war – this scheme has brought them into the 21st century."
The works were carried out by Wates Living Space, whose Regional Managing Director, Stewart Reid, said: "We are delighted to have successfully completed the works for these properties, working in partnership with Oldham Council. These much-needed energy efficiency works will benefit residents for years to come."
Private homeowners and landlords can also benefit from the Green Homes Grant, which has been extended until December 2021.
Up to £10,000 is available for energy efficiency measures, such as air source heat pumps or wall insulation. Landlords can receive £5,000 so long as their tenants meet the financial criteria below.
If your home has an EPC energy efficiency rating of D1, E, F or G and your household income is less than £30,000 or someone in your home receives benefits such as Universal Credit, Income Support, Disability Allowance and more, you could be eligible. Visit www.eonenergy.com/green-homes-grant for more information.
You can find out the EPC rating of your home at https://find-energy-certificate.digital.communities.gov.uk/. If your home does not have an energy certificate or the certificate is expired, you can get a new energy certificate.
Read more from the Oldham Reporter