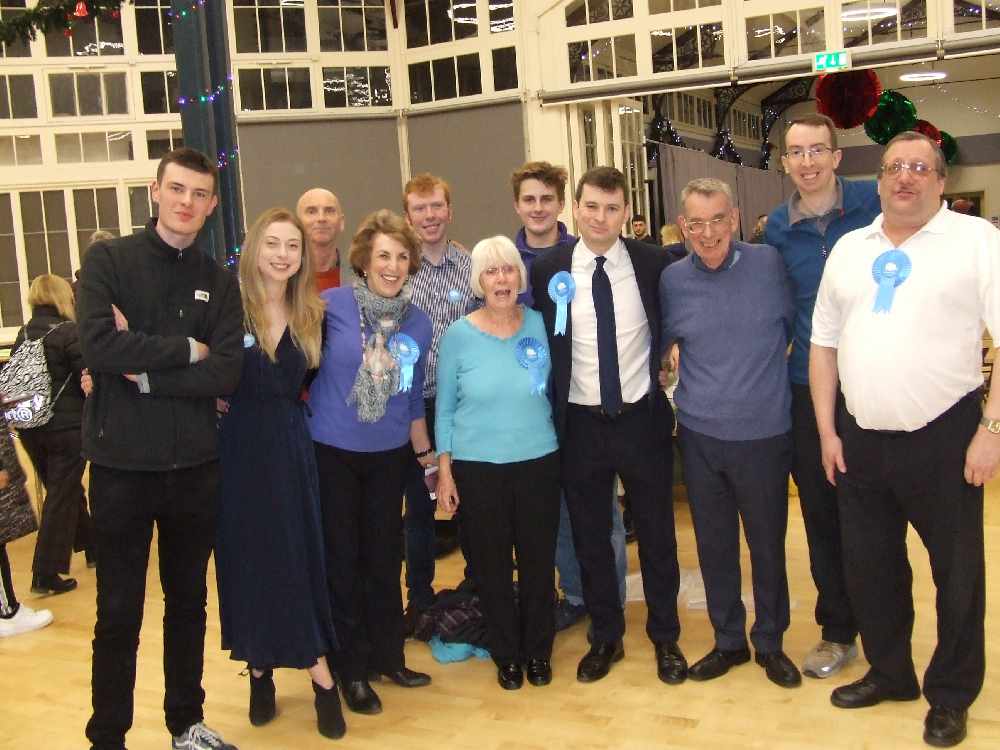 Robert Largan has been elected as the new Member of Parliament for High Peak as the Conservatives gained the seat from the Labour Party after a very close battle.
The polls had the two parties neck and neck throughout the election campaign in the borough, and it seemed too close to call as the votes were counted on a tense night at Buxton's Pavilion Gardens.
Mr Largan emerged with a relatively small majority of 590, receiving 24,844 votes to former MP Ruth George's 24,254, at the end of a somewhat bitter campaign between the two.
"I feel pretty amazing," Mr Largan told the Chronicle moments after his election was confirmed. "I'm feeling pretty tired, I woke up at 3.45am in the morning on Thursday and I'm still going now, so I'm quite looking forward to going to bed!
"I feel amazing gratitude towards everyone in the High Peak who voted for me. It was an incredibly close election and, as I said in my victory speech, I'm very aware that some people lent me their vote and I want to do everything I can over the next five years to repay that trust."
On his plans for celebration, he added: "I'll be thinking about celebrations after I've had some sleep!"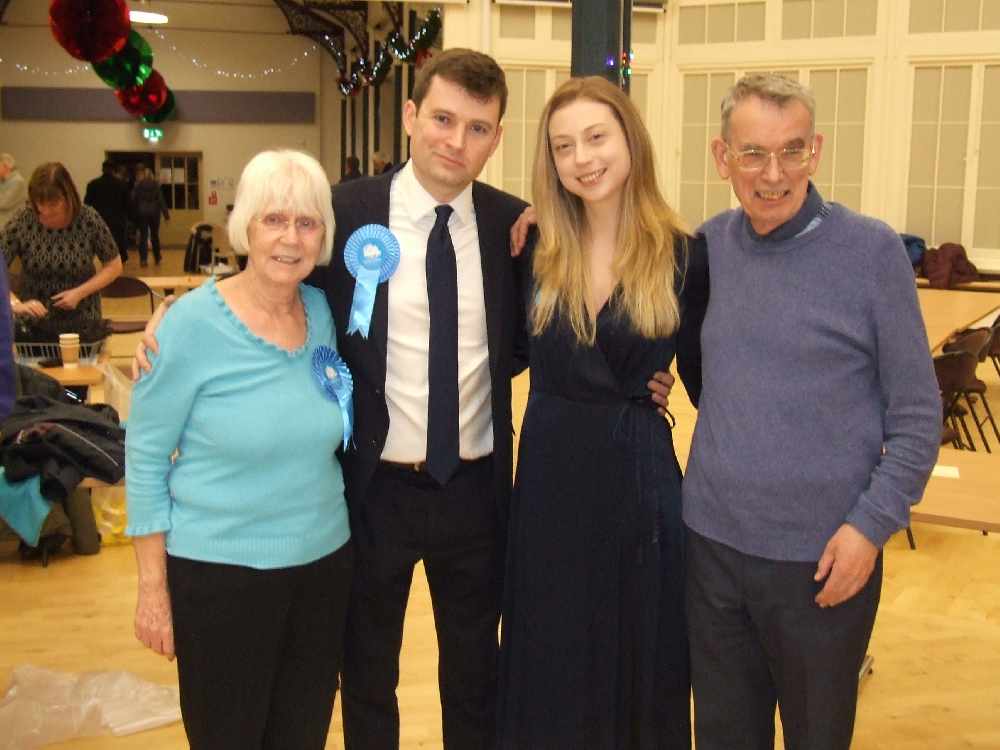 Mr Largan outlined what his immediate priorities are now that he's been elected.
"The first thing we've got to do is get Brexit resolved as soon as possible," he said. "When it comes to local issues, we need to get the bypass built in Glossop - it's been promised for over 50 years. Now that I've been elected, I'm the first MP to live in Glossop since 1929 and I want to make certain that we finally get that bypass built.
"There are lots of other issues - we need to improve our access to healthcare, getting urgent care centres into Tameside Hospital and Stepping Hill Hospital, and getting a new medical centre for Buxton. There are lots of things we want to sort out. It's going to be an interesting few months ahead but I can't wait to get started and repay the trust the people have put in me."
When asked if he intends to continue living in Glossop, Mr Largan said: "That's the plan. I love living in Glossop, it's a fantastic town and I love it."
In what was a five-way battle for the third general election in less than five years, David Lomax of the Liberal Democrats - a late replacement for Guy Kiddey who withdrew - came third with 2,750.
The Brexit Party's Alan Graves - who was drafted in at the last minute for Mark Nolan who stepped down for personal reasons - received 1,177 votes. He was the only candidate not to attend the count.
Robert Hodgetts-Haley, of the Green Party, got 1,148 votes.
With a total electorate of 74,265, the turnout was 73.14% - slightly down on the 73.75% at the last election in June 2017.
BREAKING: Robert Largan of the Conservative Party has been elected as the Member of Parliament for High Peak.

Posted by Glossop Chronicle on Thursday, December 12, 2019
The outcome was indicative of a disastrous night for Jeremy Corbyn and the Labour Party across the country, as they claimed 203 seats while the Conservatives took 364 to romp to a majority.
Giving her immediate reaction to the result, Mrs George told the Chronicle: "I am disappointed - not so much for myself but for all of the people who have been supporting me and volunteering for the Labour Party, particularly for the people in the High Peak who I've concentrated my support on. Those people who have been struggling to get by on benefits or without adequate housing, all of the people in public service who have been relying on me to support them and stand up for them.
"I will try to carry on doing that and holding our new Member of Parliament to account and make sure that the people who really need our support in High Peak are those that receive the attention they deserve."
Reflecting on the campaign, she went on: "I've tried to run a very positive campaign based on the record of what I've been doing, what I want to achieve around the High Peak and on the Labour Party manifesto of hope for the future and for an end to austerity. But we've been hit by very negative campaigning both on a national level from the Conservative Party and also on a personal and local level. I think with the amount of resources which have been poured into that national campaigning and also the leaflets, phone calls and social media advertising that has been put into the people of the High Peak, they held very strong against all that and I'm pleased the result was so close."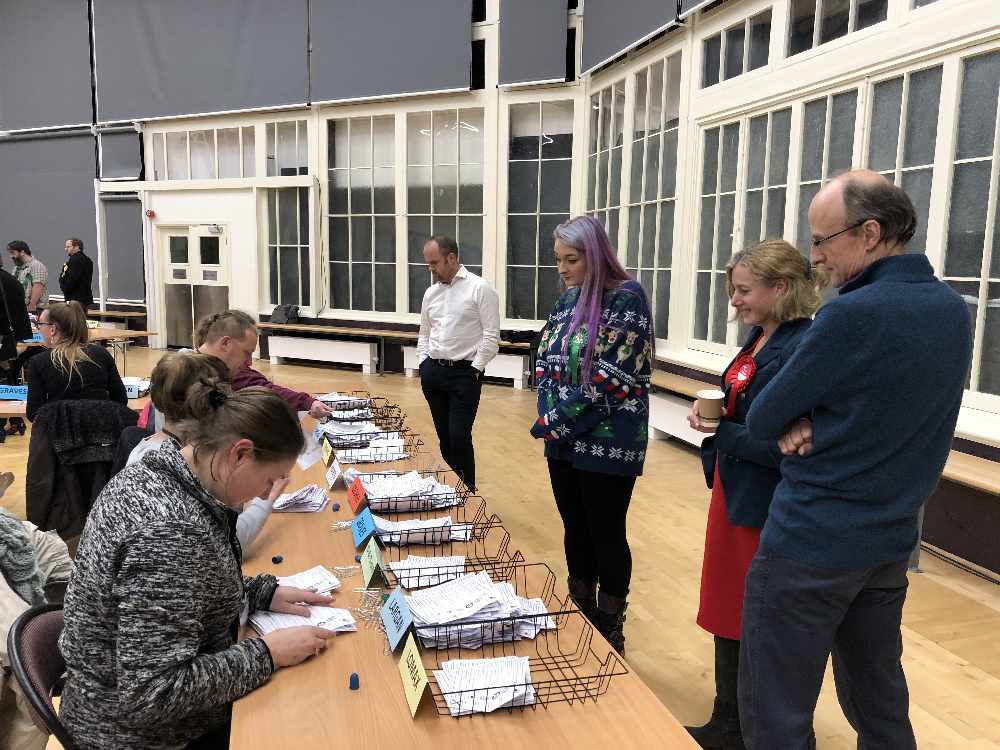 When asked what she plans to do next, Mrs George said: "I don't know, I haven't made any plans at all except to enjoy Christmas with my family."
In a message to those who voted for her, she added: "I would like to thank everyone who gave me their support and friendship over the last two-and-a-half years across High Peak, particularly in this election campaign who have given us so much support. I'm sorry that we couldn't win here against a national tide but I'm not going anywhere and I'm going to carry on fighting for High Peak as I've always done."
Mr Hodgetts-Haley told the Chronicle: "It's not my desired result but the people have spoken and I think a lot of Labour's votes have gone to the Brexit Party from what we can deduce. I think the Conservatives haven't actually gained that many votes but Ruth George has lost a lot of votes. To sum it up, this has been a national failure from Labour and that's what we're seeing around the country.
"This has been the Brexit election - that's what we're seeing. People want to be represented and people want their views to be represented. Obviously, people want to get Brexit done. Maybe after that we can go for proportional representation."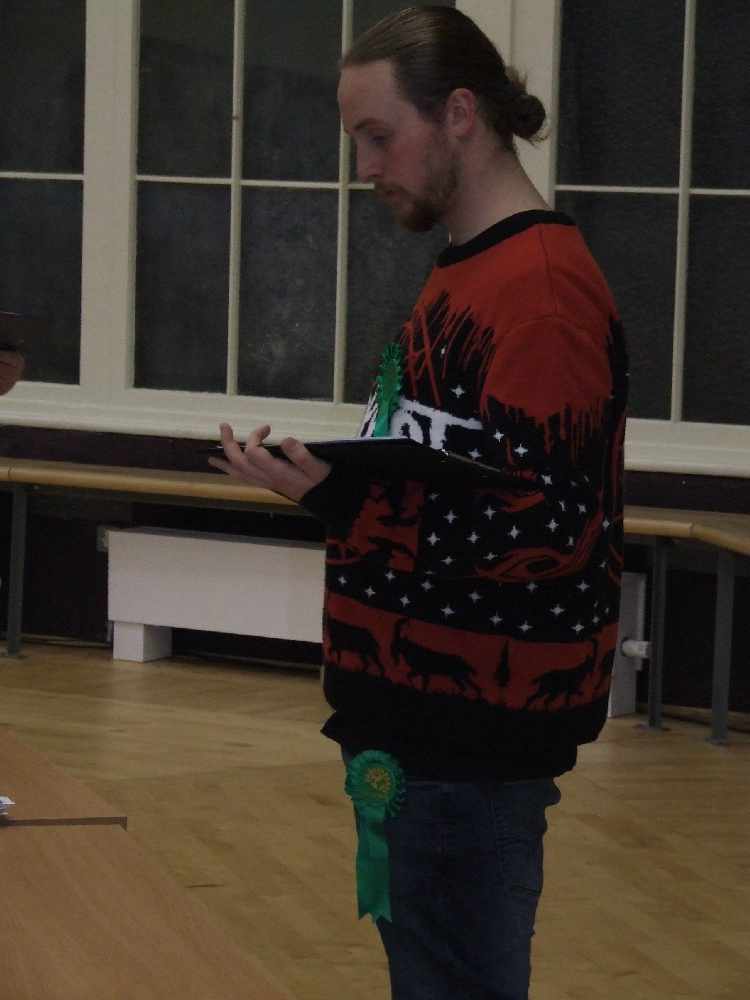 Summing up the election campaign in the High Peak, he said: "Dirty - there's been a lot of bad campaigning. There's been a lot of hate being thrown around from both sides - Labour and Conservatives. There was no end to it and I think we need positive campaigning. We [The Green Party] stood down [in High Peak] last time [in 2017] and this time we stood so I think we've lost out on the traction we've previously built up. I think it comes down to how many people we can get on the ground and how much money we could raise for leafleting. I think we can definitely grow more."
Addressing those who voted Green in the borough, Hodgetts-Haley commented: "Thank you for voting for our future, because that's what we're doing. We're fighting for a different system, we're fighting for our future generations and for their welfare because we've got this system that's constantly polarising and swapping from one side to the other and we all seem to lose out. So we need to fight for a different type of politics now. We've seen what's happened up and down the country and that's because we haven't got proportional representation - that's what we need to fight for and voting Green will be part of that."
Mr Hodgetts-Haley added that, now the campaign is finally over, he plans to carry on with his business again and focus on getting it off the ground.
The Chronicle will contact David Lomax for comment.
The evening began as it would end in High Peak, with good news for the Conservatives, whose supporters inside the Pavilion Gardens cheered when the exit poll was revealed on a screen just as polls closed at 10am.
Minutes later, the first ballot box from nearby Burbage arrived through the doors - and more swiftly followed.
After all of them came in and the ballot papers had been verified, the counting officially began at 00.35am.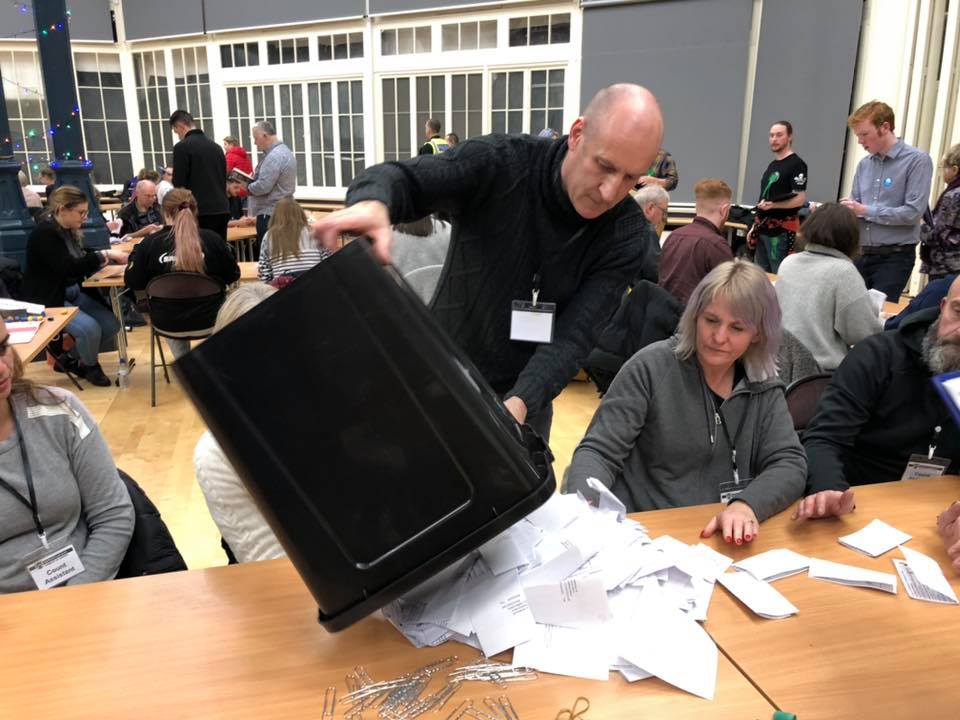 It had been estimated that the result would be declared at around 3am and it wasn't far off being accurate, with returning officer Simon Baker formally announcing it at around 3.15am.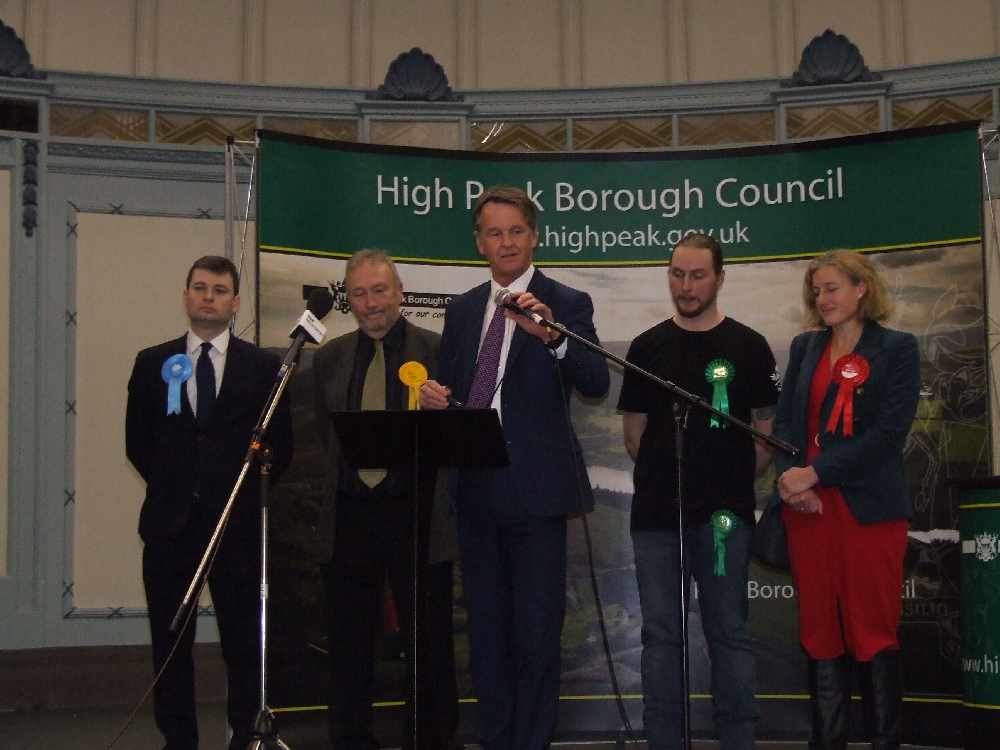 High Peak was seen as a marginal seat which has swung in recent years, with Andrew Bingham of the Conservatives serving as MP between 2010 and 2017 before Labour's Ruth George was elected with a majority of 2,322.
Dubbed by many as the Brexit election and the most important in a generation, it was the first winter election since 1974 and the first to take place in December since 1923. Incidentally, it was somewhat strange to be surrounded by Christmas decorations for an occasion which normally takes place in the summer. That may have also contributed to a sparse attendance, with only around 70 people - excluding count assistants and council staff - in situ for the count.
The MPs are expected to take their place in the House of Commons on Tuesday.
Additional reporting by David Jones