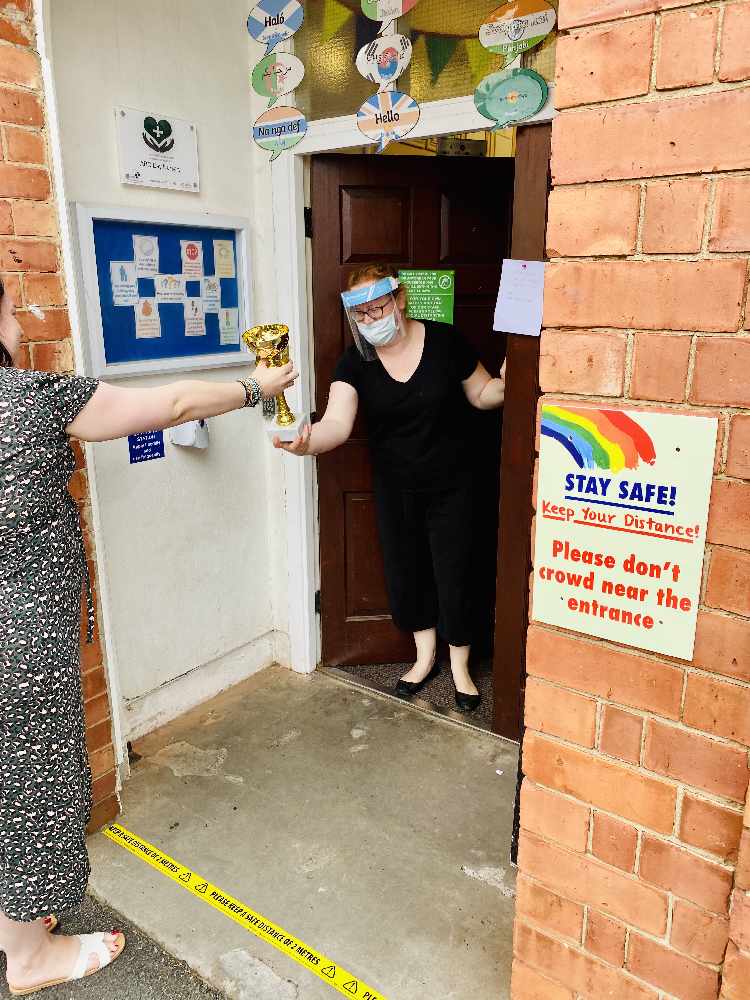 A deputy manager of a Hyde nursery has received a well-deserved community award for going above and beyond during the coronavirus pandemic. 
Katherine Scott was nominated for a Hyde Past and Present Covid-19 hero award by Amy Wood, who is the owner and manager at ABC Day Nursery in the town centre.
Much to her surprise, Katherine received a special trophy one day at work as a thank you for working long days to keep the Onward Street nursery running whilst Amy, who is pregnant, has been shielding at home with her husband Chris.
Amy told the Reporter: "If Katherine hadn't kept the nursery going during lockdown, it would have meant we couldn't support the families in the Hyde area that desperately needed our care services who were working selflessly on the frontline.
"Katherine didn't want that to happen so volunteered to keep the nursery running alongside another member of the team, being at the nursery from 7am until 6pm each day!
"Katherine has ensured the nursery has remained open during this difficult time of lockdown, caring for our precious children, ensuring they are safe, and supporting our key worker families.
"The feedback from parents has been overwhelming. They are so thankful for what she has done for them and they have praised her for supporting them during this difficult time.
"I am so grateful for what Katherine has done for myself, my family and my business and felt she deserved the recognition for the contribution she made during the Covid crisis - it won't be forgotten."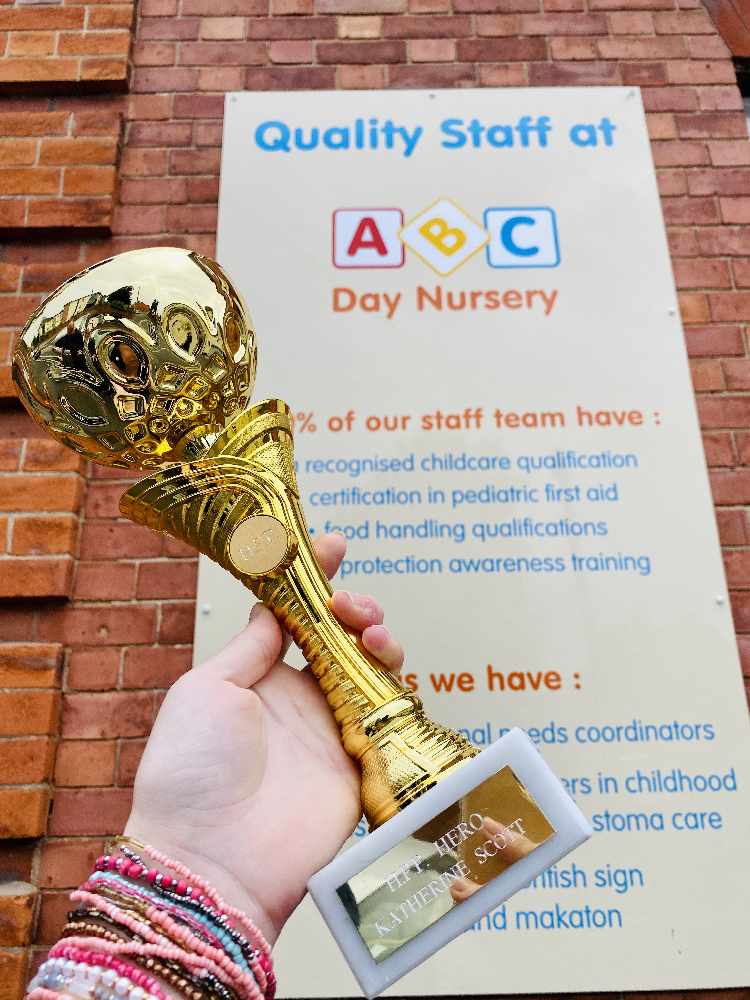 A closer look at Katherine's award
It came about after Andrew Richardson asked on the Hyde Past and Present Facebook group for suggestions of Hyde Past and Present Covid-19 Heroes, who have been an amazing support for the Hyde community during lockdown and the pandemic.
Amy felt Katherine definitely deserved the recognition and was successful in nominating her. The award certainly came as a shock!
Amy said: "The award was a total surprise for Katherine. I saw the Facebook post that had been shared on the Hyde Past and Present page and thought it was a lovely idea to recognise our key workers and what they have done for the community during the pandemic.
"I handed Katherine the award during a working day and she was extremely shocked to receive it. I hadn't seen Katherine since lockdown began as I have been unable to be near the nursery due to being pregnant and shielding following government advice.
"The trophies are such a lovely idea for the hardworking people of Tameside to be recognised, who have worked tirelessly throughout the pandemic and continued to work in our community during lockdown, they are all heroes.
"A big thank you to Andrew and also Warren at Paul Hett Trophies for organising and making this fantastic award! It's lovely to see so many people coming together at a difficult time for their community.
"I asked Katherine if she had anything to say about the award and her response was 'I'm feeling very proud. And it's lovely to feel appreciated for my hard work'."
Main image:
Katherine receiving her trophy from Amy whilst at work.