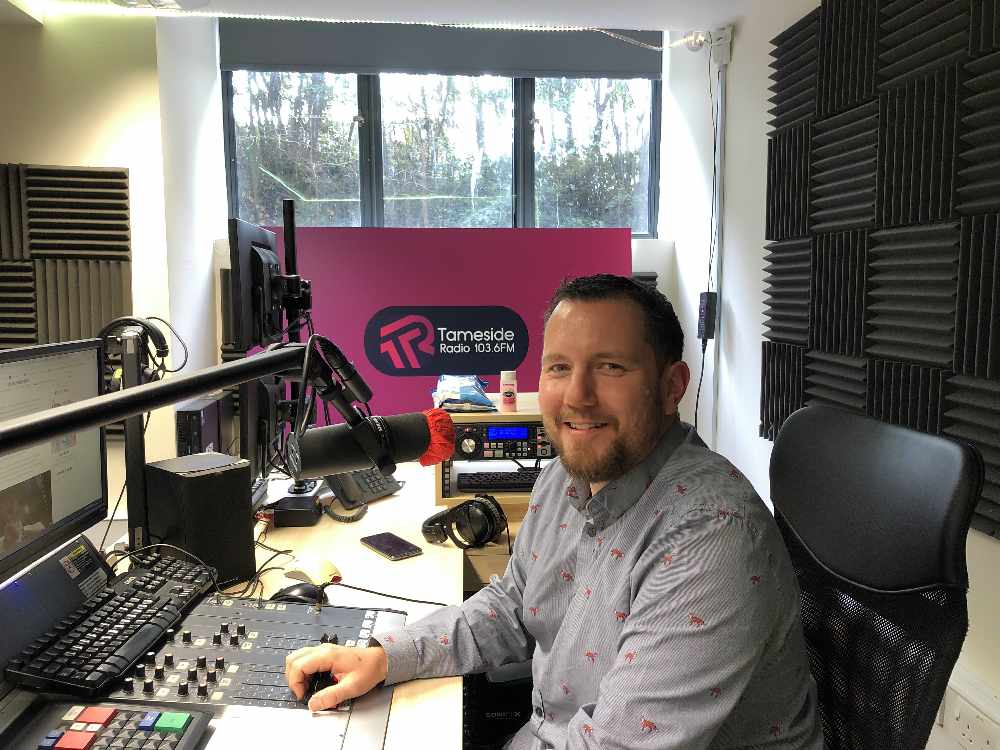 In his latest column, Tameside Radio's Breakfast presenter Alex B Cann discusses an important subject - which stemmed from seeing a strange thing that happened on Twitter this week.
As this week's newspaper hit the shops, we've enjoyed a couple of days of blazing sunshine. It's certainly been good for the soul, and felt unseasonably sizzling amongst the spring daffodils, Easter eggs and reminders about social distancing.
I've also seen my parents for the first time since Christmas Day, which was really lovely. The warm temperatures made it no chore to sit in the back garden, and I had a really good chat with my mum about the mental challenges of the last year for all of us. My dad's also sporting a very impressive mullet until his barber's appointment on April 20!
I decided to risk weighing myself on Wednesday morning before heading into Tameside Radio, and was delighted to discover I'm exactly the same weight I was on New Year's Day.
I now feel entirely justified to nibble on a little Easter chocolate this Sunday, as long as I manage a couple of park walks in between.
I wanted to discuss a strange thing this week that happened on Twitter. If you don't regularly look at social media, your blood pressure probably reaps the benefits of this approach to life. I envy you. It's strangely addictive endlessly scrolling through updates, and feels a little like flicking through the Argos catalogue at times. Every now and then, something piques your interest, but much of it really is just passing by.
I'm really intrigued by a tweet I saw from actor Reece Dinsdale which read: "I don't mind one bit if my Emmerdale character is loathed... means I'm doing my job. I draw the line at personal insults, though."
I don't watch the soap in question, but I gather from a glance at the glossy listings magazines that a major plot has culminated in Reece's character Paul becoming one of the most reviled in the show's recent history.
As Reece says, the fact 'Paul' is hated means he is excelling in his job. However, Paul is a creation of the soap's talented scriptwriters. The same goes for the time Richard Hillman drove Gail into the canal in Corrie back in 2003, sound-tracked by the excellent You and Me Song by Wannadies, played as a real pantomime villain by Brian Capron.
I recall laughing to myself on a visit to Chester when the market was flogging 'Free Deirdre Barlow' T-shirts, and assuming this was all done with tongue very firmly in cheek, in line with the recent jokey Jackie Weaver and Carole Baskin merchandise.
However, a lot of the messages sent to Reece have been vile, personal and frankly bang out of order. They have called him all the names under the sun, attacked his personal appearance, and some seem to believe 'Paul' is a real person.
Are there really people who can't draw a distinction between actors and the characters they play? Was Alan Halsall joking when he remarked he expects to be slapped in the supermarket for his character Tyrone's current love triangle plotline?
I'd love to get into the thought process of anyone who decides to send personal abuse to someone, just for doing their job well. They can't honestly believe the soap character is a real person, can they? Soldier turned singer James Blunt has written a most entertaining book about dealing with keyboard warriors and being a reluctant social media sensation. If you've not seen some of his put-downs, they really are entertaining.
I've never understood why you would read the tweets of someone you dislike. I'm not massively keen on some celebrities, and therefore I choose not to follow them. Isn't that a fairly obvious thing to do?
I also worry that some of the messages sent to politicians massively cross the line, and know I couldn't do their job, even without the personal attacks.
One solution could be a need to give a real name and email address to create an account, but it feels to me that the companies themselves could do with taking a bit more responsibility.
Newspapers and radio stations are subject to a complex series of rules, and I wonder for how long social media giants can distance themselves from much of the content carried on their platforms.
Have a good Easter, and mine's a Bourneville egg if you're treating me.
You can listen to Alex every weekday from 7am to 11am and on the 'Super Scoreboard' show on Saturdays from 3pm to 7pm, on Tameside Radio 103.6FM.
Read more from the Tameside Reporter
Click here for more of the latest news
Click here to read the latest edition of the paper online
Click here to find out where you can pick up a copy of the paper