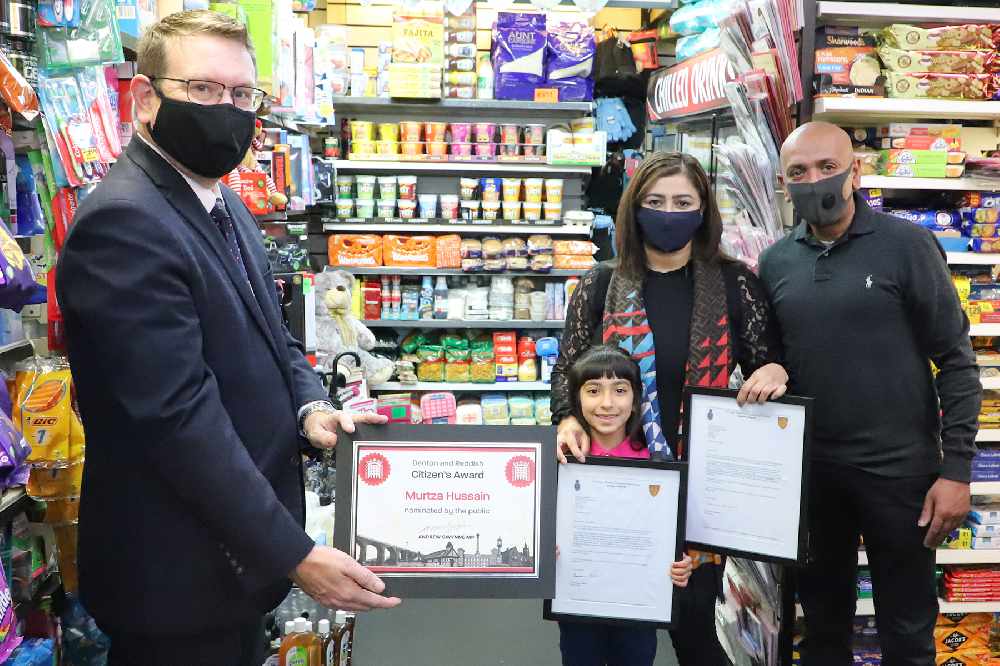 A husband and wife team from a Denton mini-market have been honoured for their community spirit during the coronavirus pandemic.
Murtza Hussein and his wife, Shabana Kousar, from the Acre Street Mini-Market were given a community award by the High Sheriff of Greater Manchester, Dr Eamon O'Neal.
It comes after they ensured that the most vulnerable in the community were still able to access supplies at fair prices during the height of the lockdown.
The couple, along with their young daughter Safa Hussein, also made donations to Manchester Royal Infirmary and their local GP surgery to keep frontline staff's spirits high.
Murtza praised his wife, saying: "She's over the moon, we were just wanting to promote kindness during a lockdown, making a difference to others.
"My wife just decided to do it one day. It was our holy month and she's got a good heart.
"We've been here for over ten years and we know a lot of the local people who are struggling.
"We collected donations for the elderly. A lot of people were getting discharged from hospital so we just thought we'd give them packages."
The care packages contained food, groceries and milk and helped those that were coming home after a hospital stay.
Murtza added: "It's not just for us it's for the community as well. It's quite a good community, we come together in times of need."
The couple haven't stopped their charitable acts, offering food bags to parents with hungry children over the half-term break. They made more than 50 parcels that could be collected by those in need.
Their work was also recognised by their local MP, Andrew Gwynne, who presented the couple with one of his Citizen's Awards.
He said: "I've also been delighted to present an award to Denton shopkeeper Murtza Hussain and his family.
"Murtza has been working long hours, going out of his way during the spring lockdown to get hold of essential stock people were struggling to obtain even at supermarkets.
"He also delivered to those in need and raised money to provide food packs for the most vulnerable."