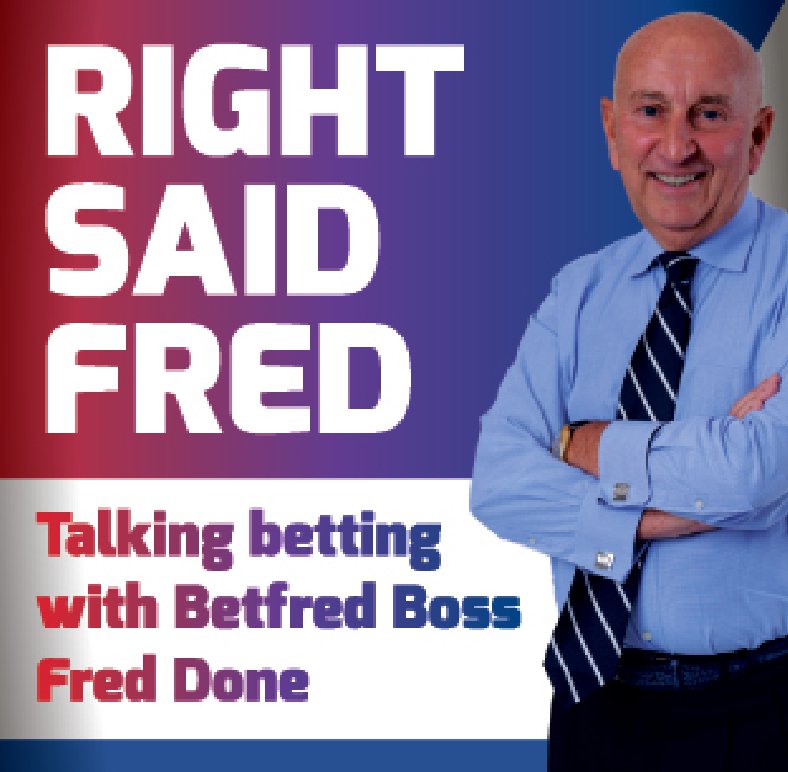 In this week's column, BetFred owner Fred Done talks about the issues with VAR, the latest odds on who will be featuring in I'm a Celebrity...Get Me Out Of Here, and he also looks ahead to the 2020 BetFred Super League campaign.
Apart from the abandoning of VAR sooner rather than later in this New Year, I'm hoping players and managers take a 2020 vow to stop arguing with refs.
It really is embarrassing to see them going on and on attempting to bully officials rather than reflect on their own mistakes be it poor play or tactical incompetence.
The thing is it is pointless anyway because refs or their assistants are never going to change their minds – and why should they when they have made an honest decision be it right or wrong.
You know they might even have got something wrong as they are just human…and remember anyone who hasn't made a mistake hasn't done anything.
Errors even themselves out during the season in any case. Under the old, better and more exciting way of doing things pre over complicated and so very boring VAR, any ref decision was quickly forgotten as the action continued.
While I'm banging on about players' behaviour here's another two niggles: swapping shirts between usually foreign stars who are underlining the impression they are mere highly-paid mercenaries. This practice should be stopped now as should the sale of those weird joint scarves aimed as tourist fans.
Now I might be alone on this one but I do find it incredibly annoying when players and coaching staff keep speaking to one another from behind their hands like they are discussing state secrets rather than going three at the back or two up top!
Anyway Happy New Year! And one Betfred regular who no doubt brought in 2020 in style is Paul Smith took just TEN SECONDS to win £1,555 from me with a £5 football accumulator bet.
He successfully predicted that there would be a goal in the first 45 minutes of sixteen football matches in five leagues in England and Scotland chosen at random on Betfred's first half goal coupon.
But the joy of the 39-year-old, who works in customer services, turned to despair when during a game of snooker he realised he had lost his wallet… containing the betting slip.
Unknown to him, he left it at the Betfred shop near his home at Water Street, Radcliffe, near Bury.
Regulars checked a credit card in the wallet that had his name on, but the problem was everyone knew Paul by his nickname Squidge!
One punter Adrian Wayte however turned Good Samaritan and reckoned the wallet belonged to Paul who he knew was at the snooker club at nearby Abden Street.
"I was the kind elf at Christmas," joked building site labourer Adrian, aged 47 who went on: "He was in a right panic at the snooker club but a great big beaming smile came on his face when I gave him his lost wallet."
Paul, whose winning bet was a joint wager with pal Jake Locket, said it took him ten seconds to select those 16 matches…and of course he's planning to reward Adrian with a few quid for his honesty.
To be fair I'm not a big fan of I'm a Celebrity Get Me Out of Here… but I wouldn't miss an episode if Roy Keane was in it.
This fella always shoots from the hip saying exactly what he thinks.
That's what makes the United legend an excellent TV pundit, because he isn't at all bothered who he upsets.
And if he went in the Jungle Down Under, who knows what would happen which would make for compulsive viewing.
Keane is 100/1 at Betfred – the same price as another opinionated former star in Graeme Souness – to take part in the hit show this year.
Retired darts champ Phil Taylor is a 20/1 shot to join the 'fun', with controversial former ref Graham Poll and current Premier League official Mike Riley available at 33/1.
Come to think of it, if that pair got going on VAR they would be as boring as politicians Nigel Farage (8/1) – and Jeremy Corbyn (12/1).
We're already past the half-way stage of the season - and a strong pace has been set in the race to be Premier League Player of the Year.
Liverpool hold that 13-point lead in the title race, and not many have been as influential in achieving that as Sadio Mane, our current 11/8 favourite for the honour.
The champions, City, on the other hand, have been nothing like as consistent in the league as last season but the fact that Kevin De Bruyne still manages to top several Liverpool stars as our 3/1 second favourite is testament to just how good he's been, especially over the festive period.
One of only a handful that break the Liverpool-City dominance in the betting is Leicester City striker Jamie Vardy, at 15/2.
He is currently well clear at the top in the race for the Golden Boot, with 17 league goals to his name and an incredible minutes per goal record of 101.
Next is Liverpool full-back Trent Alexander-Arnold (8/1), who would have even stronger claims for the award if there wasn't a Young Player of the Year award, which he is 4/9 to win.
Meanwhile we have Raheem Sterling 12/1 to be named PFA Player of the Year, followed by Mo Salah (16/1), last year's winner Virgil van Dijk (16/1).
Finally the Betfred Super League gets under way later this month - and Steve Price has vowed that Warrington Wolves will be the Great Entertainers in 2020.
The coach accepted at a fans' forum that his team need to "play a bit more football."
That's smashing news, not just for the team's supporters but for the league as a whole.
He admitted he and his coaching staff had identified their strength for the new season in the half-backs with marquee pairing Blake Austin and top latest signing Gareth Widdop.
Austin was favourite this time last year to be 2019 Steve Prescott Man of Steel, but was pipped by Salford's inspirational Jackson Hastings.
Today, Austin is 14/1 joint second favourite at Betfred for the top individual honour in the game, along with Saints' Lachlan Coote and Catalans stand-off James Maloney.
Hastings – now of course with Wigan – is the 12/1 favourite to retain the trophy while Widdop is available at 16/1 – the same odds as Luke Gale at Leeds and the biggest signing for the sport in living memory Sonny Bill Williams at Toronto.
Warrington are 4/1 third favourites with us to win the 2020 Betfred Grand Final behind holders St Helens at 5/2 And the Warriors at 3/1. Betfred have Hull FC next up at 10/1 followed by Leeds (11/1), Catalans (14/1), Castleford (16/1), Toronto (25/1), my home town club Salford at 33/1, Wakefield (50/1) while Hull KR and Huddersfield are the 66/1 outsiders.
By