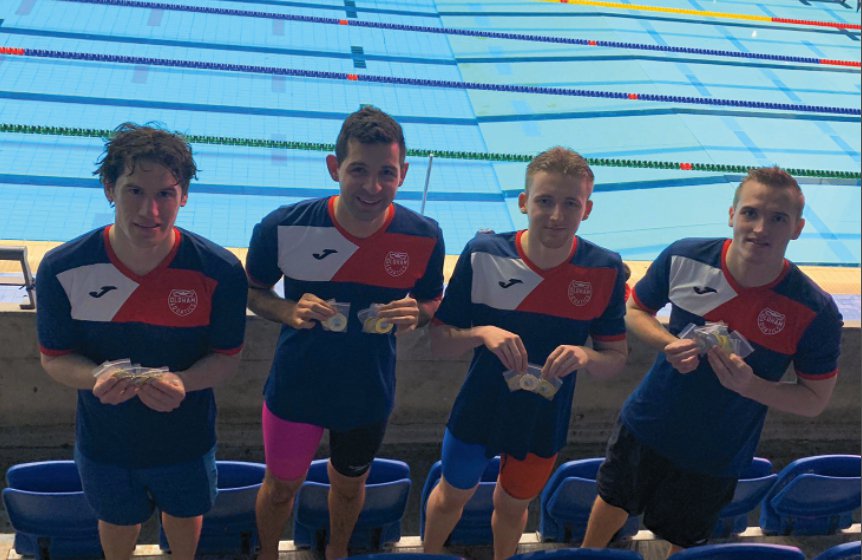 Oldham Aquatics' four-man squad at the South Yorkshire Open Masters continued their fine form to end the season in style.
Two weeks after success at the Swim England National Masters Championships, George Morreal, Joseph McCue, Aidan Tevlin and Matthew Lees returned to Sheffield's Ponds Forge International Sports Centre.
The quartet, coached by Victoria Hart at the OCL-run Leisure Centre in Middleton Road, triumphed once again as they racked up 13 individual medals between them and won both their relays.
George and Matthew collected medals in all their races as both won a hat-trick of individual gold medals.
Oldham's first prize came from George in the Male 25/29 Years 400m Freestyle, four months after winning the same event at July's Cheshire Masters.
Despite racing the 100 Backstroke for the first time in two years he ranked first beforehand and backed it up to win gold in 1:04.17, beating his time from February 2017.
His third gold came in the 100 Individual Medley – an event which also saw Matthew win gold and Joseph silver in their respective categories – after winning this year at Cheshire and February's North West Masters.
Matthew won both 30/34 Years Butterfly events over 50 and 100 to complete his trio of individual gold medals.
He also swam Fly in the Male 72+ 100 Medley relay after George's Back and Joseph's Breaststroke leg, before Aidan's Free brought home gold in 53.64. Joseph, the busiest swimmer with six individual races, grabbed his own gold in the Male 18/24 Years 50 Breast after finishing close to his personal best set at National Masters.
He won silver in 50 Fly, in a time only 0.12 seconds away from his pb, bronze in the 50 Free – an event where Matthew finished second in his category – and finished fourth in the 100 Fly and Free.
The youngest of the group, Aidan, also raced in the 18/24 Years, and finished fourth behind Joseph in both the 50 Free and Fly.
His Fly time of 28.42 bettered his National Masters swim, a feat he matched with 29.71 in the 50 Back to secure silver, just 0.2 seconds behind the winner.
In the gala's penultimate event, Matthew's quickest 100 Free time in five years – 1:01.01 – was good enough for bronze and ensure a quintet of individual medals from five races. The team then combined to post 48.02 for the Male 72+ 100 Free Relay and win gold to end the meet on a high.
With the 2020 Masters season due to begin in February, Oldham's performance in Sheffield completes a successful 2019 that included a hatful of medals at the North West, Cheshire, Yorkshire and National Championships.
By Matthew Lees