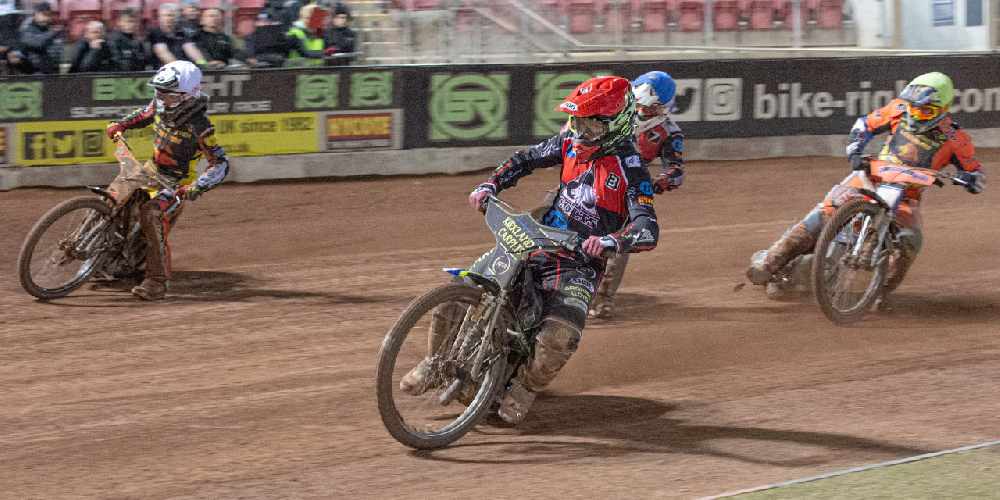 The 'Cool Running' Colts won the seconf leg of the National League KOC Final 47-43, but it's the Leicester Cubs who take the trophy winning 88-74 on aggregate.
Leicester number one Ellis Perks went through both meetings unbeaten, showing himself to be head and shoulders above the National League, as he completed a unique clean sweep, winning the NL league and cup double with the Lion Cubs, taking the second division league title with Leicester Lions, and the top-flight Premiership league and cup double with Swindon.
The damage was done in the first leg as the 18-point deficit proved just too much for the young Colts' side, who never stopped fighting.
Leicester drew first blood with a 4-2 in heat two, but Belle Vue hit back as Connor Bailey flew from the start to win heat three with skipper Kyle Bickley in third.
The Colts got their noses in front when 15-year-old Jordan Palin defeated Cubs' skipper Danyon Hume in heat six and they went four up with Danny Phillips and Ben Woodhull who took a 4-2 in the eighth race.
Bickley and Bailey brought the house down as they passed Hume for a brilliant 5-1 in heat nine, and with eight of the 18 points clawed back, there was a brief glimmer of hope that a fightback could be possible. But Leicester closed the gap to six in the next, and were able to bring skipper Hume into heat 11 to replace absent Luke Ruddick.
The resultant 5-1 from Hume and unbeaten Perks, brought the scores back to 34-32, meaning the Colts needed maximum 5-1 wins from all four remaining heats to force an aggregate draw.
Despite the near impossible odds, Ben Woodhull typified the Colts' fighting spirit in heat 12 as skipper Bickley led. Knowing that his third place was not enough, teenage Woodhull launched a do-or-die bid to pass Leicester heat-leader Joe Thompson off the final bend. However he crashed into the airfence, ending his race.
Though the aggregate cup final win was lost, Leon Flint and Connor Bailey finished the last race with a maximum win to ensure the meeting was won on the night.
Colts' co-team manager Steve Williams said: "Tonight wasn't the result we'd hoped for, but all seven lads can hold their heads high. They've been a credit to the club and a pleasure to manage.
"We finished second in the league and were runners-up in the cup, so there's only been one team better than us all year."
Graham Goodwin
BELLE VUE 47: Connor Bailey 12+2, Leon Flint 11, Kyle Bickley 8+1, Jordan Palin 7, Danny Phillips 5+1, Ben Woodhull 4+1, Ben Rathbone 0.
LEICESTER 43: Ellis Perks 11+1, Dan Thompson 11+1, Danyon Hume 10, Joe Thompson 5, Josh Embleton 4+1, Ryan Terry-Daley 2+1, Luke Ruddick r/r.
Leicester win 88-74 on aggregate.
Picture by Ian Charles