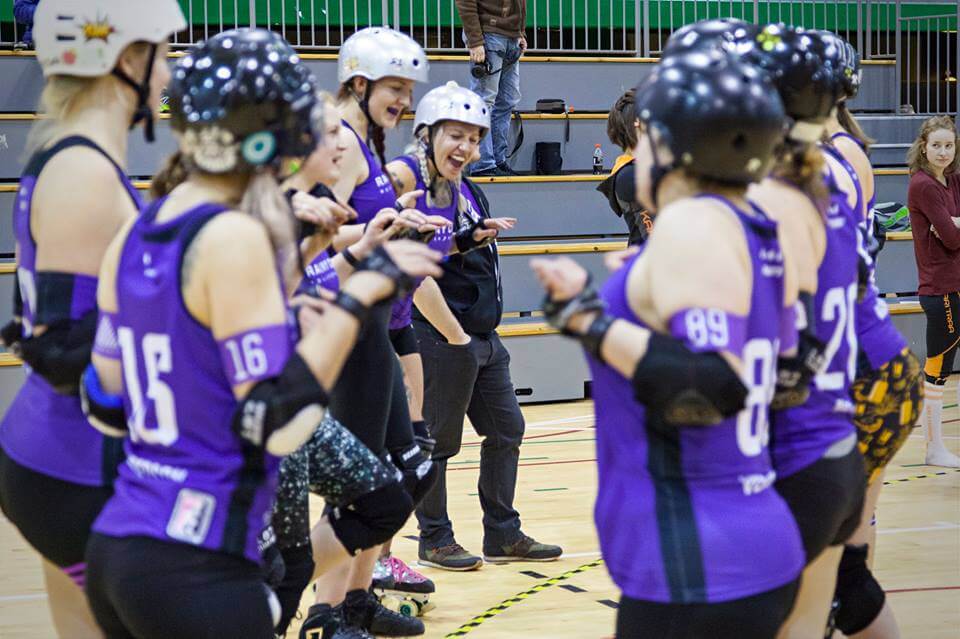 The Rainy City All Stars A team had a solid win on Sunday beating Central City Roller Derby (from Birmingham) 437 - 16.
Central City, ranked 45 places below the Rainy City All Stars, travelled up to the Thunderdome expecting a challenge to help them prepare for a European tournament this coming weekend in Helsinki.
Central City battled throughout but ultimately the speed and agility of Rainy City's star jammers (point scorers), and the solid Rainy defensive walls were too much for them to be too much of a threat. It was a bittersweet victory as it marked the final game for three skaters and one of their officials. Sadly, Rainy City and Team England legend, Menace, is retiring from Roller Derby. They also say farewell to Fred and Stoppless who will be returning to Sweden after a successful season in Oldham. Dan has been head referee and an important part of the league for a long time too, but hangs up his whistle after officiating over 300 games.
The next games are on October 19 when they host a Manchester Derby, with Rainy Revolution taking on local rivals Arcadia. S.A.M from Bordeaux are also visiting Oldham to take on their B team, the Tender Hooligans. The cafe and bar will be open, tickets are available online in advance or on the door.
In other news, Rainy City Roller Derby welcome 12-17 year olds to Rainy City Juniors, supported by Hive Skate Hub.
Their home venue in Oldham, The Thunderdome, is open between 9 - 11 am every Saturday for any 12 -17 year olds that want to learn to roller skate. As well as roller skating basics, we coach all of the skills needed to go on to play roller derby. No experience or kit is necessary, their coaches can coach absolute beginners through to advanced skaters, and they have kit available to borrow in a range of sizes. Coaching is provided by skaters with years of experience playing and coaching roller derby, as well as other skating and fitness disciplines. Sessions cost £6 per skater and are open to all genders. There is no need to book, just turn up on the day. Doors are open from 8:45 so you have time to get kitted up. More information is available on their website and Facebook page.
Want to learn to skate but over 18? They have rookies sessions every Friday night from 7-9 pm.