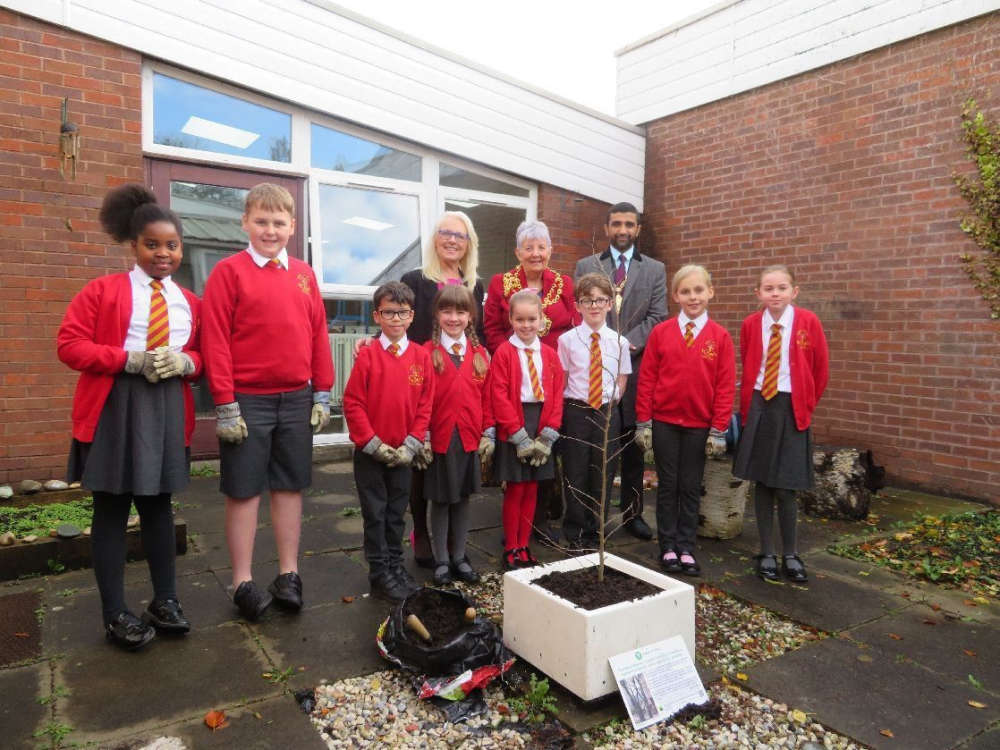 Pupils and staff of a Royton primary school joined the Mayor of Oldham for a special assembly to reaffirm the commitment of the school community to work for peace by planting a very special tree from Hiroshima. 
St Pauls C.E. Primary School was the first school in Oldham to sign the Pledge to Peace in the autumn of 2016.
The Pledge to Peace is an international initiative launched at the European Parliament in November 2011, where signatories pledge to carry out actions for peace in their communities. Twenty-six schools and colleges in Oldham have so far made the Pledge.
On Tuesday 3 November, head teacher Hilary Henderson hosted a special assembly where the children sung their hearts out for peace and where the school council led a special prayer for peace.
The assembly was also addressed by the Mayor of Oldham, Councillor Jenny Harrison, who called on every pupil to do their part for peace, stressing that their individual contributions make a big collective difference.
Father Graham Hollowood, Vicar of St Paul's Church in Royton, then drew reference to the COP26 conference in Glasgow and called on everyone to make their peace with nature and to work to save our planet, before blessing the gingko sapling.
Following the assembly, pupil School Councillors from year 3, 4, 5, and 6 accompanied the Mayor, the Mayor's Consort Councillor Shaid Mushtaq, Headteacher Hilary Henderson, Father Hollowood and Richard Outram, Secretary of the Oldham Pledge to Peace Forum, into the peace garden where the tree was planted.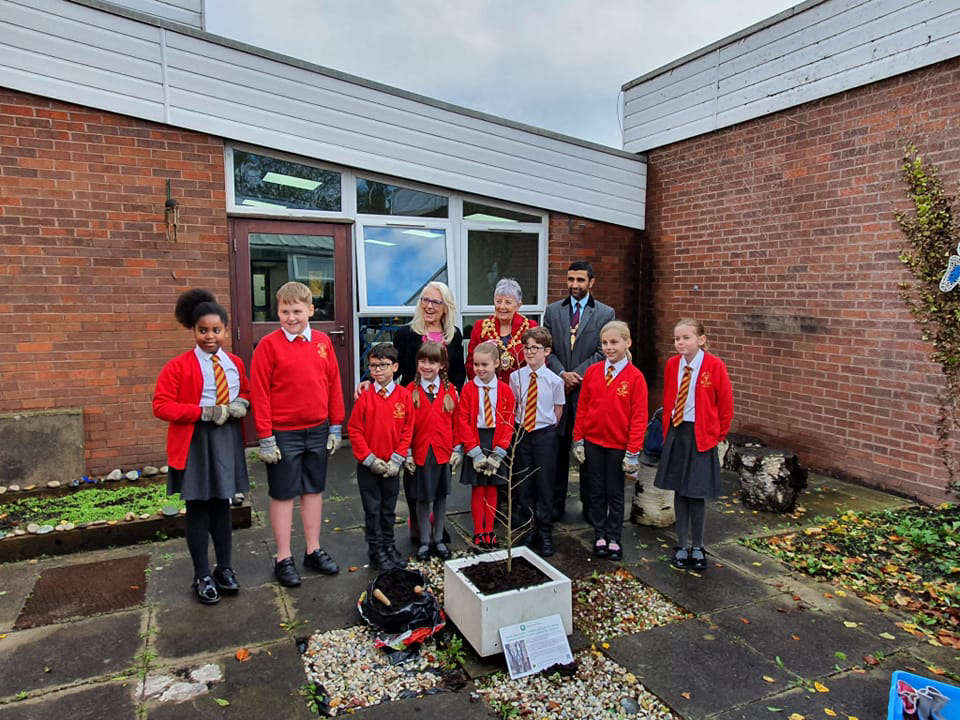 Mr Outram, who came to the school bearing the tree, explained the sapling's unique provenance:
"This gingko sapling was grown from seeds sourced from a tree which survived the atomic bombing of Hiroshima in August 1945. Oldham is a member of the international Mayors for Peace initiative and these seeds were given as a gift by the President of Mayors for Peace, the Mayor of Hiroshima to the Mayor of Oldham.
"They were first planted in April 2017 at a special ceremony hosted by Oldham's then Mayor of Peace, Councillor Derek Heffernan, by two ladies, who survived the atomic bombing, so it was especially fitting that this sapling was today blessed by Father Hollowood as he served as Mayor Heffernan's Chaplain during his year in office.
"St Paul's was offered this tree because of the school's connection with Hiroshima. In 2017 and 2018, St Paul's pupils joined those from four other Oldham primary schools to make thousands of paper peace cranes which were sent to the Mayor of Hiroshima in remembrance of the many innocent children and young people of that city who so sadly lost their lives in that tragic bombing on 6 August 1945."
Commenting on the event, Mrs Henderson said: "The children at St Paul's are passionate about bringing peace to others and finding ways to ignite the importance of this within the wider community.
"We are delighted and honoured to receive a sapling that has been nurtured and grown from the seed of a surviving tree during the bombing in Hiroshima. It will always be a reminder for our pupils of the importance of building peaceful relationships throughout the world and to respect that everyone has a positive part to play to ensure there is a future for generations to come, and that it is up to the young people of today to make this happen."
Read more from the Oldham Reporter