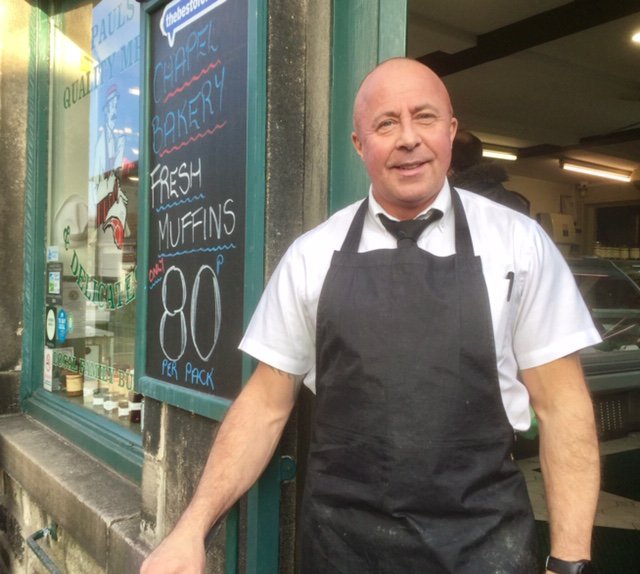 Christmas lights will shine with added brightness in a Saddleworth village this year, in memory of a man who was the driving force behind the cheering Yuletide display.
Paul Lowcock (pictured), the popular Uppermill butcher, died suddenly earlier this year.
But Cllr Pam Byrne, backed by Saddleworth Round Table, is determined to ensure that his passion to light up the community will live on.
In a letter to local businesses and villagers, seeking support for the initiative, Cllr Byrne said: "You have all been wonderful in supporting Winter Wonderland over the last 16 years and thank you.
"Earlier this year, Paul Lowcock, of Paul's Quality Meats, suddenly became ill and sadly died.
"There had only been the two of us, with Paul doing the greater part of the work for the lighting of Uppermill.
"Paul's family Gill and Vicky and the Saddleworth Round Table, who organise the parade, have offered to come on board to keep this alive.
"This year, the Christmas tree in the Square will have 'Paul's Star' on top in his memory.
"Last year, we financed the lighting of the Museum - a vital starting point for the parade and subsequent activities before the Firework Display.
"We have lights to maintain to keep us bright and Paul had always hoped to light up in the trees in The Square, but the cost has always been out of our reach so far.
"We will strive to do this in memory of Paul when we can afford it. We hope that you will light up your businesses and houses with soft white lights to give the village that wow factor.
"We would of course appreciate any donations towards our future plans," she added.
Andrew Rothwell, chair of Saddleworth Round Table, who are staging the annual charity Santa Dash in the village, said: "We are working closely with the lights committee to donate significant money to light up the park and square for 2020.
"Money has been ringfenced at present and we will work with organisers and Oldham Council to get maximum impact from the pledged money and other donations.
"Paul was a Round Table stalwart who had a huge impact on getting the switch-on in Uppermill. The works put in place with the lights committee will make Uppermill look great at Christmas and leave a legacy to honour our Paul."
Cheques, made payable to Winter Wonderland, can be given to Paul's Quality Meats on High Street, Uppermill, for the attention of Vicky or Gill or Cllr Pam Byrne.