When it comes to DIY, Oldham and Tameside residents are among the most skilled in the region according to a new study.
But it seems DIY skills are in danger of dying out as only a quarter of Greater Manchester residents feel confident at DIY in their homes.
Out of the 10 boroughs in Greater Manchester, Oldham ranked second with 70 per cent of people surveyed saying they feel competent at carrying out a range of DIY tasks, including wallpapering, painting, changing a lightbulb and unclogging a sink. Tameside was sixth in the list with 63 per cent.
Research with over 500 consumers was conducted by Paddle - a new app which connects homeowners with local tradespeople.
It found that just over an eighth (14 per cent) of those surveyed said they have time to do DIY themselves, with others relying on professional tradesmen or turning to partners and parents for help in the home.
Paddle also used the findings to highlight which DIY tasks each borough was worst at. Tameside was worst at changing a lightbulb, while Oldham - as one of the top two boroughs - didn't come bottom in any of the categories presented.
Other findings include 24 per cent of Tameside participants never take time off work to do DIY, compared to 16 per cent in Oldham. Meanwhile, 48 per cent of people in Tameside would never try wallpapering but 63 per cent of participants in Oldham would give it a go.
And 34 per cent of Tameside folk wouldn't know where to start with unclogging a sink, but only 21 per cent in Oldham would need to call a plumber.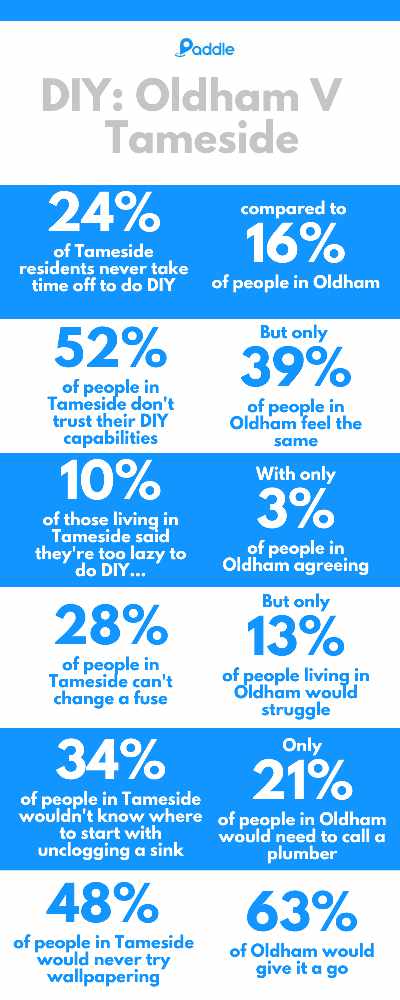 The study also found that the dreaded 'life admin' and DIY is often put on the back burner, with many of us preferring to spend time off work just relaxing (54 per cent), travelling abroad (40 per cent) or shopping (38 per cent).
Inevitably, the jobs must pile up though, as over a quarter of us (26 per cent) admitted to taking time off work to get the household jobs done, such as putting up shelves and changing lightbulbs.
Commenting on the research, Manchester-born Mark Fraser, co-founder of Paddle, said: "The news is rife with stories about people now being unable to carry out basic DIY tasks but this isn't always down to a lack of ability or tools.
"With people working longer hours and spending more time commuting, consumers now seem to be prioritising other activities instead of doing DIY. That's why we set up Paddle, so that the life admin doesn't pile up and we can help take the tasks off your hands.
He added: "Thanks to Paddle, it's never been quicker or easier to find quality tradespeople, so now your time can be spent doing things you actually want to do. In Greater Manchester, in particular, we could see huge potential to support those decorating and renovating their homes and fill the skills gap, as well as helping busy homeowners achieve their dream homes."
To find out more, visit https://just-paddle.com/. You can also download the 'Paddle' app by searching in the App Store (iPhone) and Google Play (Android).