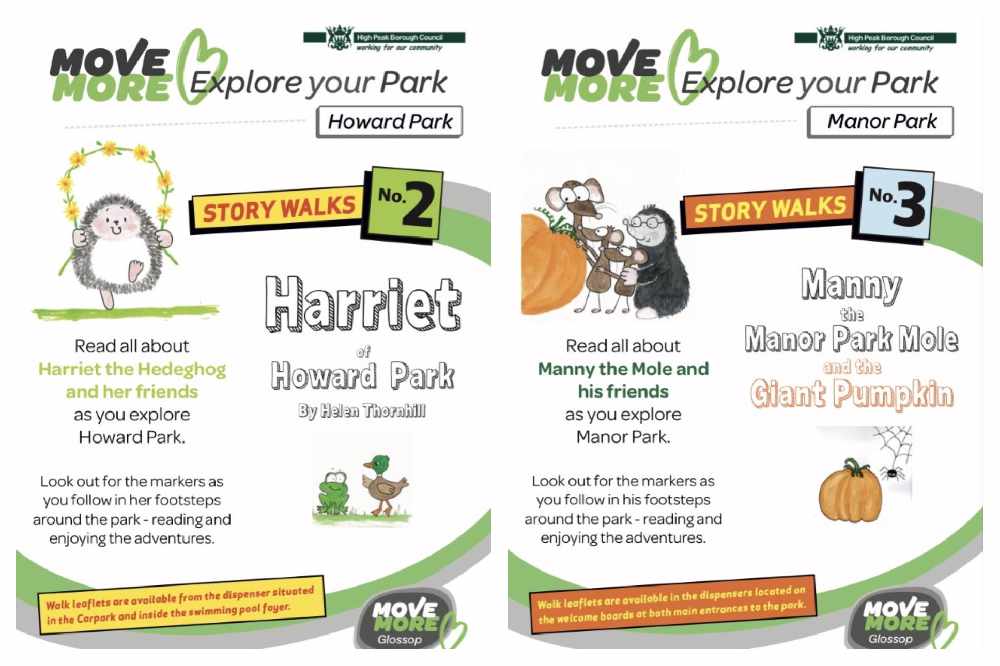 Families across Glossopdale will be able to enjoy two more 'story walks' in local parks. 
Move More Glossop - which helps people in Glossop to move more and find ways to build movement into everyday life - launched a first 'story walk' in conjunction with High Peak Borough Council over the August bank holiday weekend.
Around 500 people - including mums, dads, aunties, uncles, grandparents, adults and children - took part in the story called 'Manny the Mole'.
Such was its success, two new self-lead story walks have now been launched - which have been written and illustrated by Move More Project Officer Helen Thornhill.
They are designed to guide you and your family around the park, whilst finding out what the characters are up to - meeting new colourful characters along the way.
In Howard Park, Harriet the Hedgehog goes for an adventure with her friend Freddie the Frog.
Flyers with more info are available from the dispensers in the foyer at Glossop Swimming Pool or at the Welcome board at the car park.
It's the perfect activity for youngsters after a swim or a play in the park.
In Manor Park, Manny the Mole is back as he enjoys a walk around the park doing lots of activities and he helps his friends Dennis the Dormouse and family pull out a giant pumpkin.
Flyers are available from the two dispensers at the Welcome boards at both entrances to the park.
The flyers for both stories can also be downloaded from The Bureau website at https://the-bureau.org.uk/move-more-glossop/.
Move More Glossop also welcomes feedback from the story walks - either through their Facebook page at https://www.facebook.com/MoveMoreGlossop/ or email helen@the-Bureau.org.uk.