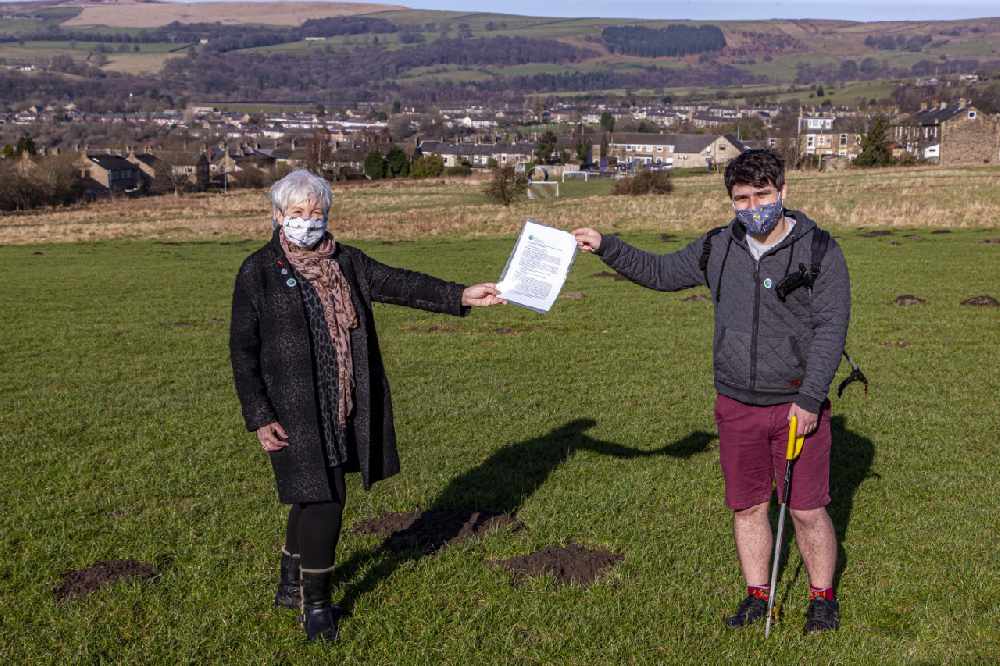 A Hadfield action group is stepping up its fight to stop houses being built on land which it claims is a natural green barrier between two communities.
'Save Roughfields' is sending out an official Letter of Petition to local councillors and High Peak Economy and Growth Committee to formally state its case against any possible development.
The group also wants Roughfields taking off the borough council's 2016 Local Plan which says the Padfield Main Road site is earmarked for homes.
In a statement to the Chronicle on the launching of its campaign, the group said: "Today marks an important occasion in the fight to Save Roughfields.
"We implore all local residents to join us in writing to their local councillor to express their support for our campaign and to show that this is a space we wish to keep for generations to come.
"Any residents wishing to know more can, as always, visit our Facebook page or contact us directly at saveroughfields@gmail.com. Cllr Ollie Cross has already expressed his overwhelming support for our campaign and now we seek to work with other members of High Peak Borough Council to help Save Roughfields."
The group had been shocked to discover that Roughfields, along with land at Melandra Castle Road, Gamesley, Paradise Street, Hadfield and Adderley Place, Dinting, was on the plan and that the four were on HPBC's Accelerated Housing Delivery Programme.
The realisation gained momentum when the council commissioned test drilling on Roughfields - which the group want retained as an open space between Hadfield and Padfield - earlier this year.
Cllr Cross, who received the Letter of Petition on Friday, from Save Roughfields chair Halina Billingham, said: "Over the past few weeks, I've been acting as a liaison between the Save Roughfields Steering Committee and the council.
"Roughfields is a hugely important local green space and greatly cherished community recreational asset which is enjoyed and savoured by folk of all ages, and provides a focal point for our local community in this part of Hadfield.
"I have deep reservations regarding the prospect of any future development on Roughfields for a variety of reasons. We have a shortfall in local amenities and infrastructure.
"My concerns include worries about the availability of local schools, doctors, dentists and the detrimental impact it would have on local wildlife and plant life too. I should imagine there would be a marked increase in traffic in the local area which would be disastrous - our local streets and roads simply weren't designed for the mass ownership of motor vehicles.
"In addition, I have reservations regarding the affect any development would have on the separation between Hadfield and Padfield. Padfield is a fiercely independent village. I would loathe for Padfielders to feel their village has become a suburb and have had their strong identity eroded.
"I recognise that there is a shortage of genuinely affordable housing. This is not just a High Peak issue, but is a problem facing the vast majority of local authorities.
"I highly doubt that any future development will consist of a decent portion of affordable housing as I believe any developer would naturally seek to extract as much profit as possible from their hefty investment.
"I also recognise that the council is batting on a sticky wicket. If a council fails to show that it has a five year supply of land for housing then it will be penalised and a local authority may even lose control over the location of future development.
"It's why I believe a temporary pause on national policy setting high targets for house building and painful penalties for failing to meet targets would offer a brief respite for more measure consideration of the merits of planning applications so they can be tailored to local needs.
"Roughfields has been included in the 2016 Local Plan so there is a real prospect development at some point in the future, especially if an application is submitted before it expires in 2031.
"However, at this point in time there is no proposed development on Roughfields as there hasn't been a planning application submitted.
"Any future application would have to meet certain criteria and would also be classed as a Major Development so therefore would have to go before the Development Control Committee.
"There's a lot of hard work currently taking place and plenty more to come over the next few months and years to boot.
"Whilst it would be grossly irresponsible of me to promise a desired outcome, what I can say is that I will always put the interests of my local residents first.
"If Roughfields is to be saved from future development then it's going to take a team effort. I'll continue to support and work alongside local residents in whatever way I can and to the very best of my ability.
"If anyone would like to share their thoughts please don't hesitate to drop me an email at ollie.cross@highpeak.gov.uk, or alternatively, give me a bell on 078139 69399.
"You can get in touch via my Facebook page Councillor Ollie Cross for Padfield too."
Main image:
CAMPAIGN: Halina Billingham hands over the Letter of Petition to Cllr Ollie Cross.
Read more from the Glossop Chronicle
Click here for more of the latest news
Click here to read the latest edition of the paper online
Click here to find out where you can pick up a copy of the paper