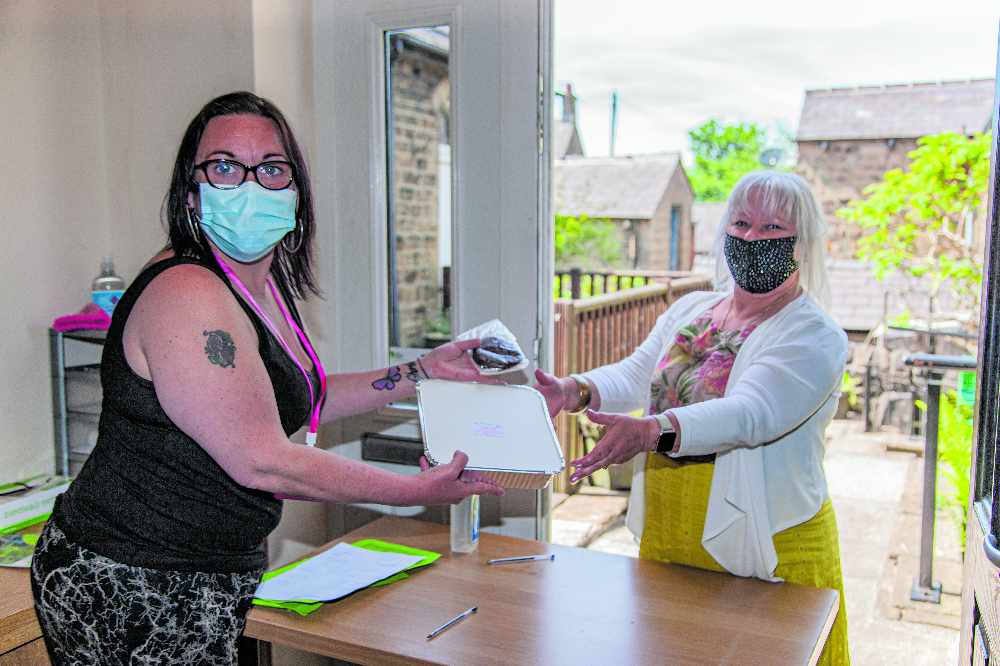 Jacqueline Gillespie-Cox (left) and Jill Cross with a packed and ready to enjoy meal.
Hadfield Coming Together's catering team has been busy preparing and serving meals for the over-60s at the Carmel Church kitchens.
The enterprise was funded by Foundation Derbyshire and once again Padfield borough councillor Ollie Cross slipped on his apron to land a hand.
Ollie told us: "Our community chef, Jacqueline Gillespie-Cox, has recently conducted virtual cooking classes as part of the Tesco Community Cookery School, to share her knowledge on how best to use surplus food and reduce food waste, to folk in our local community.
"Jac demonstrated many of her skills again on Wednesday and worked tirelessly with Gill Cox to cook the food.
"Gill then served the delicious meals to local residents later on in the afternoon whilst I was assigned to refreshments duty.
"I would like to thank them and Jamie Fox and Joy Grahamslaw for helping to deliver some of the meals."
Hadfield Coming Together served 62 meals to local residents.
On the menu was a wholesome and much loved classic - roast beef dinner. There were chocolate cookies for pudding, with an array of refreshments also available.
Ollie added: "Gill and Jacqueline are the engine behind this project and have been making over-60s' meals on a fortnightly basis.
"Like every project they're involved in, both Gill and Jac, have put their heart and soul into making this service a resounding success.
"I know that they love what they do, but I'll always be eternally grateful for how the Carmel Hadfield Church and Hadfield Coming Together Team consistently go above and beyond for Hadfielders, Padfielders and Tinslers.
"They're all a real credit to our local community.
"From starting out doing 16-20 on the first few occasions, demand has grown rapidly as positive reviews have begun to spread.
"Amazingly, Carmel Church and Hadfield Coming Together have now managed to serve 915 over-60s' meals to folk in our local community since last August.
"I've been told that the next Carmel over-60s' meal service is scheduled for Tuesday, July 22.
"This service is provided entirely free of charge and is collection only (between 3-4pm).
"If anyone who would like any more information, or would like to book a place, then please don't hesitate to contact Gill on 07549 307720. All are welcome."
Read more from the Glossop Chronicle
Click here for more of the latest news
Click here to read the latest edition of the paper online
Click here to find out where you can pick up a copy of the paper