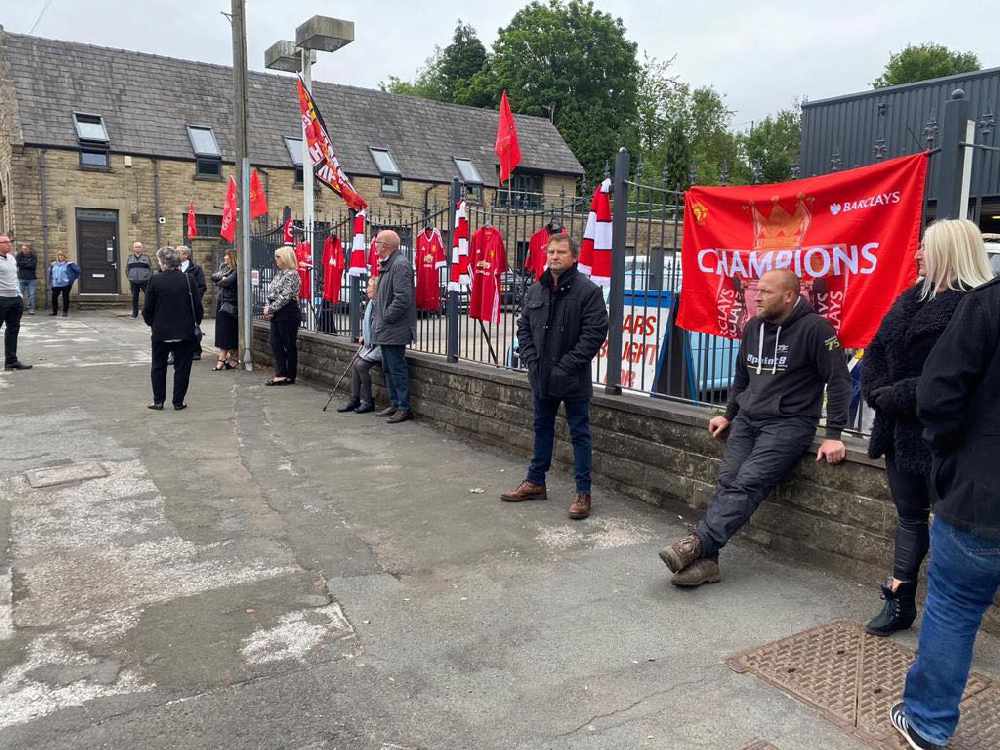 Former Manchester United player Barry Smith was given a great send-off as his funeral cortege left Glossop.
Family, friends and fans met outside his home on High Street West as the funeral procession went by.
There were Manchester United shirts and champions flags hanging from nearby railings.
The shirts had been worn by Manchester United players at league matches, FA Cup and European Cup games, the flag once appeared in the centre circle at Old Trafford.
All loaned for the day by Manchester United Old Boys' Club in tribute to Barry.
A talented full-back, Barry (pictured below) played for Manchester United in the Sir Matt Busby era, at the time of the legendary 'Busby Babes'.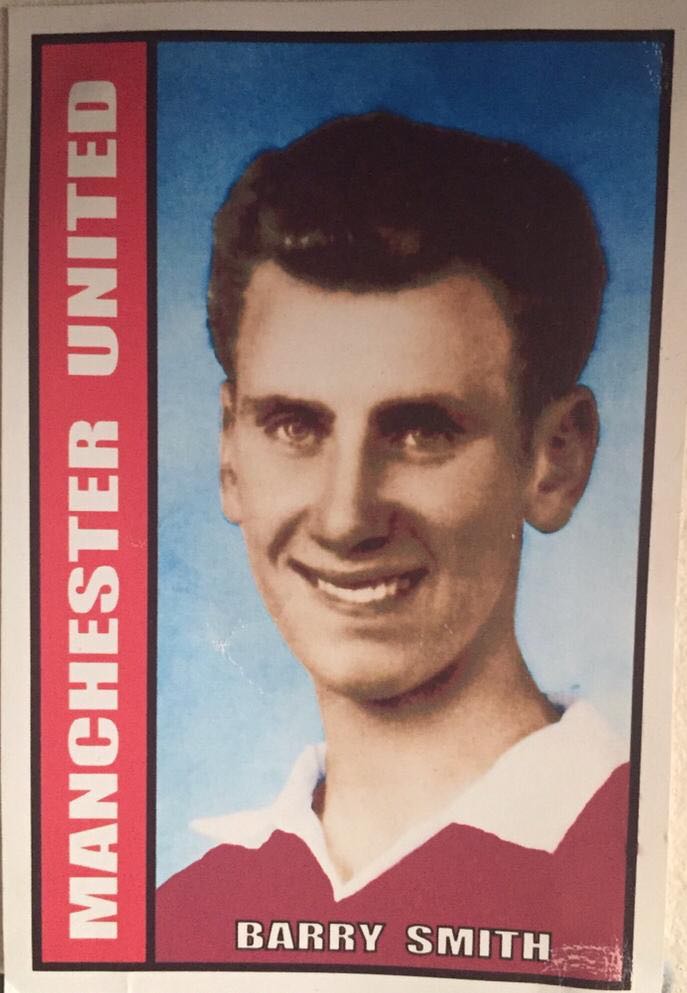 He never played for the first team, but was a regular in the reserves when Manchester United were one of Europe's top sides.
Barry, 79, was a member of the 22 player first-team squad and amongst the family's precious collection of photographs are several of him with the United legends.
Son Steve remembers his dad talking about his days at Old Trafford and the great players he rubbed shoulders with.
One was the Red Devils and England legend Duncan Edwards.
Steve said: "The apprentices cleaned the players' boots, my dad cleaned Duncan's.
"When Duncan died (in the Munich air crash) the club gave a pair of his boots to my dad because they knew Duncan was his idol.
He told me he played in them, although they pinched him."
Steve added with a smile: "I asked what he had done with the boots when he had finished with them and he said he had thrown them away.
"I told him they would have been worth £100,000 today."
Barry had showed his football potential in his early days when he was picked to play for Manchester Boys.
He was later capped by England schoolboys and captained the side.
Steve said: "He was a strong player and a lot of clubs wanted him.
"A friend once told me he had seen him playing in the same youth team as Bobby Moore and my dad was the better player."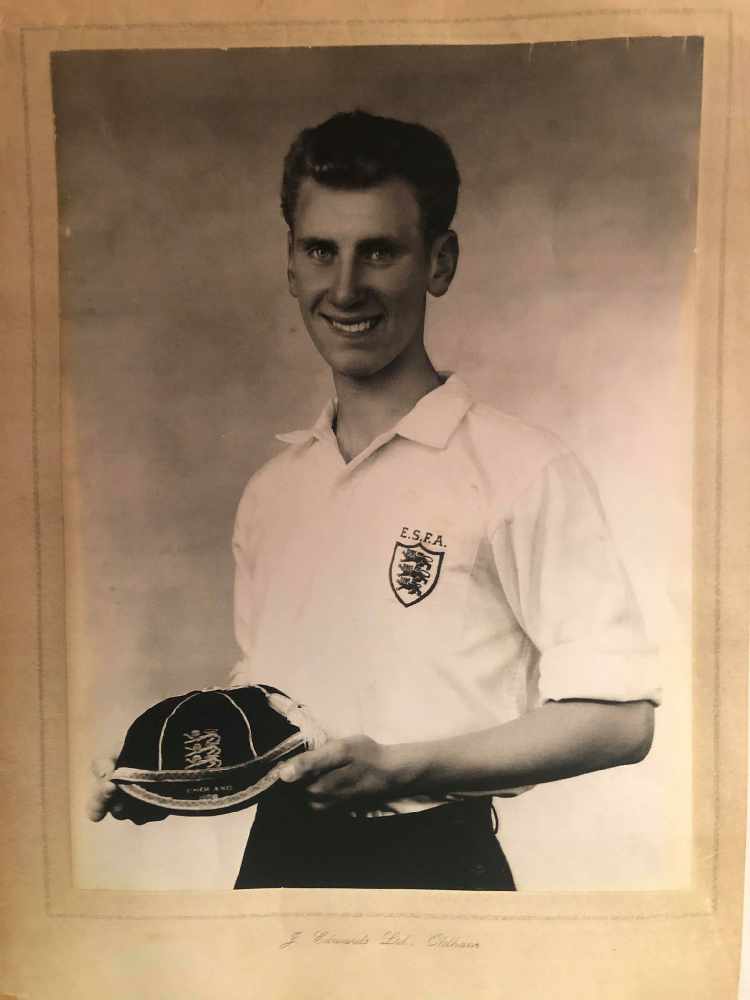 PROUD: Barry Smith in his playing days.
Manchester United were always looking for potential stars and signed him on.
Barry also once played for United in a match at Glossop, probably a friendly, which Glossop won 5-1.
With such a wealth of talent to choose from at Old Trafford, Barry was released and joined Buxton.
He was later sold to Cambridge City, later playing for Cambridge United and Hastings, before moving back to Buxton, playing with ex-Manchester City player Fred Eyre and other former league players.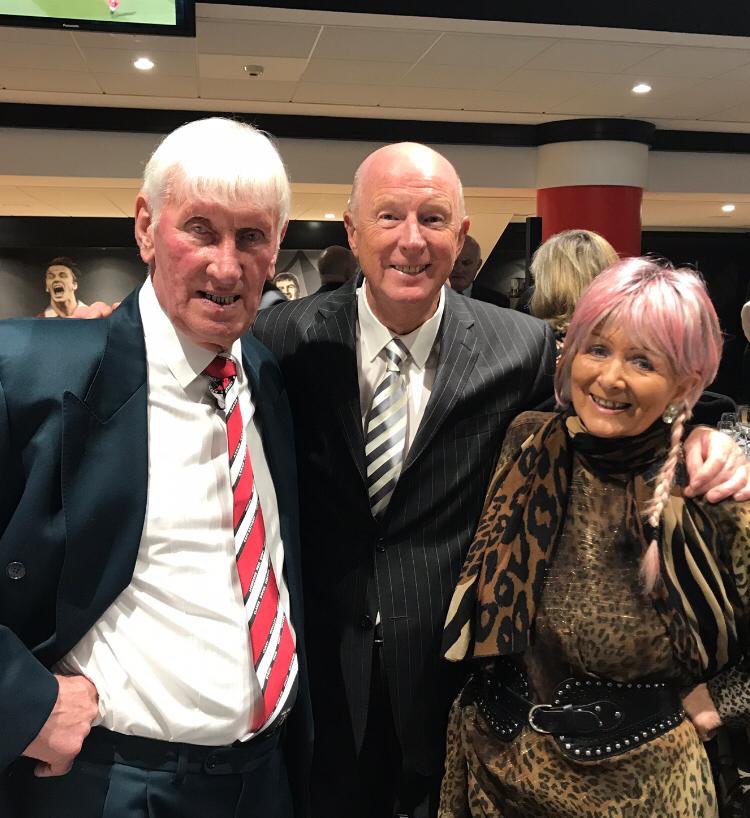 MEETING: Barry Smith with wife Gina and ex-Manchester City player Fred Eyre.
Like many players of that era, Barry went on to suffer from Alzheimer's in later life, but he was fit and had worked locally until three years ago.
He was taken to Tameside Hospital with Covid-19, where he died on May 26.
Barry was buried at Mottram Cemetery on June 8, and because of the government distancing regulations, many relatives and friends were unable to attend the funeral.
The family are raising money for the Alzheimer's charity in memory of Barry.
United Old Boys, which is run by Jimmy Elms and Tommy Heron amongst others, donated £500 to the Alzheimer's fund which will go a long way towards the family's £2,000 target.
Barry leaves his wife Gina and sons Simon, Steve and Mark.
If anyone would like to donate please visit https://barrysmith.muchloved.com/fundraising/events/362175925.
Main image:
PAYING TRIBUTE: Mourners gather along the funeral route for Barry Smith