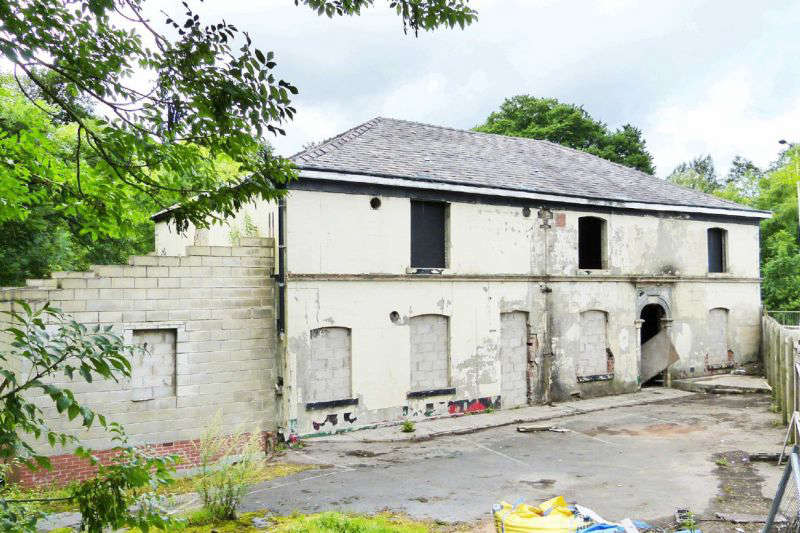 The former Spread Eagle building at Woolley Bridge.
A derelict former pub in the Woolley Bridge area is up for auction.
The old Spread Eagle building is at least 100 to 150 years old and was once a popular pub.
But without a car park and when nearby mills closed, it lost a lot of its customers.
Around 20 years ago, it was refurbished, modernised and called the Riverside, but failed to attract the expected support.
It was subsequently closed and attracted vandals.
It's thought it was bought by a Chinese business, again with plans to re-open, possibly as a restaurant, but nothing happened.
For years it has been an eyesore and there have been calls for High Peak Borough Council to pressure the owners to make it safe and improve its appearance.
Fencing and boarding have been put up, but vandals continued to get in.
Edward Siddall is one of the borough councillors for the area.
He said: "When the refurbished Riverside Inn was sold, there were hopes it would be turned into a motorcycle repair shop, but these plans didn't come to fruition.
"The building itself, despite having been vandalised, isn't in bad repair. It just needs making watertight and internal work done on it. It is an eyesore though so I am hoping that whoever buys it will either renovate it or rebuild it. I am willing to help the new owners with advice if they need it."
The building is now up for auction, with starting bids at £225,000. However it will probably need a similar amount spending on refurbishment.
It was listed for auction on the Edward Mellor Estate Agent website, however the listing now says "postponed".
Listen to Cllr Siddall speaking to our reporter Gill Garston here...