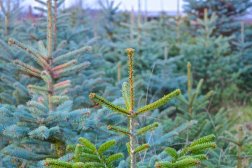 Residents across the High Peak and Derbyshire Dales are being invited to register their real Christmas tree for a New Year recycling service, to support local hospice care.
Blythe House Hospicecare and Helen's Trust is hosting the annual 'treecycle' scheme on Friday 12th and Saturday 13th January 2024 – with registration now open.
The hospice charity – working in partnership with Simon Dowell, owner of S'N'S Trees in New Mills – will be collecting real Christmas trees from SK17, SK22, SK23, S33, S32, DE45 postcodes.
Local home care business, Home Instead is kindly sponsoring the initiative, meaning that as much money as possible can be spent directly on patient care.
Residents can register online and are invited to give a donation to support the hospice's vital services. All collected trees will be chipped and donated for use locally including onallotments and farms.
The hospice is on the lookout for local people who are able to support the tree recycling service, by either donating their time, or lending a van to transport trees. Hot food and refreshments will be available for kind-hearted volunteers.
Sophie Wheeldon, community fundraiser at Blythe House Hospicecare and Helen's Trust, spearheads the campaign. She said: 'We are incredibly grateful to Simon for lending his time and expertise to support our Christmas tree recycling service, and to Home Instead for their very kind sponsorship.
'The treecycle scheme is such a convenient way to recycle your Christmas tree following the festivities; knowing that it's being reused for community initiatives and supporting local patients who have a life-limiting illness, and their families.
'We'd be delighted to hear from anyone – an individual or a local business – who is able to support the treecycle scheme, to enable us to raise as much money as possible for the vital services that Blythe House Hospicecare and Helen's Trust provides. Please do get in touch if you're able to help us.'
Simon and his team have supported the charity with the scheme since 2017, helping to raise over £10,800 for local hospice care. Simon commented: 'I am delighted to be supporting the amazing work of the hospice for the seventh year with the treecycle campaign. The hospice has supported members of my own family in the past and so it means a great deal to me to be able to utilise my skillset to give something back. We have seen increases in support from local communities year on year, and so I am hoping that 2024 will be the best year yet!'
Paul Vickers, director at Home Instead, commented: 'We have been a proud supporter of Blythe House over the last 15 years and delighted to support the valuable work that they do.The treecycle campaign provides a really useful service and it's fantastic to see people putting their trees to good use whilst raising valuable funds.'
Registration closes on Tuesday 9th January 2024. For more information or to register your Christmas tree for recycling, visit: www.blythehousehospice.org.uk/treecycle
To offer your support of the scheme, please call: call 01298 816 995 or email: fundraising@blythehouse.co.uk.