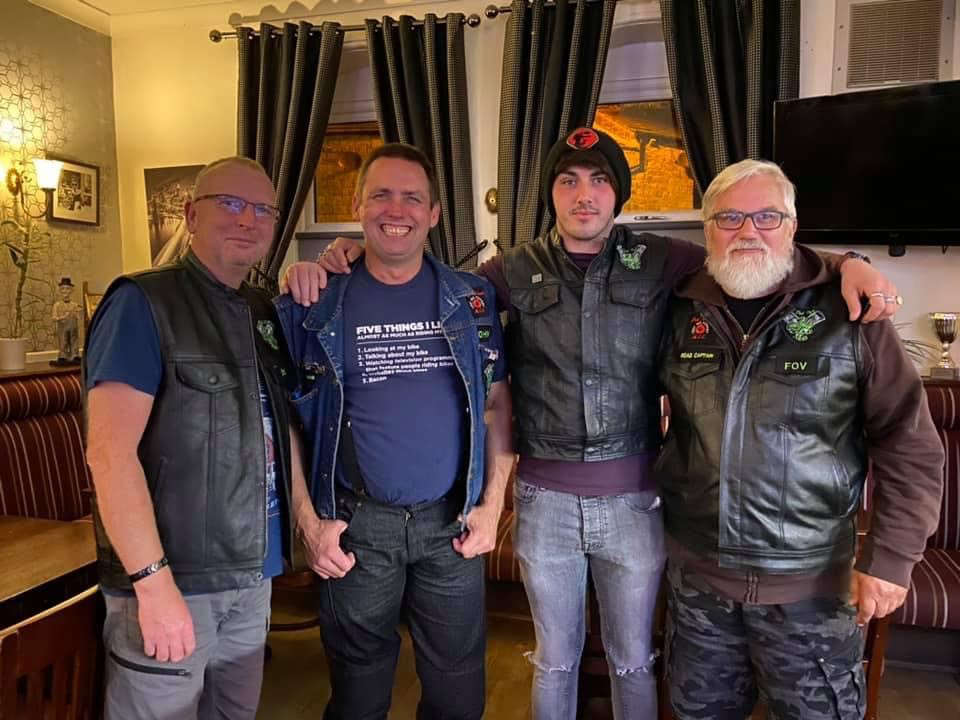 (left to right) Stephen Williams, John Hill, Xavier Sutcliffe and Stephen Fothergill.
A group of bikers from Hadfield and Hollingworth are braving having their legs and chests waxed to raise money for charity.
Pist 'N' Nuts Motorcycle Club was established just over two years ago and quickly attracted more than 20 members.
They meet every Thursday at the Pear Tree pub in Hadfield and raise money for a chosen charity each year.
This year it is the Macmillan Unit at Tameside Hospital. It was chosen last year because club member John Hill's partner Paula was diagnosed with breast cancer.
John said: "Paula has had amazing care at the Tameside Macmillan Unit with Mr Arora looking after her. But some fundraising events were cancelled last year because of the Covid pandemic and lockdown. So we've carried on with the same charity this year."
John, along with Stephen Fothergill, Stephen Williams and Xavier Sutcliffe, are all being brave enough to have their legs and chests waxed to raise money for the unit. They hope to get at least £1,500 at the event.
John told the Chronicle: "I won't complain about the pain of the waxing because I think it's the least I can do to raise money for such a good cause. Even if it does hurt it can't come close to the pain some cancer patients have to go through."
Club Secretary Yvonne Martin added: "People who aren't bikers think we're all a bit scary, but in reality we are just one big family and we look out for one another. We know that lots of other MCCs from around the area will join us for the waxing event and will generously donate to the Macmillan Unit. It's what we do.
"When the country went into lockdown we volunteered to help people with their shopping if they were stuck at home. Honestly helping others and raising money is what it's also about as well as enjoying the camaraderie of other bikers. We're really just a group of best friends."
The chest and leg wax takes place at the Pear Tree in Hadfield at 8pm on Thursday 30 September.
You can find details about how you can donate on the club's Facebook page at https://www.facebook.com/PistnNuts
Read more from the Glossop Chronicle
Click here for more of the latest news
Click here to read the latest edition of the paper online
Click here to find out where you can pick up a copy of the paper