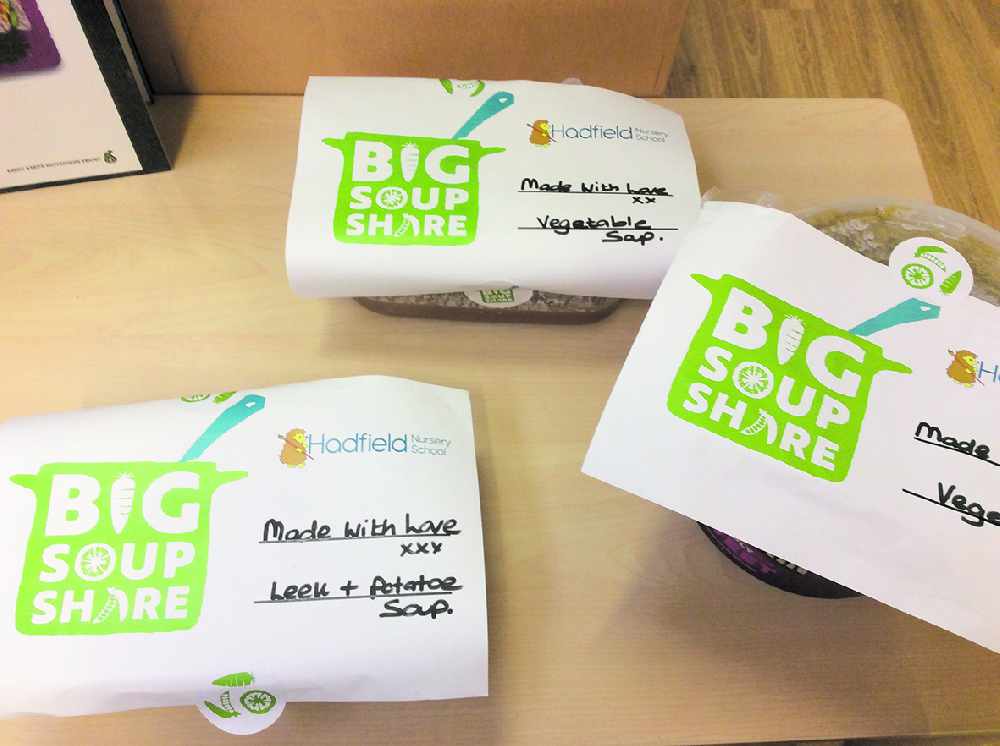 Piping hot soup made with love by children from Hadfield Nursery School was handed out to those living on the streets by local homeless initiative UNITY Outreach last week. 
The soup, which turned vegetables from the school's allotment into tasty meals was inspired by The Royal Horticultural Society's 'Soup Share' campaign, that encourages schools to utilise their gardens to help strengthen links with local communities.
Teachers Sara Jones and Sheila Brown helped pupils serve up tomato, vegetable and leek and potato soup alongside bread made by children attending the after-school club.
It was then packed up and sent out with the UNITY Outreach Team to hand out in Manchester.
UNITY Outreach rely on donations from members of the public to feed and clothe the number of people they meet sleeping rough in the city - a trip they make every Tuesday evening.
Diane Mottershead, who is acting head teacher at Hadfield Nursery School, said they were 'overwhelmed' by the sheer amount of vegetables that were also donated to the cause by parents.
She said: "We were overwhelmed by the support from our parents, past and present, who also sent additional vegetables for us, including lots that were home grown on local allotments.
"We would like to express our thanks to all the families who supported us in our 'Big Soup Share', to Mrs Brown and Mrs Jones who co-ordinated the event, and to UNITY Outreach for helping us to distribute it to our homeless friends. After the success of this event, we look forward to doing it again in the future."