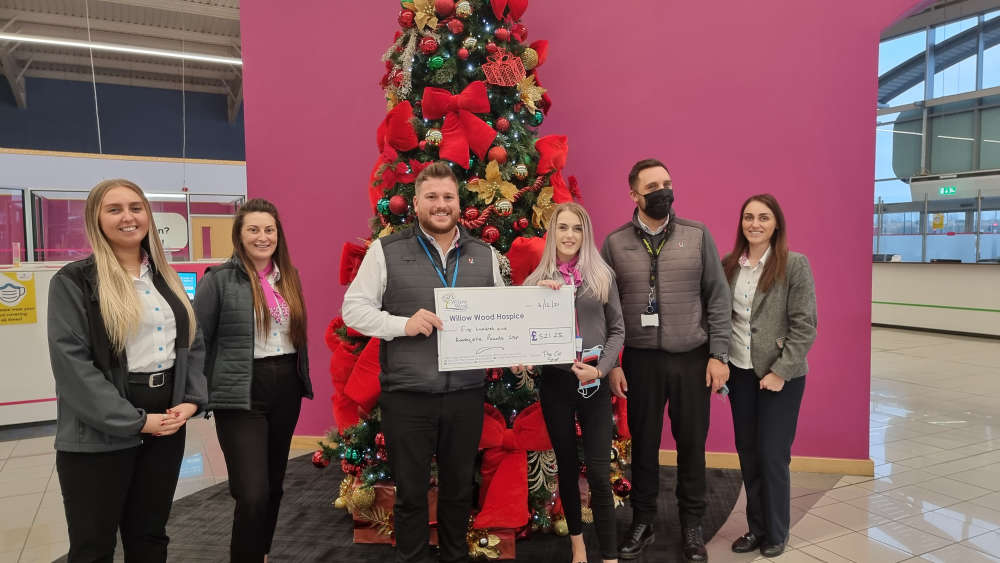 A used car store in Ashton has raised hundreds of pounds for Willow Wood Hospice - a cause that's very close to one staff member's heart in particular. 
Amy Foster has worked in Customer Service at CarShop Manchester on Lord Sheldon Way since February 2019.
Her personal experience with Willow Wood began in January 2017, when her Nan was brought in to receive palliative care.
A few years earlier, she was diagnosed with Stage 4 Glioblastoma Multiforme (GBM) - which is a fast-growing type of tumour that can be found on the spinal cord but is more commonly, and in Amy's Nan's case, found on the brain.
The years that followed were filled with trips in and out of hospital, intrusive surgeries, and lots of medication so, when the family realised that she didn't have long left, they knew she needed to be somewhere that was comfortable to spend her last couple of weeks.
Willow Wood was perfect for that, Amy believes. Its small and intimate feel meant that she and the whole family felt at home there.
They were welcome for visits as and when they wanted and staff were so attentive and caring - exactly what Amy and her family needed at the time. One particular night, Amy asked if she could stay over and she was so grateful that the Ashton-based hospice allowed her to do this as it was, in fact, the night that her Nan passed away.
Hearing Amy's story, and how the hospice could not have done a better job, Amy's colleagues at CarShop Manchester knew they wanted to help.
So, to kick off its support and end 2021 on a high, the store held a Christmas Jumper Day where all staff were encouraged to don their most festive woolly jumper and donate to the good cause. And through just this one event, the store raised a staggering £521.25 for Willow Wood Hospice.
Amy said: "I'll never be able to thank the Willow Wood Hospice staff enough for the kindness they showed to my family and I - especially on the night that my Nan passed away.
"Willow Wood is not only close to my heart, but to my partner's too as his father received care from the hospice a few years ago. It is a place that means so much to my family and my friends who I know have benefitted from their support as well. I know they need every bit of fundraising right now and nowhere is more deserving. Thank you, Willow Wood!"
Sian Williams, one of Amy's colleagues at CarShop Manchester, added: "People often think hospices are sad places but, from all that Amy's told me, Willow Wood is a happy place - full of comfort, hope and most importantly, memories. Christmas can be really hard for so many people, especially those who have a loved one living out their final days, so we couldn't think of a more perfect time to show our support to Amy and the hospice and do what we can to help."
Events and Community Engagement Fundraiser at Willow Wood, Elaine McConnell, said: "We were thrilled that CarShop Manchester raised money for us in this way. As a local charity, Willow Wood relies on the generosity of our community; this year our running costs are in excess of £2.8 million, or £7,650 every single day, and we are funded for less than 80 per cent of that.
"To put it another way, eight out of 10 of our patients and their families are cared for by donations, which is an incredible statistic and one we are truly grateful for."
Read more from the Tameside Reporter
Click here for more of the latest news
Click here to read the latest edition of the paper online
Click here to find out where you can pick up a copy of the paper