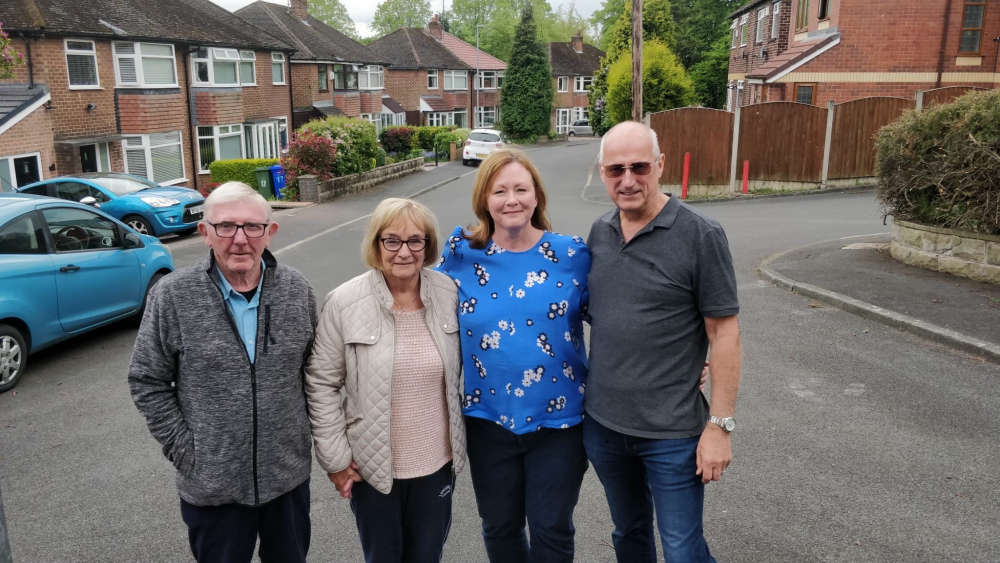 (left to right) Len Leith, Pauline Leith, Bridget Foley and Michael Foley.
A cul-de-sac in Haughton Green is making their street party a smoke-free event for the Queen's Platinum Jubilee on 4 June and is encouraging others to do the same.
It comes as World No-Tobacco Day is on 31 May, which was created to bring awareness to more people about the dangers and health risks of smoking tobacco, and ultimately, to stop use of tobacco around the world.
About a half of all life-long smokers will die prematurely and on average, cigarette smokers die 10 years younger than non-smokers. It is estimated that for lifelong smokers, each cigarette will take roughly 11 minutes off their life.
Many people know that smoking tobacco can be the leading cause of throat and lung cancers, and a major risk factor in many other types of cancer. However, what is little known is that smoking tobacco is one of the main causes of heart problems and diseases. The aim of World No Tobacco Day is to highlight this issue.
Bridget Foley, 58, who's lived in the street for just over three years, said: "I and my neighbours are non-smokers, so holding a smoke-free event was the right thing to do. It's also very much geared around family and friends spanning all generations, so it's important to protect everyone and make the event cleaner!
"We were inspired to hold a Queen's Jubilee street party following a successful, socially distanced event for VE Day in 2021, within the boundaries of our household front gardens. We managed to have a great time despite the restrictions. It allowed neighbours to reconnect with one another following the long period of isolation, and gave us a renewed sense of community.
"The Jubilee celebration is another opportunity for the 10 young families with children living in the cul-de-sac to come together as a community, in a healthier way for the better."
Eighty-five per cent of people either agree or strongly agree that smoking outdoors in front of children and young people sets a bad example. Smoke-free events have been running in Tameside for over five years and have enabled over 10,000 residents to attend events in a healthy smoke-free environment.
The World No Tobacco Day also wants to highlight that smokers don't just affect their health, but that of the people and loved ones around them.
Tameside Council's Executive Member for Adult Social Care and Population Health, Councillor Eleanor Wills, said: "Well done to Bridget and her neighbours for agreeing to make their street party a smokefree event, helping to create a smokefree generation and de-normalise smoking for our children and young people.
"This is the first Tameside street party to agree to go smokefree and I hope many more join them making a difference and protecting children and young people's health and wellbeing by making their outdoor event smokefree!"
For more information on holding a smokefree event, visit www.tameside.gov.uk/adultservices/SmokefreeEvents or, for help to stop smoking, go to www.tameside.gov.uk/StopSmoking
Read more from the Tameside Reporter
Click here for more of the latest news
Click here to read the latest edition of the paper online
Click here to find out where you can pick up a copy of the paper