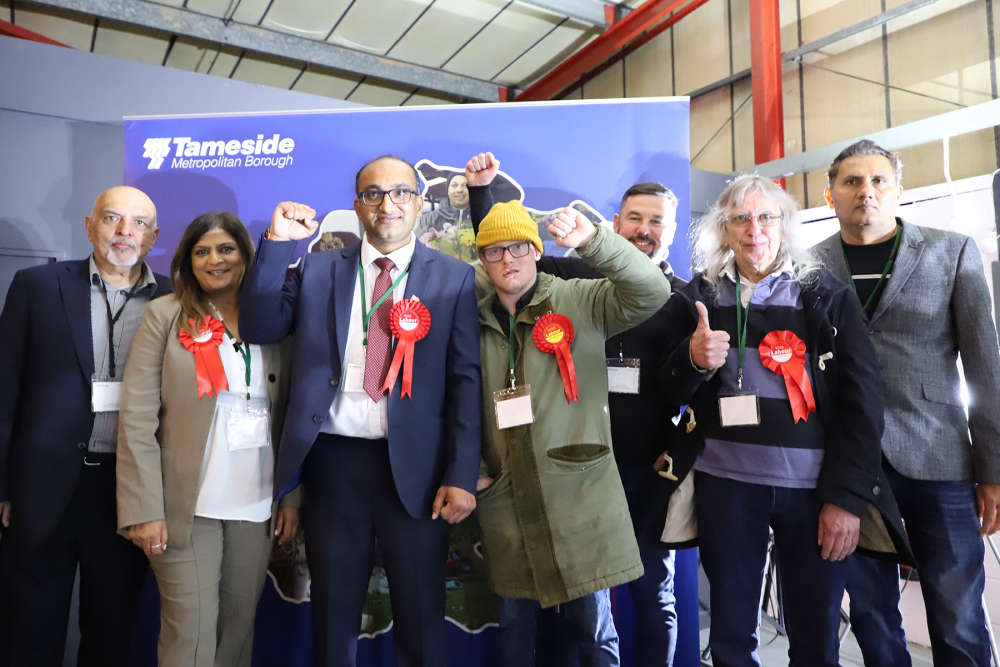 Vimal Choksi and his supporters celebrate his election victory, beating off competition from the Greens. Image: Nigel Wood.
There was no highly hoped-for breakthrough for the Green Party in Ashton Waterloo in the Tameside Council elections.
The Greens and Labour went head to head in the ward, with the Tories trailing third.
Councillor Lee Huntbach is the borough's very first and only serving Green councillor, and he was hopeful the hard work of candidate Lorraine Whitehead would make the breakthrough for the party and double their number on the council.
However, on the night, she was 391 votes behind serving Labour Councillor Vimal Choksi.
Result: Ashton Waterloo ward

Vimal Choksi (Labour) - 1290
Pamela Daniels (Conservative) - 382
Lorraine Whitehead (Green) - 899

Ballot papers issued: 2579
Turnout: 30.3%

Vimal Choksi is elected. pic.twitter.com/DiCgiKpRK5

— Tameside Reporter (@newsintameside) May 6, 2022
He was honoured in the Queen's Birthday Honours List last summer with an MBE for his work in government and the local community.
But the Greens were hopeful the hard work of their candidate in the community would also see them across the line, although claims in a Green newsletter prompted a war of words between the two parties which made the headlines in The Reporter in the countdown to the elections.
Smoothing things over in his victory speech and in a direct appeal to all those who had voted Green in the ward, Cllr Choksi said: "I want to appeal to those 899 voters, to give them the message to give us a chance - give me a phone call or send me an email and I will respond - I will make things happen, just give us a chance."
He added: "I would like to thank all the residents of Waterloo who voted for me and who have shown such tremendous faith in the work I have been doing for the last four years from the bottom of my heart. I promise I will continue with the same passion."
There were no dramas across the rest of Ashton with expected victories for long serving Labour councillors Joyce Bowerman in St Peter's and Bill Fairfoull in St Michael's.
Their margins of victory dwarfed even combined opposition votes, although the turnout in both wards was disappointingly low.
Result: St Peter's ward

Joyce Bowerman (Labour) - 1696
Trevor Clarke (Green) - 276
David Rose (Conservative) - 367

Ballot papers issued: 2354
Turnout: 24.3%

Joyce Bowerman is elected. pic.twitter.com/G6GgNYklR1

— Tameside Reporter (@newsintameside) May 6, 2022
Result: Ashton St Michael's ward

Bill Fairfoull (Labour) - 1249
Victoria Golas (Conservative) - 565
Keith Whitehead (Green) - 270

Total votes: 2096
Turnout: 23.7%

Bill Fairfoull is elected. pic.twitter.com/wPOJRv2PNe

— Tameside Reporter (@newsintameside) May 6, 2022
Read more from the Tameside Reporter
Click here for more of the latest news
Click here to read the latest edition of the paper online
Click here to find out where you can pick up a copy of the paper