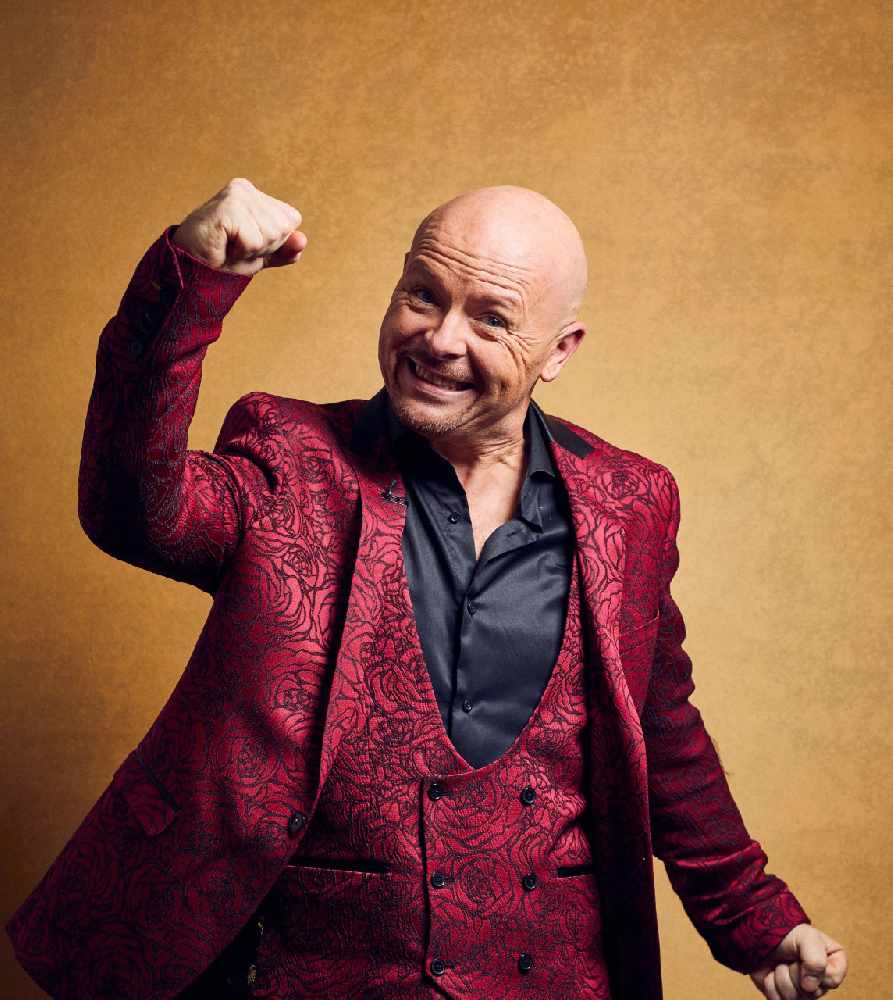 Mossley's Jon Courtenay said winning Britain's Got Talent has changed the lives of him and his family after being crowned the ITV show's first ever Golden Buzzer winner. 
The 47-year-old musical comedian stormed to victory with 35.7 per cent of the public vote, after coming out on top in an all-North West top three - ahead of Manchester-based choir Sign Along With Us and Chorley comedian Steve Royle.
The piano-playing funnyman - who was sent straight to the semi-finals after presenters Ant and Dec pressed their golden buzzer - had a long wait to perform on Saturday night as he was the last of the 10 finalists to take to the stage at ITV's London studios.
But it proved to be a case of saving the best to last, as the saying goes, as Jon captured the hearts of the nation by singing a funny yet poignant song he'd come up with to reflect on the extraordinary events of 2020.
Father-of-two Jon proved to be a star from the very beginning of the series and, in becoming the 14th champion of the ITV variety show, has scooped the ultimate prize of £250,000 and a spot on the bill at The Royal Variety Performance.
After falling to his knees when he was announced the winner, he managed to utter a few words - thanking everyone for their support and also revealing what he woke up thinking about on the morning of the final.
"I've tried not to think about it (winning) because I'm really bad about hiding disappointment," he said. "Actually this morning it sounds really dramatic, sometimes I wake up with an idea for a song and I literally woke up with an idea for a song for the Royal Variety Performance. I wrote it down and tried not to think about that as being a song because it would have been too much pressure.
"It's just amazing, I can't actually believe I'm stood here. Thank you, you don't know how much this means and how much it has changed my life and my family's life. I can't imagine how my mum is feeling right now – I hope she's still alive!"
Watch Jon's performance in the final below:
Jon was inundated with well wishes from Tameside Reporter readers when we shared news of his win on Saturday night and the comedian, who is originally from Sussex, certainly made the borough that has become his home very proud.
Local MP Jonathan Reynolds, who serves Mossley, said: "He's only gone and done it! A fantastic day for Tameside and his funny, moving piano act summed up the feelings of a nation. Britain's talent is that we all carry on! Well done Jon, you, your family and the people of Mossley deserve every celebration."
Speaking to Tameside Radio, he thanked everyone for their votes and support, and said he'll be performing locally at some stage in the future. He has already announced that he will be bringing his show to The Lowry Theatre in Salford on January 22 next year, with other dates and venues set to be announced 'soon.'
"I want to thank everyone," he said. "There's some groups on Facebook in Mossley - all of these people. It's been amazing. Honestly, the positive comments and support has been totally overwhelming from people I've never met.
"One of the reasons I want to do some local stuff is so I can get a chance to see people in person and hopefully hug them as soon as we're allowed to and just say thank you.
"I've made a point of saying that when I do my tour, when the show is finished I'm going to be in the foyer outside the theatre for as long as it takes, for as long as people want to say hello and have a chat - whatever they want to do. I'm going to be there because I owe the British public absolutely everything for this opportunity and I'm never going to forget that - it's been absolutely incredible."
"It's been mentioned already [about performing locally]. We've obviously got issues with social distancing at the moment. For my tour next year, we're looking at theatres that would hold in excess of 1,000 people because, in that, you're only going to get 300-400 people because of social distancing. As soon as social distancing is off and we can start looking at getting people back into theatres and smaller halls, then yes it's going to be fantastic.
"I'd love to maybe do a charity thing locally and try to raise some money for them. I'm really looking forward to having this little bit of celebrity [status] and being able to use it to try to raise awareness for different things and raise some money.
"That's going to be one of the greatest things. It's such a feel-good thing for me, so I'm really looking forward to that. The George Lawton Hall is not off the cards!"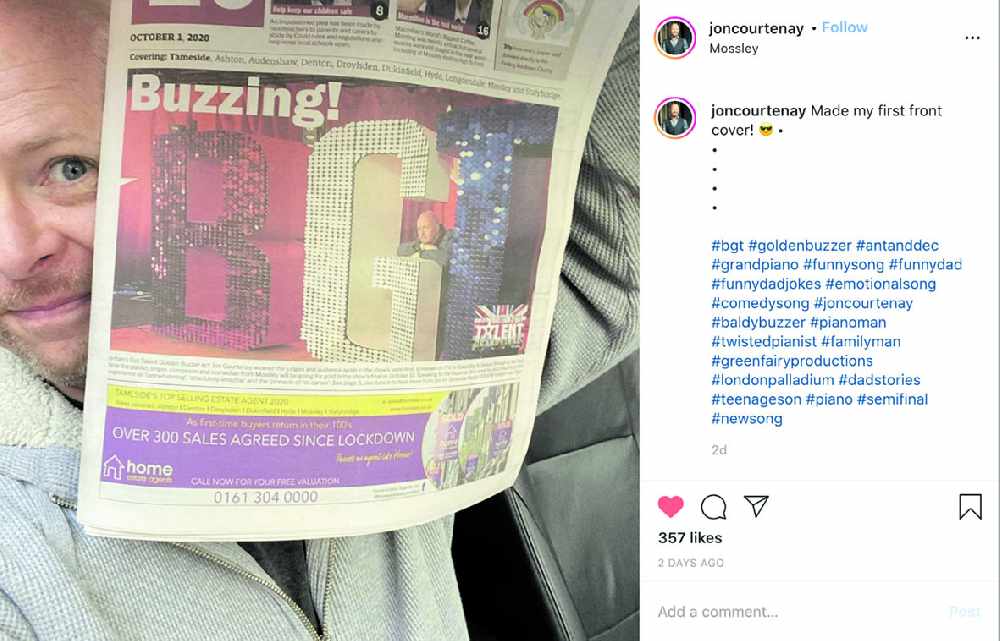 Jon appeared on the front page of the Reporter on 1 October and posed for a picture with the paper on his Instagram account
Jon - who is married to wife Emma, 44, and has two sons, Nathan, 15, and Alfie, nine - has often spoken of his dream to become a successful mainstream entertainer who can make audiences laugh on a Saturday night.
We've previously reported that Jon has spent many of the last years - up until the coronavirus crisis - working on cruise ships around the world and it was on one of these boats that a friend encouraged him to enter BGT.
Reflecting on his Britain's Got Talent journey, he said on Saturday's show: "I did grow up watching my mum and dad perform – my mum was in an old-time musical and my dad was often the compère of the show. Seeing them make people happy was a huge influence on me.
"Doing Britain's Got Talent has been amazing. Performing my little song at the London Palladium, I thought this couldn't get any better and then Ant and Dec came out (to press the golden buzzer). Incredible feeling, overwhelming doesn't cover it – and then to be at the semi-finals, I loved every second of it.
"I'd like to think that watching me in the final will show my boys Nathan and Alfie that you can achieve something beyond anything you thought was possible. That's got to be a good lesson to a kid."
His fantastic performance summed up the unprecedented year we've all experienced and - not for the first time in the series - he brought tears to the eyes of judge Alesha Dixon.
She said afterwards: "I'm crying – again! You did it again! What a unique person you are – to make people laugh and cry all within one act, which made us all feel so warm inside. The most brilliant summary of the year – very poignant and reflective and just perfect for this show. I'm so thrilled for you – well done boys (Ant and Dec) on a genius golden buzzer. You really took your moment."
Fellow judge Amanda Holden also said that his act 'was the exclamation mark of 2020' and 'made us all feel amazing and positive at the end of a tumultuous year.'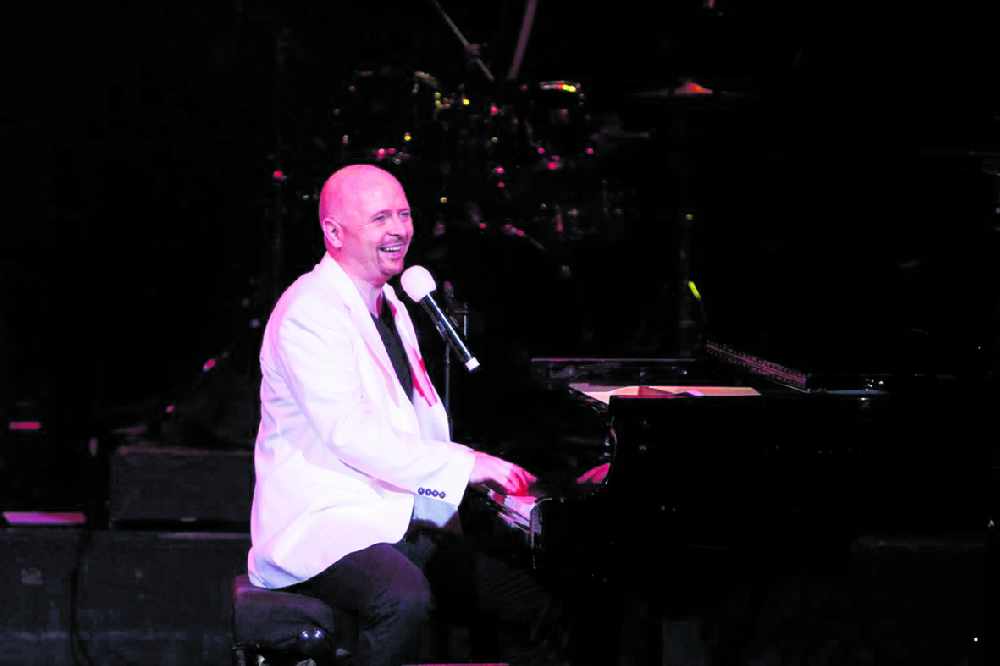 Jon captured the hearts of Britain's Got Talent viewers from the very beginning
Speaking to ITV's This Morning on Monday morning, Jon said it still hadn't quite sunk in, but he enjoyed the 'whirlwind' experience so much that 'he'd do it all again tomorrow.' He also joked that he'd told his kids that he'd only won £25!
Jon told presenters Phillip Schofield and Holly Willoughby: "Winning was like an out of body experience. Even now watching clips, I can't explain it. I've been on stage for three years so you think I'd be used to seeing it... but this is something else, because it's so recognisable as Britain's Got Talent and I've been watching it for 14 years. It's weird to see me on it. Good weird, but weird!"
He said he'll be buying son Nathan the Millennium Falcon Star Wars Lego kit that he'd promised him earlier in the series if he won - which retails at a whopping £649.99 - and went on to praise everyone who works on the show.
"Ant and Dec are the nicest people," he said. "The whole BGT crew from the judges to the crew on the ground are just so lovely and positive. I couldn't fault the experience - obviously because I won! But the experience was incredible and I would do it all again tomorrow."
He's also going to proceed with the plan that he had previously confessed sprung up on the morning of the final for The Royal Variety Performance.
"It sounded like something I'd made up for TV, but I woke up in the morning – it happens quite a lot – and it literally was this idea," Jon said.
"You need a hook for things, a reason for writing it. It's obviously going to be in that moment of the Royal Variety. I have some ideas for it – I can't wait to get started."
Jon also revealed a nice moment on Saturday night when choir Sign Along With Us, who finished second in the competition, left him overwhelmed after greeting him at the hotel by bursting into song by singing Keala Settle's This Is Me.
"I got back to the hotel and heard a big cheer," he explained. "I looked in and glass doors opened and the choir broke out to singing This Is Me - which was their audition song!"
He added: "I was a wreck, what a thing to do. Incredible."
Hear our full interview with Jon on this week's Reporter Show, on Tameside Radio 103.6 FM on Thursday evening (15 October) from 7pm to 9pm.