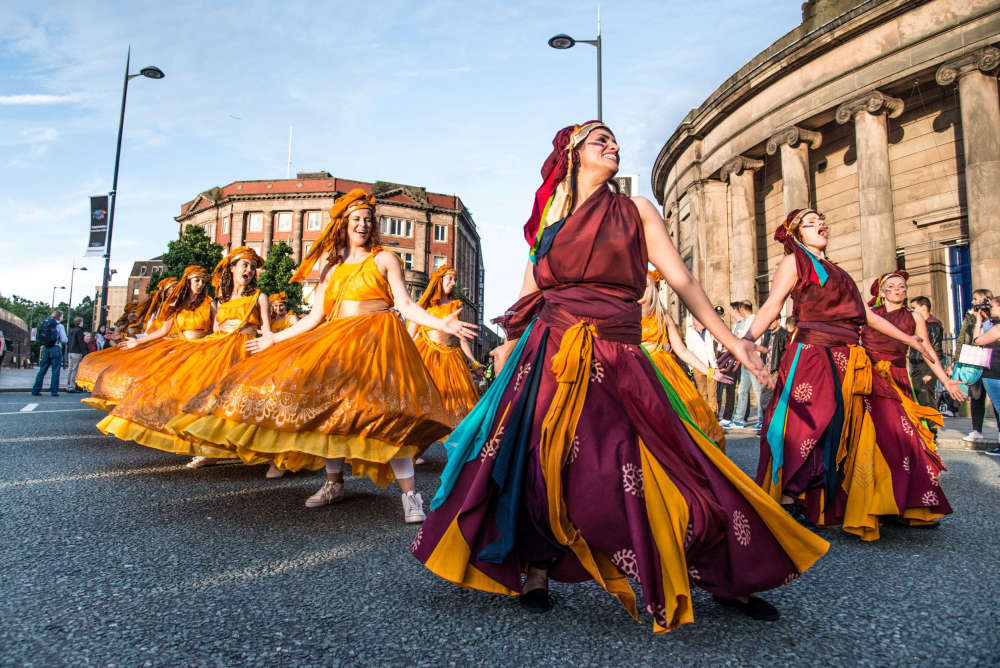 Image credit: C Dyson / Global Grooves.
Homelessness charity Emmaus Mossley is planning a carnival as part of their 25th anniversary celebrations and is appealing for performers to get involved.
Emmaus Mossley is teaming up with carnival experts Global Grooves to bring together a performance by 25 drummers, 25 dancers and 25 brass and reed players this September.
The charity is appealing for 75 people to take part, whether you're a seasoned performer or completely new to making music and dancing.
Alison Hill, Director at Emmaus Mossley, said: "Later this year we'll be celebrating Emmaus Mossley's 25th anniversary with a birthday bonanza on Saturday, September17.
"To help us celebrate in style, we've teamed up with our friends and carnival experts Global Grooves, based just up the road at The Vale.
"You're invited to join our carnival band to help unite our community and make our 25th birthday one to remember."
Emmaus Mossley supports 26 formerly homeless people by providing them with a home, work, companionship and individual support.
It is an independent local charity that is governed by a board of trustees who all live, work or are invested in the improvement of Tameside, Oldham and its surrounding communities.
Emmaus Mossley is a proud and active member of the Emmaus UK federation, Emmaus Europe and Emmaus International.
Emmaus Mossley offers a home, work, companionship and individual support to men and women who have experienced homelessness and social exclusion.
The charity opened in 1997 and now has the capacity to support 26 companions (the name given to describe residents at Emmaus communities) at any one time.
While at Emmaus, people are given the opportunity for a fresh start, gaining skills and work experience alongside training and personal development.
There are currently 29 Emmaus communities across the country, supporting more than 850 companions (formerly homeless people) in the UK.
In addition, there are five Emmaus groups, all of which are working towards setting up an Emmaus community in their area.
Taking part in the Emmaus Mossley 25th Birthday Carnival performance is free, but places are limited to 25 people per section.
Participants will be guided through structured, accessible and fun rehearsals to learn how to put together a carnival presentation.
The workshops and performances will take place in September and are suitable for people aged 13 and above.
Under-16s must be accompanied by an adult. Younger participants may be able to join in if they have previous experience.
Leon Patel, CEO at Global Grooves, said: "We are delighted to be able to support Emmaus Mossley with the production of their Birthday Carnival.
"We want to put something extra special together to say thank you for all their incredible work in our communities. And we invite you to join us in making this one to remember."
Global Grooves is an artist-led carnival arts organisation based at The Vale in Mossley, a state-of-the-art facility and the Northern Carnival Centre for Excellence.
Global Grooves creates stunning carnival presentations, develops the next generation of artists, incubates companies and inspires diverse communities to participate in carnival, both across UK and internationally.
To register as one of the 75 performers at the Emmaus Mossley 25th Birthday Carnival, visit https://www.globalgrooves.org/whats-on/emmaus-mossley-25th-birthday-carnival-band
Read more from the Tameside Reporter
Click here for more of the latest news
Click here to read the latest edition of the paper online
Click here to find out where you can pick up a copy of the paper