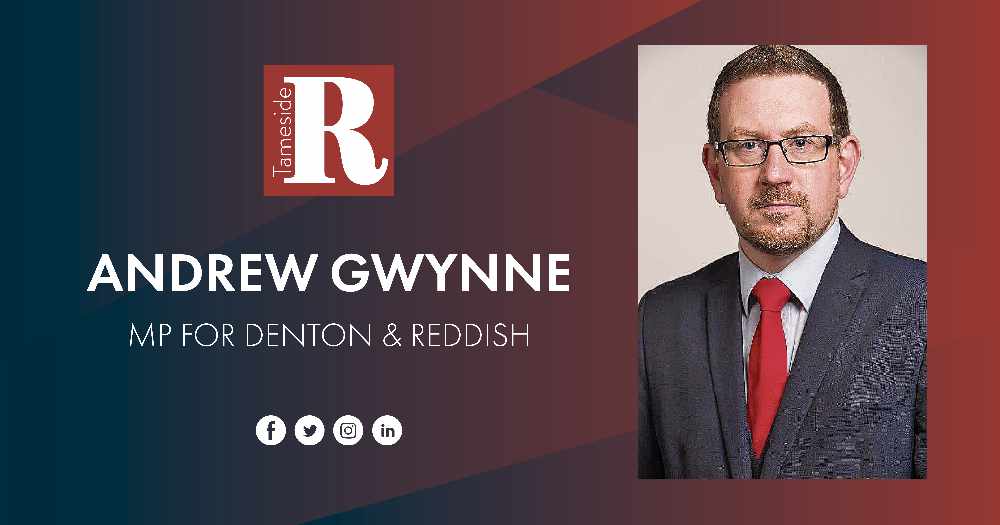 Denton's Labour MP Andrew Gwynne discusses the Omicron variant, Covid testing and support for ventilation in schools in his first Tameside Reporter column of 2022.
As we begin 2022, we are in a precarious and uncertain position. Omicron cases are spreading rapidly, and there are huge staffing absences across many sectors in the country – something that is causing particular difficulties within an already overstretched NHS.
We are having to live with COVID and are doing everything we can to avoid returning to full-blown lockdown restrictions of the kind we have seen over the last two years.
However, living with COVID does not mean ignoring the virus altogether. It means making reasonable adjustments to our daily lives, getting vaccinated, and following the science to stop our NHS being totally overwhelmed.
That's why Labour have repeatedly called on the Government to get a grip on testing, as well as improve statutory sick pay so that those who are forced to isolate can do so whilst keeping food on the table.
Over the course of the pandemic, the British public have shown that they will do what is necessary to protect the country, but the Government have repeatedly failed to give them proper support to do so.
A prime example of this is the issue of ventilations in schools. This week, children and young people returned to school after the Christmas break. Keeping children learning is incredibly important, and it is right that education remains a priority as we tackle the virus. Yet the Government have been incredibly slow to act in supporting schools with proper ventilation and air cleaning units. COVID is an airborne virus and keeping schools well ventilated is key to bringing down infections.
However, just a few weeks ago, Poplar Street Primary School in Audenshaw highlighted how little support they have had from Government, and how a lack of action on ventilation is impacting learning and putting students and staff at risk. This is totally unacceptable.
The Government must do much more to help keep schools ventilated. It has a responsibility to keep kids learning, but it also has a responsibility to keep them safe. Unfortunately, on too many occasions during the pandemic, it has failed to recognise its responsibility and take appropriate action.
We all want to see a future where we move beyond COVID, but we won't get there if we don't take the virus seriously now. Taking it seriously means giving people, businesses, and schools the tools and support they need to do the right thing.
The people of Tameside have taken extraordinary measures to keep people safe, and it is only right to expect the Government to do the same.
Read more from the Tameside Reporter
Click here for more of the latest news
Click here to read the latest edition of the paper online
Click here to find out where you can pick up a copy of the paper