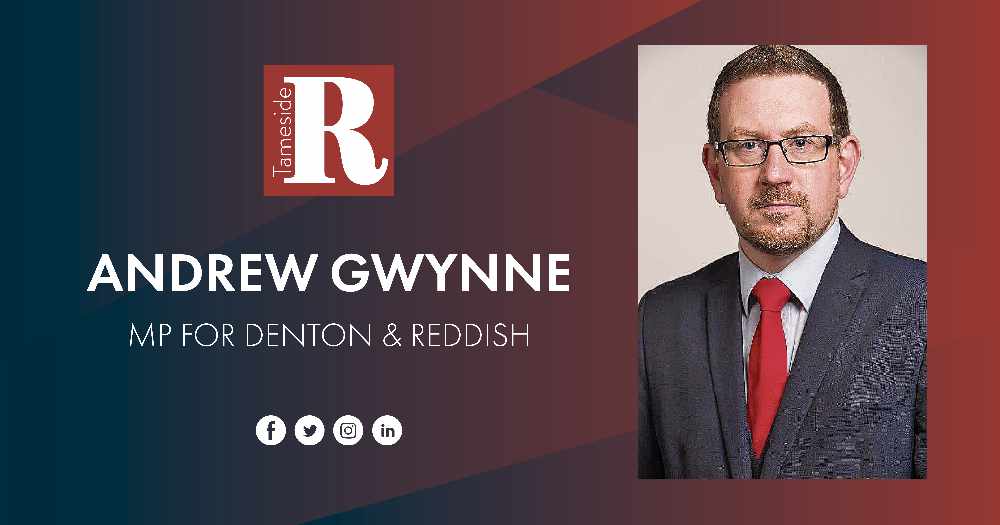 In his latest column, Denton MP and shadow public health minister Andrew Gwynne discusses learning the lessons of the pandemic, living with Covid-19 and dealing with potential future mutations.
It's now been two years and 19 days since the world first become aware of Covid-19. What seemed then like a concerning, but ultimately distant scientific development, has altered our way of life in innumerable ways.
Over 150,000 people have now lost their lives to Covid in the United Kingdom. For the families, friends and loved ones who have lost someone dear to them, their loss is immeasurable. We have undergone a profound national trauma, and as a result the landscape of our society has fundamentally changed.
The good news is, we appear to be making significant progress in tackling the pandemic. However, the virus will change and adapt, and we must learn to live well with it. That doesn't mean letting the virus tear its way through the population, but nor does it mean permanently curtailing the things that make our lives fulfilling.
That's why I am so pleased that Labour have outlined a clear 10-point plan for living with Covid. As Shadow Public Health Minister, it has been a continual source of frustration for me that the Government have not put forward a proper plan detailing how we live with this virus, and how we can prepare for any further virus mutations.
Labour's plan would retain volunteer responders to assist with vaccination, finally fix the scandal of poor sick pay provision, prioritise vaccinating the world and use the lessons of Covid to bring waiting lists in the NHS down. It would also turbo-charge research and innovation, and tackle the dreadful state that the Conservatives have left Social Care in.
The people of Tameside have been through so much over the last two years. They deserve and expect the Government to be organised and to take proactive steps to build a better future beyond the pandemic. The Government's current plan of only reacting when things pop-up means that we have been in an endless cycle of uncertainty and anxiety, and it can't continue. The Government have shown that they have very little in the way of planning and are instead scrambling from one crisis to another.
Yes, Covid is unpredictable, and yes the future requires hard work, but I am optimistic that with the right leadership, we can come out of the pandemic having learned the lessons on Covid and having robust procedures in place to live with this virus and future iterations. It's time for a sensible Government to do the right thing for the people of this country, and I'm afraid I just don't see the Tory Party (party being the operative word) getting a grip on this.
Read more from the Tameside Reporter
Click here for more of the latest news
Click here to read the latest edition of the paper online
Click here to find out where you can pick up a copy of the paper