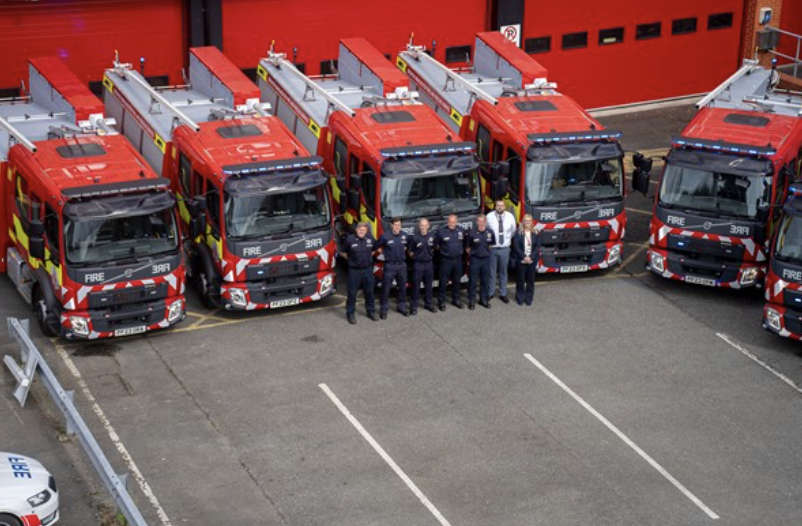 Fire officers in Greater Manchester are using greener and more efficient fire engines that have been introduced into service this week.
Twelve of Greater Manchester Fire and Rescue Service (GMFRS) frontline fire engines are being replaced with new state-of-the-art appliances to ensure the service is fit for the future.
Following a £3.5m investment, the introduction of the new engines means that more than three quarters of Greater Manchester's 50 fire engines are now under five-years-old.
GMFRS's Chief Fire Officer, Dave Russel, said: "This is a major investment in our fleet and we are delighted to see the new fire engines being rolled out across Greater Manchester. The new models are greener, more efficient and also come with new safety measures and improved equipment on board, including innovative and award-winning digital technology.
"The new engines will provide our firefighters with top of the range equipment and capabilities to enable us to continue to respond to the varying challenges of protecting the people and places of Greater Manchester and ensure that we are fit for the future."
The new appliances have 5G connectivity on-board for the recently upgraded mobile data terminals (MDTs) that crews use to access information. This will enable greater functionality and use of the IT equipment fitted on each vehicle and will allow more accurate and real-time data and information to be provided.
The MDT replacement project, which was completed in April 2022 across all frontline fire engines, won 'Best Use of New Technology' at the Real Innovation Technology Awards in May.
The project helps keep firefighters and the people of Greater Manchester safe by providing firefighters with detailed information to help them do their job safely, efficiently, and effectively. MDTs include vital information such as the location of hydrants for water, directions, chemical information, specialist mapping software, and information about different vehicles to help operations following road traffic collisions.
GMFRS was also one of the first fire and rescue services in England to also fit second demountable MDTs to the rear of fire engines appliances, which provides greater access and support to firefighters at incidents.
Kate Green, Deputy Mayor for policing, crime, criminal justice and fire, said: "This is a significant investment into our fire and rescue service, which helps to ensure we provide a modern, flexible and resilient service for the people of Greater Manchester. This large-scale replacement programme shows our commitment to providing our dedicated staff with the best possible equipment to do their job safely and effectively."
The new engines are compliant with the latest Euro Six regulation – the European standard for emissions and safety standards on commercial vehicles.
They were rolled out at: Ashton and Stalybridge stations, as well as other fire stations in the area.
Two further frontline fire engines will be arriving at Atherton and Mossley Community Fire Stations next year.