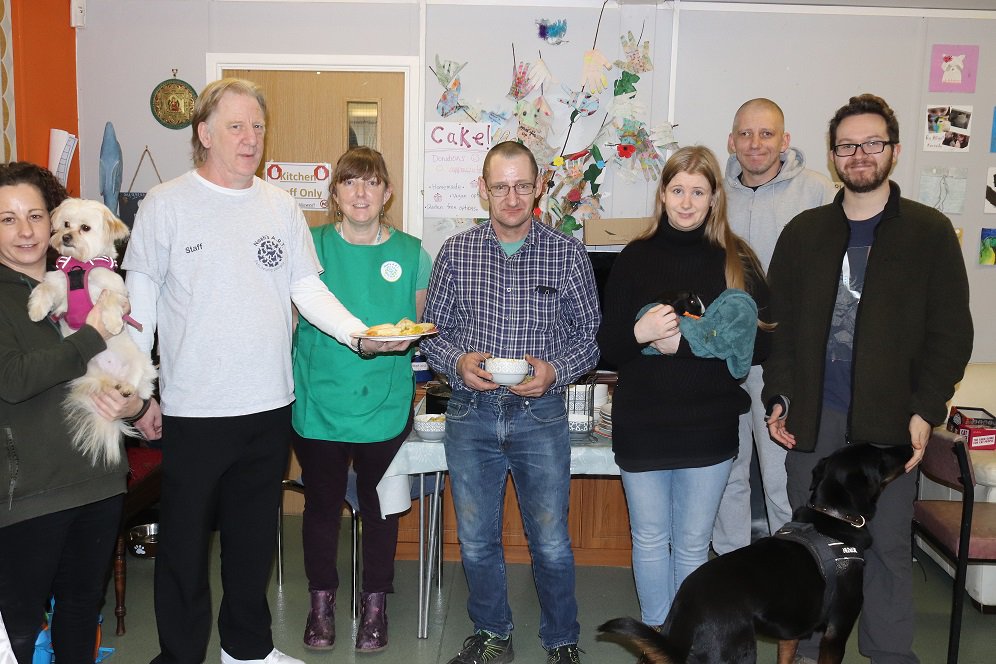 A Dukinfield-based social enterprise that provides therapy through animals and art has been given a funding boost.
Noah's ART is an animal assisted wellbeing service that also uses music and creative activities to support people with mental health problems and reduce social isolation.
The not-for-profit social enterprise has been able to extend its services by providing 'winter warmers'. These help people who may struggle during the winter months – from young people with mental health issues to the elderly isolated by health or mobility difficulties – get together in a warm, safe space to enjoy a free, healthy meal.
They can also take part in activities including cooking, art, upcycling old furniture, gardening or animal care - or they can just chill out, chat and have a cuddle with the dogs!
Noah's ART was launched in January 2015 and developed by experienced mental health nurse Sharon Hall. They have a selection of therapy animals including dogs, rabbits, guinea pigs, rats, mice and even stick insects and snails.
Sharon said: "The funding has helped to offer a more person-centred approach. Clients attending have a choice of activities allowing them to find their niche or to try new things. We are now also able to identify strengths in people and gently encourage them to develop their forte. The way we provide the service allows time for one-to-one support from an experienced mental health nurse and other staff."
One attendee, who lives in supported accommodation, is now making his own healthy, low-cost soups, loves the art activities and through helping care for baby guinea pigs, he has developed their trust in humans and been able to express the sadness he's been feeling at the loss of his father.
Sharon added: "Often the trauma and stigma of illness makes it hard to interact socially. The animals provide a safe topic of conversation, humour and spontaneity. A lot of our animals are rescued and are also in need of rehabilitation. The person who has been through mental health rehab can now give care to another living creature and this supports self-esteem, self-worth and provides purpose and sense of belonging."
The winter funding was made available from central government and has been allocated by Tameside Council's Adult Service team to voluntary, community, faith and social enterprise organisations in the borough to provide community-based support for those in need.
Cllr Eleanor Wills, Executive Member for Adult Social Care and Population Health, said: "This is a fantastic additional mental health service for Tameside. I'm delighted they have received funding to continue and expand on the excellent work they do in helping our vulnerable people during the winter months and continued throughout the year. Within the community Noah's ART is highly recognised and many people have told me of their own positive experiences, securing funding enables them to continue their excellent work."
Walks, growing vegetables and decorating the memory gardens are planned once the weather improves.
Students from All Saints High School in Dukinfield also volunteer in the afternoon session to add to the intergenerational approach.
To gain access to their services, people can self-refer or be referred by another organisation such as social prescribers or Community Mental Health Teams. Referral forms are available from their website, email or phone 07973 453942.