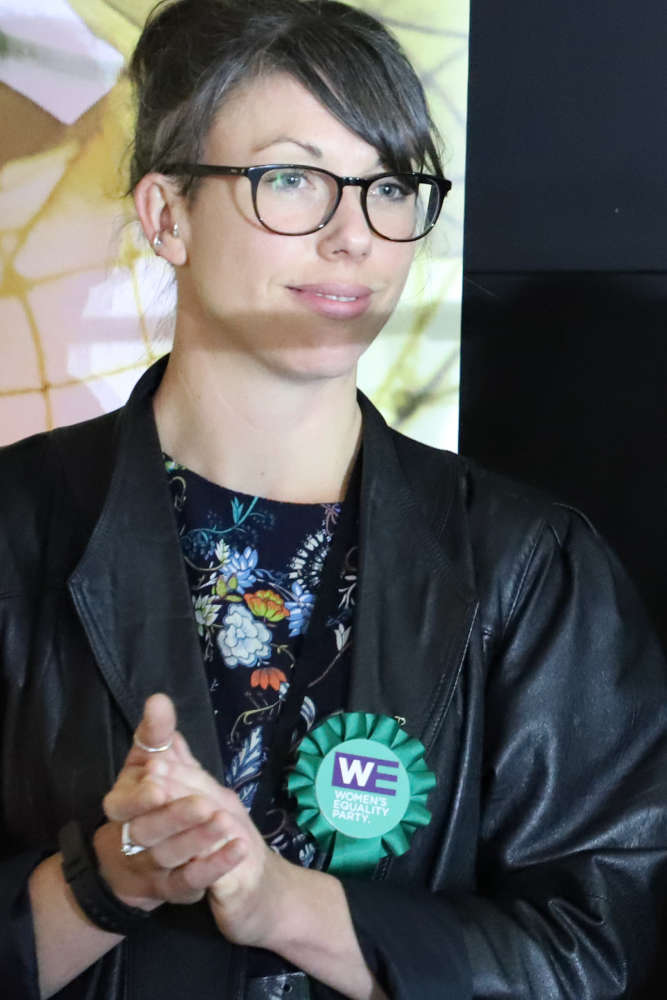 FIRST ELECTION: Hattie Thomas stood for the Women's Equality Party. Image: Nigel Wood.
A new candidate stood at the local elections in Mossley to represent her party for the very first time.
The Women's Equality Party was making its debut at the election in Tameside and Hattie Thomas was proud to be representing Mossley.
The Women's Equality Party says it aims to create a vibrant economy that draws on the talents of the whole population, giving women the opportunities to fulfil their potential.
With some of the highest rates of domestic violence in Greater Manchester, Tameside has issues that need to be tackled, states the party, in order to ensure that women feel safe on the streets.
"I think it's incredibly important for our party to stand in Tameside," said Hattie.
"I'm a teacher and I've taught in Tameside, having our girls safe on the street, safe in their educational environment and making sure that all families are supported is so important because equality benefits all of society.
"The council needs to invest in safe accommodation and community support services.
"I see first-hand the impact that inequality has on our children and I push for more support to reduce the trauma children face as a result of domestic abuse and poverty," added Hattie.
She believes that to achieve true equality, more funding is needed for women's education. As a single parent, as well as full-time teacher, Hattie says she juggles her job with her childcare and finances.
"I want Tameside to invest in more affordable childcare so that women can take up work, education and other opportunities. Women should be able to afford to put their children into childcare while they go out and do something for themselves."
She also says that she would love to see more young women in politics, to give women a greater voice in vital decision making across the nation.
"I would love to see more women in politics, and this is something that I talk about with my girls too," Hattie told us.
"I always tell the girls that I teach that my expectations for them are sky high. We need a bigger shift towards women in politics and I hope that I can be a role model," she said.
With seven key objectives, the party stands for ending violence against women and girls, introducing equal parenting and free childcare for children aged nine months to five, granting equal pay and opportunities within the workplace and equal education. The party also demands equal health care and equality within the media, as well as equal participation.
Recently, there have been fewer independents standing for election in Tameside - with the Women's Equality Party one of just two standing this time. Hattie says that this could be down to the lack of support that some may face.
"I wouldn't have been able to do any of this without my candidate agent Dee," she said.
"I didn't know enough about what it actually took to stand so I'm thankful to have had that support.
"A lot of people might be wanting to stand as independent, but if there isn't already an existing network then maybe they wouldn't know how to go about it."
On its first outing in Mossley - and Tameside - the party polled 135 votes.
Read more from the Tameside Reporter
Click here for more of the latest news
Click here to read the latest edition of the paper online
Click here to find out where you can pick up a copy of the paper