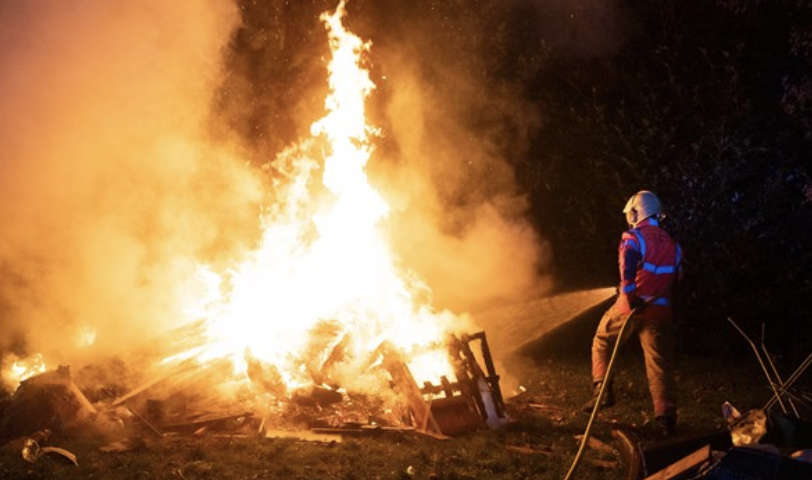 Fire crews attended more than 200 incidents across Greater Manchester as they helped keep communities safe on Bonfire Night.
North West Fire Control (NWFC), who take calls for the service, handled 364 calls on Sunday November 5, with crews from Greater Manchester Fire and Rescue Service (GMFRS) attending 212 incidents. Both figures are down slightly on 2022, when 412 calls were received and fire crews were mobilised to 245 incidents.
Across the whole Bonfire Night weekend (Friday November 3, Saturday November 4 and Sunday November 5) NWFC handled 744 calls and GMFRS crews attended 432 incidents.
Incidents attended included many uncontrolled or unattended bonfires. There were also several isolated instances of anti-social behaviour.
Firefighters and officers from Greater Manchester Police had fireworks and stones thrown at them while responding to an incident in Abbey Hey, Gorton. Fire crews also came under attack in Little Lever, Bolton.
Dave Russel, GMFRS Chief Fire Officer, said: "Bonfire Night is often the busiest night of the year for our crews, with the challenge always made greater when it falls on a weekend. I would like to thank our firefighters for the outstanding job they did over the weekend to keep people safe.
READ MORE: https://www.questmedianetwork.co.uk/news/oldham-reporter/greater-manchesters-rescue-services-nominated-for-record-number-of-awards/
"Massive thanks should also go to our partners at North West Fire Control, who handled hundreds of calls with their usual professionalism and dedication, as well as Greater Manchester Police and North West Ambulance Service.
"Sadly, as we have seen in previous years, our crews faced anti-social behaviour and missiles being thrown when responding to incidents. It is completely unacceptable for firefighters to be attacked while doing their job. They work hard to keep others safe and put their lives on the line, so I'm both saddened and angry to see this happen to my staff.
"Thankfully no injuries have been reported, but this is not a risk firefighters should ever have to face."
The incident at Abbey Hey is being investigated by Greater Manchester Police, who are pursuing several lines of enquiry.
Anyone with information should contact police on 101 quoting incident number 2174 of 05/11/2023.
Details can be passed anonymously to the independent charity Crimestoppers on 0800 555 111.