A Tameside family is calling for more support for victims of Covid and their families after six months of pain.
Joanne Kelly and her aunt, Beryl Watson-Storey, want to see more help in the community for those who have suffered from the virus.
Joanne's dad, Jack Kelly, a 62-year-old builder, was struck down by Covid last October.
He was looked after by his wife and daughter, but gradually declined to the point where an ambulance had to be called to their Denton home and he was taken to hospital.
What followed was a heartbreaking 154 days in hospital, 89 of those spent in Stepping Hill's intensive care unit (ICU) on a ventilator.
Despite being given less than 24 hours to live on no less than five occasions, he was brought home last month and will be cared for by his wife and daughter.
Now, the family say that they've been given very little help with his care after having to fight to keep his ventilator on during his time in the ICU.
His daughter, Joanne, said: "He didn't have a temperature or anything when they advised him to go in. They said it could possibly just be a chest infection.
"He walked from the living room to the ambulance, put a coat and mask on and said I'll see you soon babe - I never saw him like that again."
He was admitted to hospital on October 20 last year, and spent 154 days there.
It is thought to be among the longest time anyone has spent in hospital with Covid in the North West. An average Covid-19 positive patient spends five days in the ICU.
He was ventilated and quickly started suffering organ failure.
Deteriorated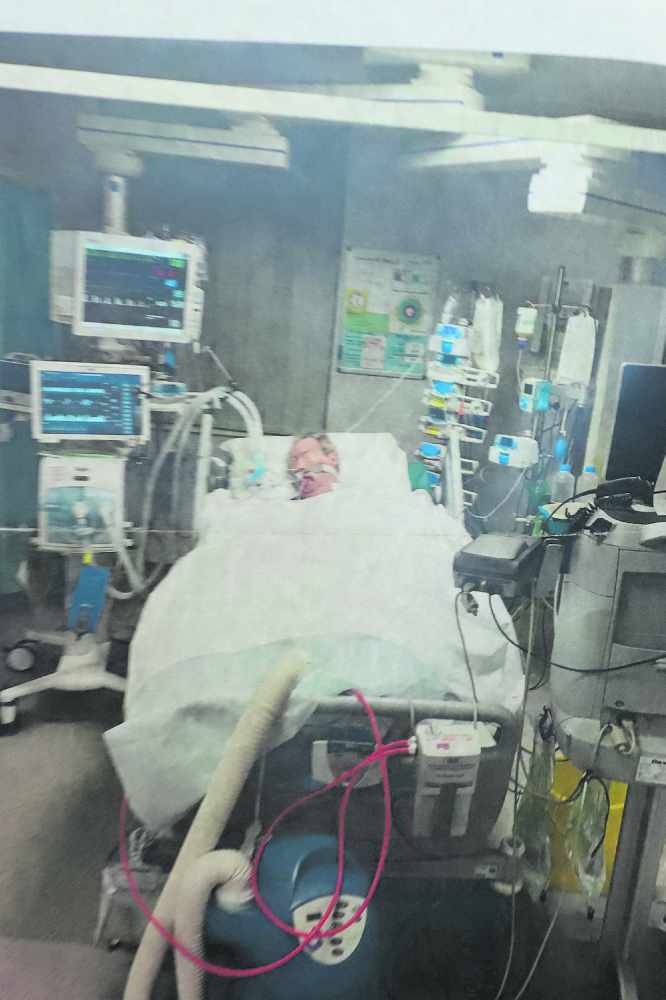 His daughter said: "My dad was still here, he was still fighting. I continued to ask him to turn his phone on and put it to his ear so he could listen me, my little girl and my mum to try and encourage him to keep fighting. That went on for several days. He deteriorated fast.
"I went in with my dad's sister to say goodbye to him. I spoke to him and said goodbye. He had blown up in size, he had patches over his eyes with lots of swelling on his arms. He just didn't look like my dad. I continued to tell him to keep fighting."
Joanne says she fought to keep her father's ventilator turned on, saying that her dad would fight.
Despite long odds, Jack fought bravely against the virus and last month was finally able to leave Stepping Hill to continue his recovery.
He was first transferred to a ward at Tameside Hospital to aid his recovery, before being allowed to return home.
Supported by his wife and daughter, he is slowly adapting to life outside hospital once again.
However, the family say that more needs to be done to support people who are leaving hospital having suffered so much.
Beryl, Joanne's aunt, says that more needs to be done to support those who are caring.
"We want more support for the family. It's not just Jack that's been affected, it's the family," she said.
"They're all under so much stress and I think the family needs as much help as Jack does."
Joanne said: "My dad had just cared for me for months. I'd just finished radiotherapy in June. My dad had cared for me for three months and then got Covid in October.
"I do believe that miracles do happen. He's my hero and I'll keep fighting for him."
The Reporter asked Stepping Hill Hospital for a response, and they stated: "We are very pleased that with the support of our care and treatment Mr Kelly was able to recover and go home to his family, as have many other Covid-19 patients seriously ill on our ICU in the past year.
"We always involve family in any decisions about the ongoing care of their loved ones, ensuring we are taking into account what the patient would want before any action is taken."
We have also asked Tameside Hospital for a comment and await a response.
Read more from the Tameside Reporter
Click here for more of the latest news
Click here to read the latest edition of the paper online
Click here to find out where you can pick up a copy of the paper