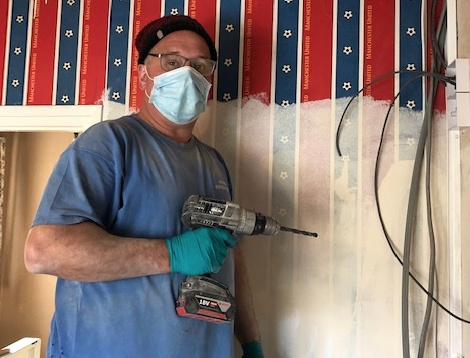 A Tameside resident who has mobility issues will have more accessible facilities at his home thanks to adaptations being carried out through some government funding.
Dave Clarke, 70, from Droylsden is having his bathroom converted into a wet-room as he was unable to use the previous shower after losing a leg eight years ago.
He had the work completed through Tameside Council's Housing Adaptations Service which provides home adaptations for residents with disabilities, using funds from central government's Disabled Facilities Grant.
Dave said: "I'm relieved this work is happening and am looking forward to having bathroom facilities which are easy to use, especially the shower. I'd encourage other people in a similar position to myself to get in touch with Tameside Council to find out how this scheme could help them."
The Housing Adaptations Service carries out a range of adaptations around the home including ramped access, stair-lifts, bathroom adaptations, through floor lifts, etc. These adaptations enable residents to stay living independently at home, while in some cases they also reduce the need for a person to use social care or NHS services.
This work is essential to residents in hospital who need who need adaptations made to their property before they can be discharged. These cases are treated as urgent as they free up beds for new patients who need hospital care.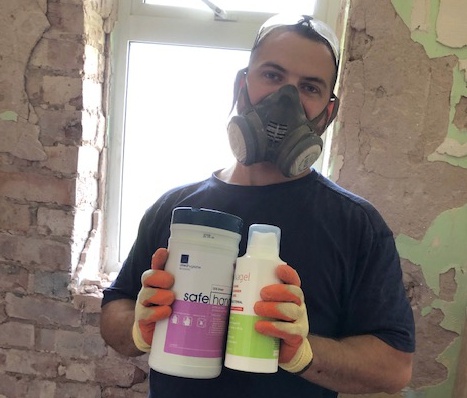 Before carrying out the work, Tameside Council staff will write to the resident and ask them to confirm no one in the house is symptomatic or self-isolating. This is checked again just before the appointment and also when the contractor arrives at the premises, prior to entering the home.
All builders performing these home adaptations are adhering to social distancing guidelines and wearing PPE where practical. Risk assessments for each project are also being carried out by Tameside Council and the contractor to ensure that works are carried out in a method that ensures social distancing is maintained. As a result, some of the work may take slightly longer to complete with teams following the new Government guidelines for construction contractors working in people's homes.
Anyone applying for these adaptations will be assessed by an occupational therapist. They will discuss how potential home upgrades will help them remain independent while in some cases giving family the opportunity to care for them in better surroundings.
Some residents with disabilities who do not have underlying health issues are happy for works to be carried out so they can maintain their independence and, in some cases, prevent admission to hospital.
As a result of coronavirus, this work was ceased temporarily on residential properties when restrictions were first put in place. However, if the work does not put the resident, their families, Tameside Council staff or the contractor at risk, the adaptations work is restarting with specific coronavirus guidelines in place.
Cllr Ged Cooney, Tameside Council Executive Member for Housing, Planning and Employment, said: "These vital home adaptations can help residents have more control of their lives by making it possible for them to perform activities like using the shower or the toilet by themselves.
"Residents who before the lockdown had been assessed as needing adaptations will still need to have the work carried out to improve their quality of life. COVID-19 has not taken away that need and in some cases it has made it more urgent."
Anyone with a disability who thinks them or their family would benefit from having the property adapted should contact Tameside Council by calling Adult Services on 0161 342 4299 or Children's Services 0161 366 2050.