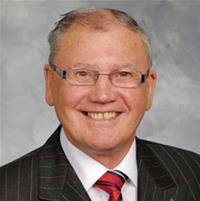 Councillor Dawson Lane has resigned from his position due to family commitments.
The Denton West councillor has been in the role for eleven years, having first been elected in 2008, but can no longer dedicate the required time to the job.
A notice of vacancy was published on Tameside Council's website today.
Cllr Lane was first elected back in 2008, beating the Conservative candidate by just 13 votes in a two-horse race. His next two elections, in 2012 and 2016, were landslide victories with 66% and 59% of the vote respectively.
Cllr Lane had planned to retire and not stand for re-election in May 2020, but family commitments mean he's decided to leave the post early.
A by-election to fill the vacant seat will only take place if two members of the electorate call an election by writing to Tameside's Returning Officer. If not, there will be two councillors in the Denton West ward - Cllrs Brenda Warrington and Mike Smith - until the planned election in May.