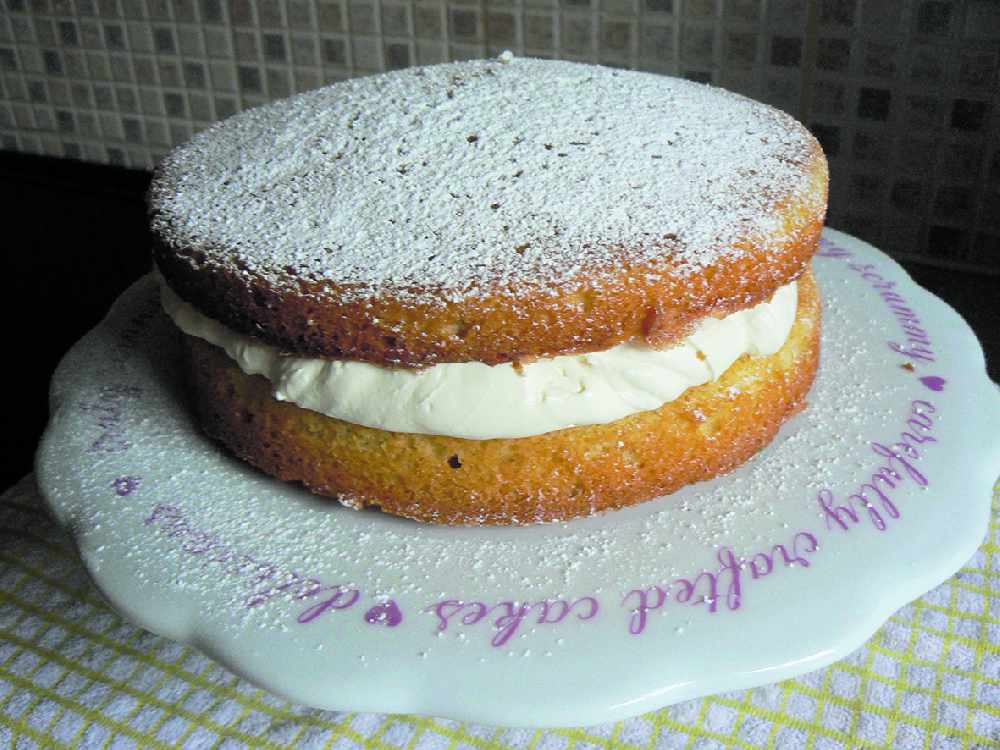 If you're looking to make a light seasonal dessert, Lisa has just the thing for you to try...
Lemons give a wonderful fresh taste to cakes and buns.
The smell always reminds me of sunshine and warm weather, so they are an ideal ingredient to use in a light springtime sponge.
This week I have made a light lemon cream cake.
Just think of zesty lemon drizzle with lots of thick cream!
Lemons come from a small evergreen tree native to Asia.
The juice of the lemon is also about five to six per cent citric acid, which gives lemons a sour taste.
It is this distinctive sour taste which makes the lemon a key ingredient in drinks and foods such as lemonade and lemon meringue pie – all perfect springtime treats!
This cake consists of a light, lemony sponge which has been soaked in a sweet lemon syrup after baking before being sandwiched together with fresh cream.
The sponge is quite zingy and combines well with the thick cream. Perfect for a treat on a sunny spring day!
Ingredients
6oz/170g soft unsalted butter
6oz/170g caster sugar
Finely grated rind and juice of two unwaxed lemons
Three eggs, beaten
6oz/170g self-raising flour
3oz/85g icing sugar, but a little extra for dusting
10 fl oz/300ml double cream
Method
1. Pre-heat the oven to 350F/180C/gas mark 4.
2. Grease and line the base of two 8ins sandwich tins with baking paper. Also grease around the edges.
3. In a bowl, whisk the butter and sugar together until pale and fluffy, then beat in the grated lemon rind.
4. Gradually beat in the eggs and mix well.
5. Sift the flour on top and fold in gently with a metal spoon.
6. Divide the mixture between the two tins and spread evenly on top.
7. Bake in the oven for around 25 minutes until the cakes are golden brown and firm to the touch.
8. Leave in the tins to cool slightly before turning out onto a plate. Remove the baking paper and place one cake on top of the other.
9. With a skewer (if you don't have one, use a clean thin knitting needle) pierce through both cakes many times.
10. Gently heat the lemon juice and icing sugar in a pan until the sugar has dissolved and it is just starting to bubble slightly around the edges.
11. Carefully spoon the lemon syrup on top of the cake, making sure the syrup soaks through the cake.
12. Cover the cake in cling film and leave for around an hour until the cake is cold.
13. Whip the cream until it is stiff then take one of the cakes, remove the cling film and spread with the whipped cream. Carefully place the other cake on top.
14. Dust the cake with icing sugar.
This cake should be eaten the same day.