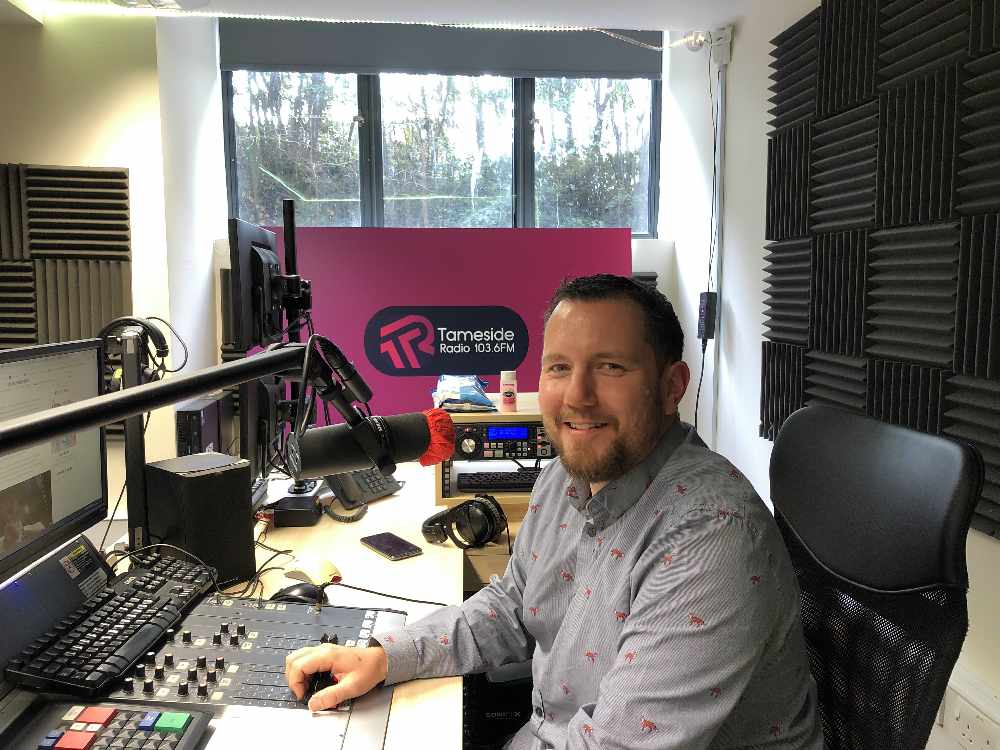 Tameside Radio's Breakfast presenter Alex B Cann.
Are CDs and DVDs a thing of the past? Tameside Radio's Breakfast presenter Alex B Cann discusses how accessing music and films has changed over the years.
Sunday's dramatic Euro 2020 final feels ages ago, doesn't it? It's been years since I watched a full game on the TV, but Gareth Southgate and his players provided the nation with some much-needed optimism after a tumultuous 16 months during the pandemic.
I've now managed to rack up 21 visits to Cineworld since they reopened. Cruella and Black Widow were both enjoyable on the big screen, and I'm hopeful with the likes of Top Gun: Maverick and No Time To Die, the audiences will continue eschewing their sofas and big TVs for the popcorn experience.
I'm not as optimistic for the future of the compact disc, following the news that Sainsbury's is to phase out CDs and DVDs from its supermarkets. Whilst the CD market was still worth a decent £115m in 2020, the total revenue fell by a quarter in 2018 alone. The shiny discs will soon be replaced by food, clothing and homeware items. No more sneaking the latest Now album into your basket when buying bog roll. The end of impulsively buying Godzilla versus Kong on Blu-Ray to accompany your Doritos and dip.
It's fair to say not everyone is a fan of buying their music at the supermarket anyway. Audiophiles who extol the virtues of the physical format often baulk at the idea of buying their albums at superstores, who also faced some backlash from independent record shops when they started selling vinyl albums.
Incidentally, this will remain the case, and staggeringly it's even been mooted that the wax market may be worth more than CDs by the end of 2021 for the first time since 1987, when Rick Astley topped the charts. Big sellers have included classics by Fleetwood Mac and Pink Floyd alongside Kylie, Amy Winehouse and Harry Styles. With no gig tickets to spend their cash on, fans shelled out an impressive £86.5 million on vinyl in 2020.
CD players were a real status symbol in the home when they first came out. There's a great scene in the Wedding Singer (set in 1985) where Glenn Guglia brings one home as a gift for his wife-to-be Julia, and she doesn't understand initially that it won't play her records.
Midi hi-fi stacking systems with a CD player were often the star prize on Bullseye, and the CD singles section at Woolworth's was almost as vast as the pic 'n' mix.
It's quite amazing these days, when you can access most music in the world for a tenner on services like Spotify, Deezer and Tidal, to think that one CD single cost £3.99 in 2001. That's about £7 if you take inflation into account... for one song! Saunter into HMV nowadays, and you'll find less shelf space than ever devoted to the CD.
We had some work experience students with us recently, and none had ever bought music on CD. A whole generation is growing up with the expectation that music is either free or, for a small monthly subscription, available without commercials. The odd artist like Eddy Grant is holding firm against what he sees as Spotify's unfair fees for artists, but even the Beatles' back catalogue is now available, after years of that not being the case. Streaming rose by 22 per cent last year.
I look at my huge stacks of CDs with misty-eyed nostalgia and, whilst I'm now a streamer too, for me it will never replace that excitement of picking up a tangible product. The sleeve notes, the artwork and the sound quality just can't be replicated for me. Luckily, I've given up wedding discos, so no more lugging four heavy cases around hotel function rooms for me. I won't miss those days, to be honest. And I was increasingly being mocked by Gen-Z types for not DJing on a laptop set to automix.
I can't criticise Sainsbury's for their decision, as it's obviously been made looking at dwindling returns from shelves of unsold compilations, artist albums and Marvel movies which are available more cheaply on subscription services. I do feel it's a sad moment though. I used to love browsing friends' CD shelves when round at their houses, and it's a lot more difficult to mock their taste when it's stored on their phone.
Nothing stays the same forever, I guess. And charity shops will boast plentiful copies of Robbie Williams albums for some time to come.
Also, whoever said on Tomorrow's World whilst spreading jam on them that CDs were indestructible back in the '80s was clearly wrong! I'll be keeping my collection, but may not be adding to it for long.
You can listen to Alex every weekday from 7am to 11am and on the 'Super Scoreboard' show on Saturdays from 3pm to 7pm, on Tameside Radio 103.6FM.
Read more from the Tameside Reporter
Click here for more of the latest news
Click here to read the latest edition of the paper online
Click here to find out where you can pick up a copy of the paper