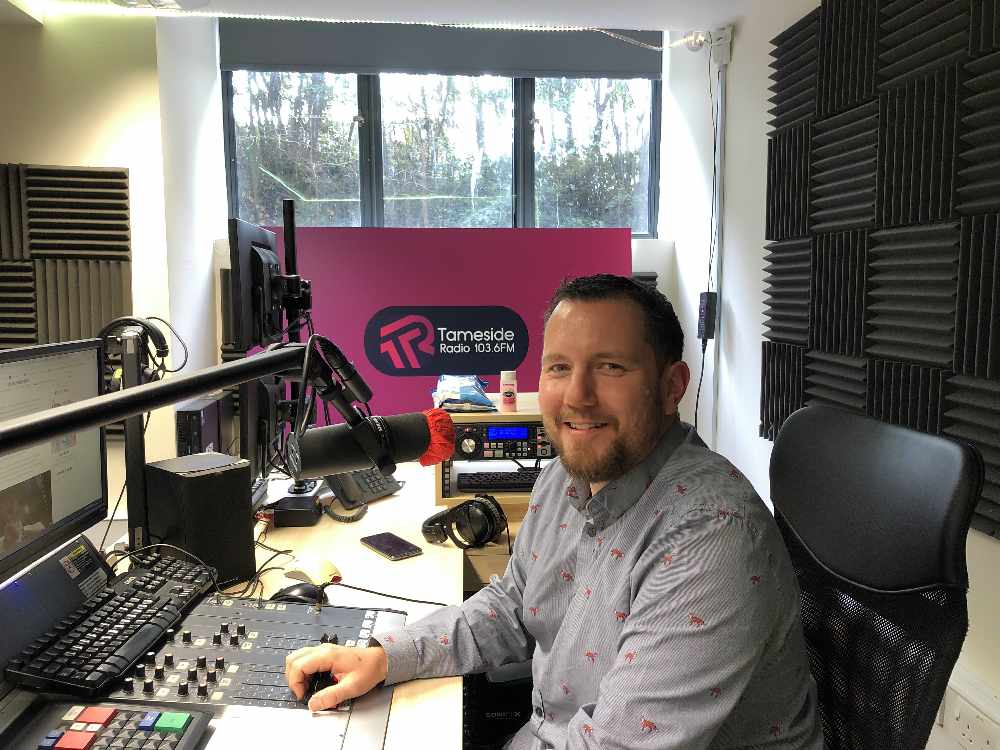 Tameside Radio's Breakfast presenter Alex B Cann.
The Tameside Radio presenter, who is embarking on a Slimming World plan, updates us on his weight-loss journey and the 'wins' he's had this week.
It's been a brilliant first full week on my Slimming World plan, and I've even got a week's worth of food tracking notes in my phone to prove I've stuck to better choices.
I've also discovered for the first time in my life that I can actually cook! I don't just mean piercing the film lid, or turning some beige meat from nought to tasty in the microwave either. I mean actual chopping, blending, boiling, frying and prepping. It's a revelation! No-one is more shell-shocked than me.
I've also found that social pressure to eat naughty food is more common than I'd realised, too. Lots of readers will be coming towards the end of Dry January or Veganuary, and congratulations if you've had a go at either of them. Equal plaudits to you if you've embraced Tryanuary.
Goodness knows our licensed premises have had a tumultuous two years, so anything to get some cash in their tills is welcomed by me. Plus you can have a craft beer for me, as I'm having a little break from it.
I hadn't thought about the challenge of going to my sister-in-law's 40th birthday gathering, and staying away from the sinful snacks, before arriving on Sunday! I know family members meant well, but I lost count of the amount of times I was offered something deep fried and sugary.
I'm told my mother-in-law was really sad to see me saying no, as usually I accept all offers of food, no matter what it is, and whether I'm hungry or full.
Now, I wrote a bit last week about Slimming World not being a diet, and I absolutely believe that. You're encouraged to make better, more filling choices with your food.
I've not counted a single calorie in the last week. I've eaten tons of fruit and veg, taken advantage of the Extras like cashew nuts, Babybel and milk, and honestly feel great for it already. There's a long way to go, but I've made a start, and that's what counts!
Sadly, no healthy regime is going to be compatible with jalebi. If you're not familiar, it's essentially flour batter deep fried in pretzel shapes and soaked in sugar syrup. It's thought to date back as far as the 10th century, and there's a reason it's been around for so long. It's heavenly.
There were lots of other sweets doing the rounds in pretty boxes which, whilst bite-sized, were undoubtedly loaded with sugar. I think one or two would have been fine, but I don't yet trust myself not to gorge. I've always been the type of person who opens a share size bag of Haribo and eats the whole lot, in spite of good intentions to only nibble the sparrow-sized recommended portion size on the bag (which by the way is an amusingly low seven sweets, or a 'little handful'). I'm not proud of this, but I once polished off a whole bag of Licorice Allsorts whilst running a bath. No wonder I failed the audition for the Flake ad that time.
I guess my challenge is finding a way of saying yes to a guilty food pleasure, and then hitting the pause button. I've not quite mastered that yet, so I was pretty proud of myself that I stayed on plan, and didn't sabotage my first week.
Other wins this week have included picking up a chip butty for my wife and not getting anything from the chippy for myself, eating a few of my favourite Mikado sticks then putting the packet away, and eating sushi in the Quest Media offices whilst staring at a huge box of pink doughnuts.
I've been watching You Are What You Eat on the telly, and I know a lot of people battle with their weight. It's linked to your self esteem, how you see yourself and perceive that others see you, and so much more besides.
The phrase 'comfort eating' was invented for a reason. It's also difficult for some to gain weight, and I couldn't believe one of the participants on the show was rudely heckled whilst out in the park exercising. Fat shaming will never be acceptable, but nor is pointing out how someone looks like they need a good meal. If you've ever done either, I hope reading this pricks your conscience. Have a great week.
You can listen to Alex every weekday from 7am to 11am and on the 'Super Scoreboard' show on Saturdays from 3pm to 7pm, on Tameside Radio 103.6FM.
Read more from the Tameside Reporter
Click here for more of the latest news
Click here to read the latest edition of the paper online
Click here to find out where you can pick up a copy of the paper