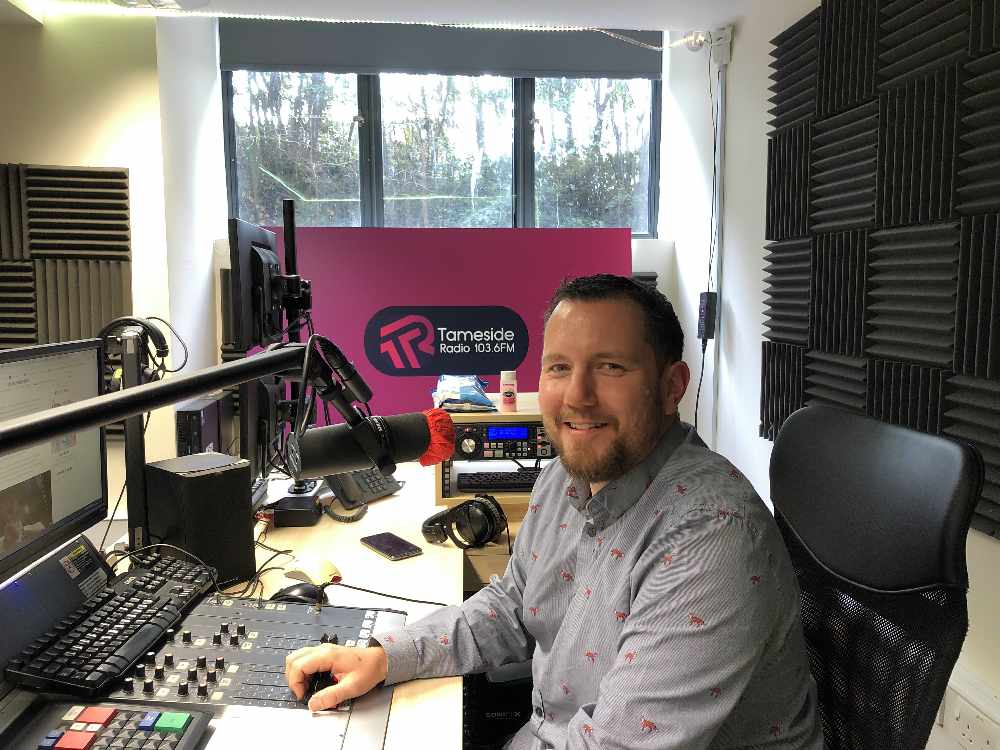 In this week's column, Tameside Radio Breakfast presenter Alex B Cann tells us about his fasting experience and how he's been enjoying the freedoms we've been afforded by the lockdown easing.
I'm writing this column feeling slightly sleepy, after a dose of Vitamin D and fresh air at Yorkshire Sculpture Park!
It was superb to catch up with my parents, and have a picnic in the sunshine, followed by a long walk around this splendid open air art gallery just off the M1 at West Bretton, near Wakefield.
It's a lovely hour's drive away from Tameside Radio, via the Isle of Skye road, and I thoroughly recommend a visit. Plenty of space for the kids to run around, a smashing picnic spot, sheep grazing in the Yorkshire hills and even a giant ice cream cone sculpture. What's not to love?
I've also got my first visit to a beer garden this week. I'm walking there so I can have a pint or two, and the pub is inconveniently positioned at the top of a rather gargantuan hill.
I'll definitely enjoy that first sip of real ale when I get to our pre-booked table. It's been really nice to see life starting up again, and venues with the luxury of outside space be able to get some money into the tills once again.
For many others, it's hopefully less than a month to wait, subject to the variants we've heard about in this week's Downing Street briefing being kept at bay and people taking up their offer of a vaccination.
It's slightly surprising that care home staff take up rates stand at below 80 per cent in some areas, but hopefully something can be done to persuade sceptics that it's the best course to get jabbed.
Gyms have also reopened recently, but I've not been to one of those in quite a while. Maybe once I get a few more long walks under my belt, but no promises on that front!
Aside from visits to a sculpture park and a beer garden, I've also fasted for three days this week. I wanted to support my wife Sofia, who is fasting for an entire month along with millions of Muslims in the UK and a further two billion more around the world for the holy month of Ramadan.
From early morning, when my alarm goes off at around 4am, until sunset, she is not permitted to have any food or drink. I have to confess I'm allowing myself some coffee, but I am joining in with the food element for three to four days a week.
So far, I've found it a really interesting and educational experience. I feel like I get a lot more done on fasting days, as you're not thinking about what your next meal or snack might be.
Believe it or not, we do rather a lot of time mulling that thorny issue over at Tameside Radio. 'Spam Wednesdays' have become a regular thing, and for a while 'Maccies Mondays' were a staple too. It's no wonder none of us is yet in the running for the 007 replacement gig.
As well as having more time to complete the 'to do list', I also feel calmer and more reflective. Until May 11th or 12th when the moon is sighted and Ramadan ends, I'll continue to observe several fasts each week. I can then look forward to Eid, which is like Christmas in some respects, but stretches over several days and involves some rather amazing curries made by my mother-in-law and sister-in-law.
Although we did basic religious education at my school, the teacher was scary and I really don't think I remember much about it.
The only thing that it taught me is that 'ghee' means butter. That's literally all I can remember. I do think we owe it to each other to find out more about different faiths and belief systems. I reckon it also holds the key to diffusing much of the world's conflict.
When I went to a mosque in Bradford following the passing of my father-in-law, I was a little apprehensive, but have honestly never felt more welcomed anywhere. The atmosphere was so peaceful and friendly. I've felt similar in church buildings around the world, even though I am not remotely religious. I've never felt judged for that at all.
Perhaps we could all be a little more understanding of others' life experiences, as we emerge from a year of life on pause. It might make everything a bit less adversarial and angry. That could even spread to social media (OK, perhaps I'm pushing my luck now). Right, time to write my business case for Tameside Radio to enter the European Radio Super League. Stay safe!
You can listen to Alex every weekday from 7am to 11am and on the 'Super Scoreboard' show on Saturdays from 3pm to 7pm, on Tameside Radio 103.6FM.
Read more from the Tameside Reporter
Click here for more of the latest news
Click here to read the latest edition of the paper online
Click here to find out where you can pick up a copy of the paper