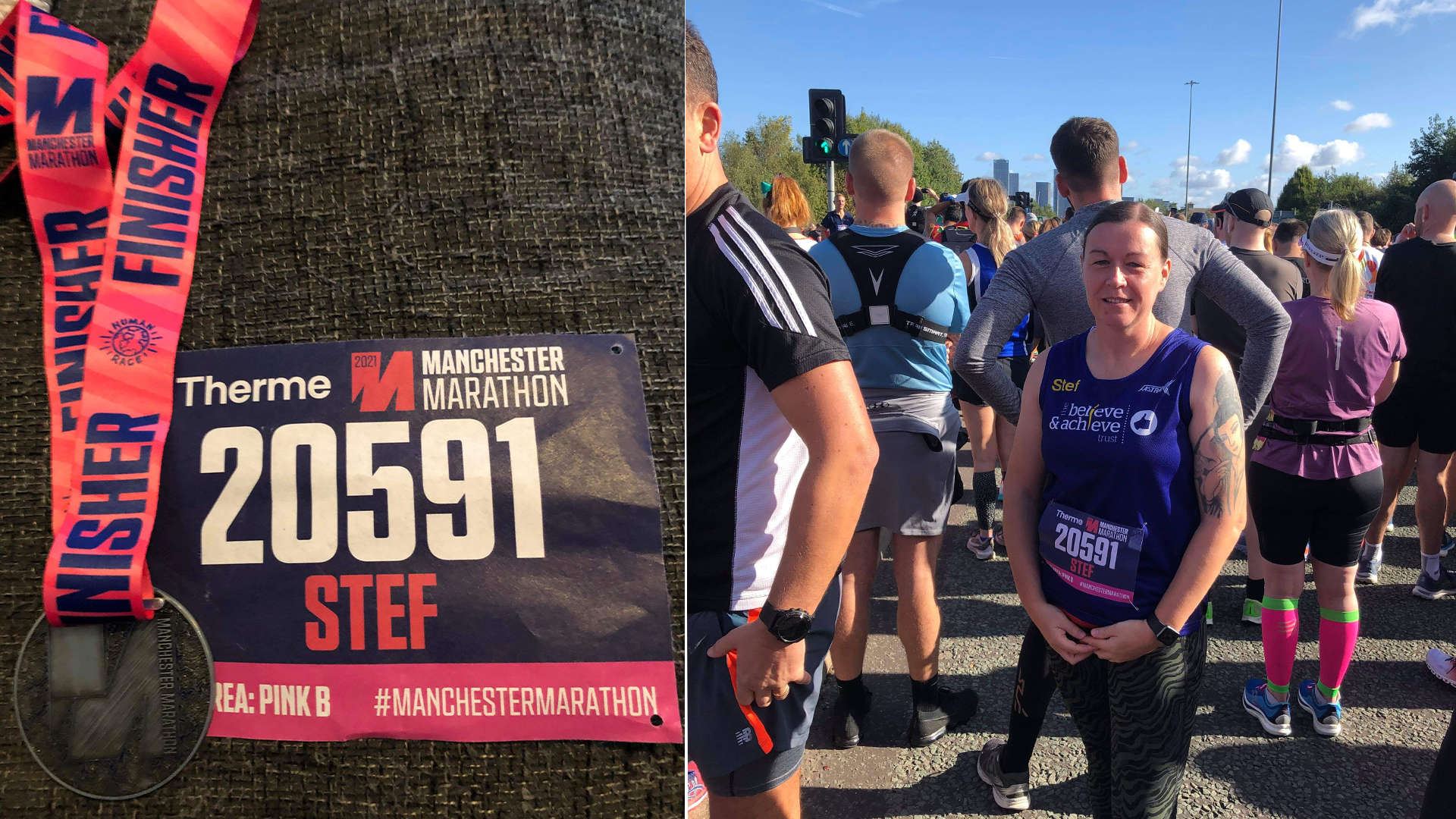 Stephanie Owen facing the Manchester Marathon
Setting herself the challenge of completing the Manchester Marathon, Stephanie Owen looks back on her journey of sport so far.
Stephanie found her feet with running long before completing this mammoth challenge. As a member of East Cheshire Harriers, she trained under the expertise of Shirley Aldridge and loved her time at the club.
However, after leaving the army in 2009, Stephanie found herself with a few health issues and searched for a charity to support to get her back into running.
"My friend who teaches at Tameside College told me about a charity that was set up for a boy called Alex who she used to teach," she says.
Upon chatting, she found out that Alex had contracted meningitis when he was 7 which led him to be confined to a wheelchair.
But Alex always kept his faithful key message, sport should be for anyone no matter their ability.
"When he was older, he had a stroke and sadly passed away, but his family set up a charity in his honour to carry on the fantastic work he did around meningitis and getting children with disabilities involved within sport," she said.
Since hearing this touching story, Stephanie has strived to do everything she can to support The Believe and Achieve Trust.
This includes completing the 2021 Manchester Marathon.
"I'd been training by myself because I was running with someone but unfortunately, they had to drop out.
"I think that may have made the race more difficult because everyone seemed to have people to run with whereas I was plodding along by myself, but the support was fantastic.
"I had people at home tracking me, messages of encouragement on social media and Believe and Achieve have been amazing," Stephanie said.
Completing her first marathon was a huge leap for Stephanie, who during her efforts was also able to raise £1,115 for her charity.
Stephanie has also been able to raise an incredibly sporty family, with sons that too love to run. Her older son was always a keen runner, running with Jack Dobson's group at East Cheshire Harriers.
Her younger son is a sport fanatic, training with Hayley Simpson, throwing with coach Martin Lewis, as well as sprint training all down at East Cheshire. He also plays football, badminton and is a keen kickboxer.
But his most esteemed title may just possibly be his young ambassador role at Believe and Achieve.
It's fair to say that Stephanie and her family have reached some noteworthy achievements in the world of sport and are set to continue with these.
When asked if she would complete another marathon, Stephanie said she had entered the ballot for the London Marathon, so only time will tell.
Do you know an inspirational sporting woman in Tameside or Glossop?
Women in Sport is a weekly column which shares the incredible stories of ladies involved in sport across the area. We are always on the lookout for fresh stories to tell. To nominate someone for the column or get involved yourself, please email Katie on katie.catherall@questmedianetwork.co.uk
You can read last week's column here.
Want more local sport stories?
Head to https://www.questmedianetwork.co.uk/news/sport/ to see more of our coverage - from community and non-league football to local and county cricket, boxing, athletics, basketball, Esports and golf.