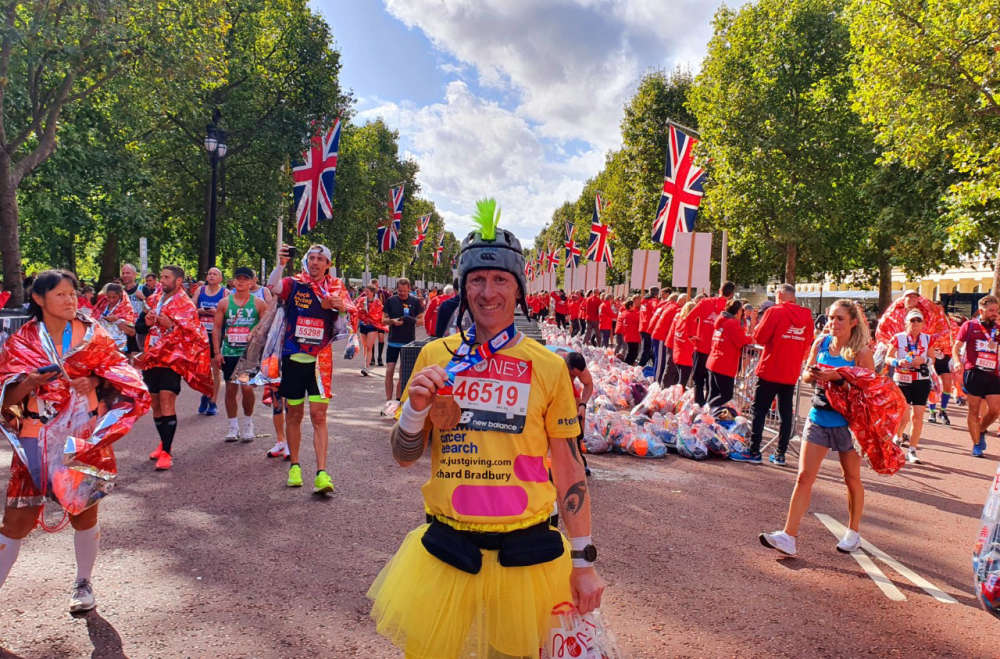 Richard completing the Virgin Money London Marathon.
Fundraising hero and multi-marathon runner Richard Bradbury has signified the end of his year-long charity work by taking on the London Marathon.
In 2019, Richard challenged himself to complete a series of running events to raise funds for Worldwide Cancer Research after losing his brother to the awful disease in 2011.
After securing his place with the charity to run the famous London Marathon, he began to find a love for running and saw his technique quickly improve.
With restrictions in place, the race was postponed from its original April date and instead took place in October 2021.
"London was amazing. We were so lucky with the weather after it had been wet during the week and then suddenly clear for the Sunday.
"The full 26.2 miles were lined with people chanting names and there were people stood outside of their houses with speakers supporting you too," he says.
As many local runners will know, Richard completes his races in a scrum cap and tutu, an outfit which he honours to his late brother. This often provides him with extra cheers from strangers on the route.
As well as raising an incredible £5,500 for Worldwide Cancer throughout the year, Richard was also able to finish London with a fantastic time of 3:54:05.
"I was aiming for a sub-four-hour time, and I ended up smashing that. The first 20 miles weren't too bad but those last 6 miles were the real tester.
"By the final three miles my legs were hurting, and I ended up with a bit of a stitch so that probably slowed me down too, but I was able to battle through to the end," he says.
Receiving messaged throughout the day, Richard was also pleased to have made a few televised appearances throughout his run, much to the delight of dedicated partner Clare, who spent the day moving from checkpoint to checkpoint.
With 14 runners from the charity, the group met up after the gruelling mileage for a celebratory drink. The evening for Richard and Clare ended with a well-deserved steak dinner after walking a further 6 miles back to Peckham.
Setting his sights on the future, Richard has already signed up for the Manchester Marathon and Great North Run for 2022.
"We ended up walking 15 miles on the Saturday before London to the running show to pick up my bib so if I don't do that before Manchester then I might even go quicker!
"If I'm offered London again then I'm not sure what my answer would be, but I'm not very good at saying no," Richard said.
Making his brother eternally proud and doing his upmost to help those who still suffer from cancer, Richard has led a highly successful year and one which has led him to find such a passion within running.
You can read more on Richard's story here and donate to his fundraising here.
Want more local sport stories?
Head to https://www.questmedianetwork.co.uk/news/sport/ to see more of our coverage - from community and non-league football to local and county cricket, boxing, athletics, basketball, Esports and golf.