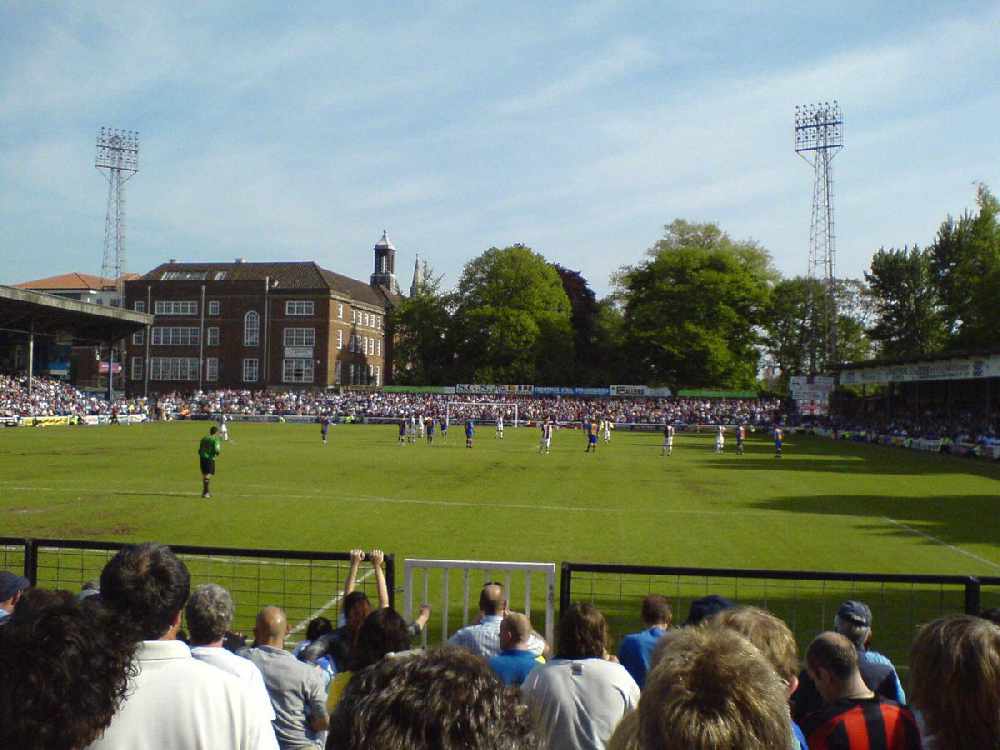 If Manchester United supporters think they have it bad at the moment, spare a thought for Stockport County fans who had to watch their side tumble from the Championship to regional football in the short space of 13 years.
A club that once competed against current Premier League outfits including Fulham, Wolverhampton Wanders, and near neighbours Manchester City are now facing off against the likes of Woking, Wealdstone and King's Lynn Town.
As far as capitulations go, Stockport's was undoubtedly one of the worst in English football - matched only by the likes of Portsmouth - but at least supporters still have a club to follow in its original guise, unlike Bury, Darlington, Chester and a raft of others, who have been forced to rebuild under a new name following poor management behind the scenes.
For avid Stockport fan Martin Frost, who is also a board member at Ashton Cricket Club, the fall from grace has afforded him the opportunity to see his side compete in five divisions on 181 grounds, taking in just under 2,000 games in the process.
Martin first visited Edgeley Park in 1963 and quickly developed a life-long love for the club, which has seen him spend almost every Saturday and regular Tuesday nights travelling the motorways to Stockport or making mammoth trips to places like Torquay United, as he did in 2006 for a quickly rearranged fixture, only to see his side three goals down in just over 20 minutes.
And there have been other midweek trips to the likes of Swindon Town, Dartford, and Luton Town in what will arguably be considered as the worst period in the club's history. But wherever Stockport played and how poor they were, Martin persevered through the bad times and the good and has now re-told his tales in a recently launched website, 57 Hatters Years.
Speaking to Reporter Sport about the idea, Martin said: "It was a coming together of two or three things. I've always enjoyed writing and wrote stuff about County over 20 years ago for the fanzine at the time, 'The Tea Party', and I still submit cricket reports to the Reporter. That's one element to it, but the second came when I attended a game at Corby Town at the back end of 2015 and I got into a conversation with two or three guys who, like me, had never been to the ground before. One of the guys said, 'I wonder how many places we've been to watching County?' so it got me thinking - having seen the club fall from the Championship into the National League North, I've now seen them on 181 grounds - that's the equivalent of two Football Leagues, give or take. So it combined my love of writing, the fact I think I have a tale to tell, and the way I was confined to my house through lockdown as I'm classed in the vulnerable category."
The website is a dream for statisticians, but it also serves as a reminder for fans who have come to forget about certain players or managers - easily done given Stockport's almost constant revolving door over the past decade.
Did Martin ever consider throwing the towel in, even at their very lowest? "No - It's been a huge part of my life ever since I first went in 1963" he said.
"It's about the friendships you make and tying it to a particular interest. I can also reflect on plenty of good times on the field and plenty of bad times as well. December 1999, we went to Maine road and beat Man City, we went to Bolton Wanderers who were high flying, and we also beat Wolverhampton Wanderers, and that left us sixth in the Championship on Millennium eve. That was a huge plus. When I first watched the club in the 1970's, reaching those heights was something I could never aspire to or envision for the club. 13 years after Millennium eve we were condemned to regional football - it's probably one of the biggest falls in English football. We were the 26th best club in the country in terms of league positions and then fell all the way through to regional football."
If you were to put Stockport's demise in simplistic terms, the Hatters were playing at some of the best stadia in the world in 2000 during their stint in the second tier. The Stadium of Light, home to Sunderland, now seems a million miles away when visiting ground in the National League such as Solihull Moors. Regardless, Martin has loved his time in non-league and appreciates the small but significant things, such as a warm welcome, which are dissolving at an alarming rate the higher up the pyramid you go. "Unlike many Stockport supporters, I've enjoyed going to different places in the National League North. The football might not have been up to much, but the welcome you get from all these non-league grounds is far warmer than what you do at some of the league stadia.
"I particularly remember a trip to Ebbsfleet, in Gravesend, and the welcome the county fans got was fantastic. It was as though we were actually wanted there. I've also enjoyed going to places that have disappeared, such as North Ferriby United. However , you have to compete that to where we previously were and the stadiums we played in, such as the Stadium of Light, Sunderland."
New chairman Mark Stott has targeted a return to the Championship in seven years. Only time will tell if it's realistic or not, but Martin would love to see his side as part of the official 92 and believes under manager Jim Gannon the aim is achievable.
"I want County back in the Football League - they're a Football League club when it comes down to it. That said I've always valued non-league football and have grown up in the Tameside area, attending games at Ashton United, Stalybridge Celtic, Mossley and Droylsden, although that won't be possible this year sadly.
"As much as I've enjoyed our time in non-league football, I'm looking forward to climbing back up. I've got a lot of time for manager Jim Gannon. I like the way he organises his side and plays football. Hopefully, he'll have a long run in the job now. As well as having a decent manager a club needs the right infrastructure, which we have now under chairman Mark Stott. That was part of the problem in previous times, so any manager coming in was getting a poisoned chalice."