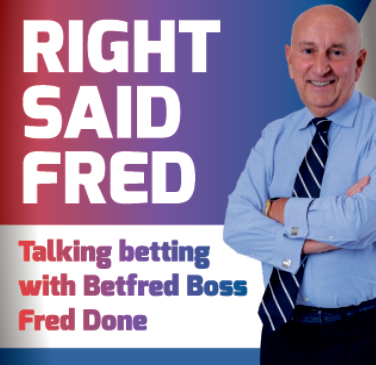 In this week's column, Betfred owner Fred Done discusses the 2020 Champions League odds amongst other things.
Manchester City and Liverpool are first and second favourites at Betfred to win the 2020 Champions League.
City are 4/1 to win the competition outright while the holders are 9/2 – just ahead of 5/1 Barcelona - while Cristiano Ronaldo's Juventus are 10/1 shots.
Pep Guardiola's team, jubilant after the humbling of Arsenal at the Emirates, have drawn one of the hardest possible last-16 ties in Europe's elite competition in Real Madrid.
Zinedine Zidane's aristocrats are 13 times winners of the Big Ears trophy, while for City they are out to make history by winning it for the first time.
Champions League glory is what the club's Abu Dhabi owners crave more than anything, but despite great success on the domestic front City have struggled of late against Europe's best…although it was Spurs of course who ko'd them in the quarter-finals last season.
Liverpool also have a tough one against Atletico Madrid, while Spurs take on Red Bull Leipzig - and it is German opposition too for Chelsea, who have drawn Bayern Munich (15/2 to win the Champions League outright).
Chelsea have unsurprisingly drifted to 40/1 after the toughest draw of the English contingent, while Spurs have been cut to 20/1, especially as Jose Mourinho is particularly astute at winning one-off high profile matches.
Despite Kevin de Bruyne-inspired City outclassing hapless Arsenal on Sunday they are still 7/1 for the Premier League title. Runaway leaders Liverpool are 1/8 – and second-placed Leicester are 25/1 at Betfred.
Even at this stage it is looking like those three will finish in the top four, but the battle for the remaining place between Chelsea, Tottenham, Arsenal and of course mighty Manchester United is getting mighty interesting.
Betfred have Chelsea 10/11, Spurs 6/5, the Reds 9/2 – and Arsenal drifting to 20/1.
We have noticed a significant upsurge in the number of goals scored in the Premier League, and indeed in all the professional and semi-pro leagues this season.
I did think it was something to do with VAR but I'm reckoning it has more to do with the lack of quality defenders – and teams at last realising it is better to win one and lose one than draw two.
That's why the bet of one footie fan from Surrey raised eyebrows.
The NHS worker picked my pocket to the tune of £7,033 after successfully predicting that SEVEN matches - at Stoke, Wigan, Fleetwood, Carlisle, Crawley, Crewe, and Leyton Orient - would all end in a draw.
Four of the games ended up goalless stalemates, and three others 1-1, which meant he was in the money with his remarkable, one in a lifetime, permed £24.75p bet.
This Betfred regular, who took less than two minutes to select the seven games, tried to get his two young children on a trip to see Santa in Lapland. Sadly all the flights were booked up, so he's going to get them all aboard to see the man in red and all his elves this time next year.
Finally switching tack last week's General Election was a stunner for all concerned. The exit poll predicted a landslide … and that's exactly what happened.
Now the race is on to replace Labour leader Jeremy Corbyn with Ashton under Lyne MP could play a clear part as either party leader or deputy.
Rebecca Long-Bailey is however the clear favourite to make history - and become Labour's first female leader.
The 40 year old shadow business secretary who is the MP for Salford and Eccles has been cut to 2/1 at Betfred.
Lisa Nandy – one of two potential candidates to break cover to raise their profiles with Sunday newspaper articles – is a 7/2 shot after the Wigan MP stressed the need for the party to be more rooted in the community they serve and admitted she is seriously considering running for the job.
Keir Starmer, the early front runner after Corbyn-led Labour's dismal general election performance which led to a landslide Tory triumph, is 4/1 to takeover.
The shadow Brexit secretary is the only male believed to be uppermost in the thoughts of the party faithful for the job which is likely to be officially up for grabs next month after Corbyn's "period of reflection."
Jess Phillips, the MP for Birmingham Yardley, has been most critical of the current party leadership writing that Labour should broaden its appeal – although insisting she is not an advocate of a return to ex-MP Tony Blair's New Labour.
She is a 7/1 shot – the same odds as Rayner with Yvette Cooper at 12/1. Betfred have Clive Lewis and David Miliband at 25/1 along with a sixth female would-be candidate Emily Thornberry.