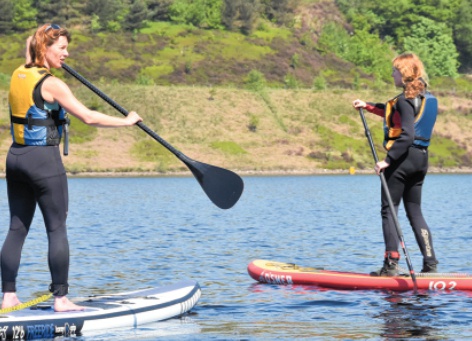 The Covid-19 pandemic continues to have serious repercussions for leisure centres and sports clubs. 
But as the world cautiously eases lockdown regulations, one leisure activity is booming, and it's not hard to see why.
Stand-up paddle-boarding is the world's fastest growing watersport and it is flourishing at Glossop Sailing Club.
Paddle-boarding has social distancing built in - you're in the company of friends or family outdoors on a 3m board, enjoying a sport that has benefits to health and well-being.
Paddling is non-impact exercise for the whole body, as actively as you want to make it.
It's easy to learn, and the investment in clothing and equipment is relatively modest and requires little space for storage
The club, based at Torside Reservoir, has seen participants flock to the sport.
There they can get advice on the best board and clothing to buy, while new members are introduced to an enthusiastic and friendly community of paddling enthusiasts.
The club's Academy of Surfing Instructors SUP instructor will be running Covid-19 certified SUP Wise courses for small informal groups of up to five novices and improvers on weekdays and Saturdays when the weather is fine during the summer.