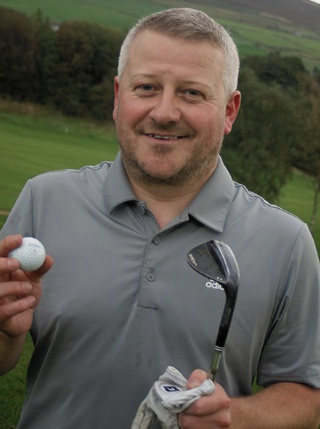 Dave Green, the Dukinfield Golf Club professional and the Manchester and District Golf Alliance Captain in 2018/19 has enjoyed plenty of golf success during his career.
But he was delighted when playing in the Alliance competition at Disley to secure the fifth hole-in-one in his golfing life.
The ace came on the tricky 150-yard par three sixth hole when he hit his trusty eight-iron into the teeth of a strong breeze and into the hole to set up great celebrations and lots of high fives with his playing partners and the rest of a full Alliance field in the Disley clubhouse.
Alliance president Ian Brooks said: "We were all very pleased for Dave as he has given such great service to the Alliance and getting a hole-in-one on one of our busy competition days is a very rare achievement and he and his friends certainly know how to celebrate!"
l The Vincent Nitti Trophy for juniors at Dukinfield was won by Ben Hughes with 32 points from Spencer Wilson-Turner 31 and Molly Hughes 29.
Dukinfield ladies played a singles Stableford and it was won by Julie Wilshaw with 30 points five clear of Helen Slattery.
l The Marian Read Trophy at Saddleworth was won by Anne Head with 38 points, six more than Kay Orme.
The President's Invitation Day at Saddleworth was won by Lee Blainey and his Oldham Golf Club guest Graham Pendleton with 47 points.
It left them two clear of Giacomo Cavallino and his Pike Fold partner Steve and Simon Taylor and Max Green (Styal).
l A Wednesday Stableford at Denton needed a cpo on 41 points to see A O'Brien into top spot from Neil Painter, two more than D Watson.
Saturday medal play at Denton saw division one topped by A McGuire after a cpo on 67 from C Large, one more than D Lister.
In division two, P Welsby was a clear winner with 67 from G Johnson and P Lyons, both 70.
An enjoyable Seniors and Ladies Texas Scramble at Denton was led in by Norma McIlvanney, Linda Leung, Keith Eastham and Dave Watts.
l A three division medal at Ashton had the divisions led in by Simon Craig 64, Peter Bacon 67 and Tom Simpson 66 with the Yellow Tee winner being Hans Riedlsperger after a cpo on 69 with Mick Howard.
A Sunday Stableford at Ashton had division one topped by George Hinchliffe with 37 points, two more than famous visitor Phil Rudkin and David Lewis.
In division two, Nigel Hinchliffe strolled to victory with 41 points.
l A singles Stableford at Fairfield in division one was won by John Whelan with 35 points from Sean Simpson 34, Jason Ballinger 33 and Robert Marr 32. In division two Steven Ainscough led in with 32 points from Neil Dunn 28.
l Medal action for Stamford's men had the divisions led in by Tony Hales after a cpo on 67 with Ian Grimsditch and Philip Hudson, Chris Deacon after a cpo on 68 with Robert Farley and club legend Tony Smith with 67.
The winner of the Hyde Trophy at Stamford with an aggregate season-long total of 339 was James Woodcock from Simon Reynolds 341 and Ian Grimsditch 345.
l Oldham GEMS played two competitions and the Lady President's Prize, presented by Edythe Turner, was won by Martin Stimson with 21 points ahead of Neil Murry 18 and Geoff Allen 16.
The team winners with 48 were Martin Stimson, Mike Smith and Frank Lawrence.
The Autumn Shield saw Neil Murry and Steve Hunt well in control with 43 points from Brian Best and Peter Schofield 39 and Geoff Allen and Bill Broomhead 38.
By Geoff Garnett